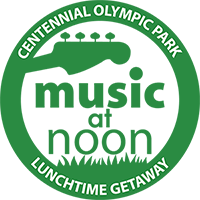 Every Tuesday and Thursday
Southern Company Amphitheater
June
Noon – 1 p.m.

Music at Noon is the perfect lunchtime getaway! Get out of the office for a midday break filled with sunny skies and great entertainment every Tuesday and Thursday from noon to 1 p.m.
Music at Noon 2017 Schedule
Thursday, June 1st- The Shonuff Band (Funk)
Tuesday, June 6th- Cinnamon Denise (Jazz/Neo-Soul Singer)
**NO performance June 8th (Rotary)
Tuesday, June 13th- Mic Ventress (R&B/Soul)
Thursday, June 15th- Jeannie Caryn (Pop/Folk)
Tuesday, June 20th- SeñoritAwesome (Acoustic Guitarist)
Thursday, June 22nd- Our New Dimension (Jazz, R&B and Soul)
Tuesday, June 27th- The Joanne Smith Experience (Jazz, Soul, and R&B)
Thursday, June 29th- Lockdown Band (Jazz, Soul, and R&B)

Bring your friends, coworkers and lunch to enjoy a variety of live music including pop, R&B and jazz, performed by your favorite local artists.
Thanks for your interest in performing, but unfortunately the dates for 2017 are full. Check back with us next year for more performance opportunities.
Music at Noon is presented by