The Georgia World Congress Center Authority's (GWCCA) Championship Campus featuring Atlanta's premier pigskin palace is preparing for the annual rites of passage known as football ahead of the Atlanta Falcons home preseason debut on Thursday (Aug. 15). August will be chock full of hard-hitting gridiron action as Mercedes-Benz Stadium (MBS) begins its third full season.
Atlanta Falcons
The Atlanta Falcons will kick-off the home portion of their schedule with two preseason dates in August before tackling the regular season which will include eight home games.
Home schedule:
Thursday (Aug. 15), 7:30 p.m. vs. N.Y. Jets (Preseason)
Aug. 22, 7:30 p.m. vs. Washington Redskins (Preseason)
Sept. 15, 8:20 p.m. vs. Philadelphia Eagles
Sept. 29, 1 p.m. vs. Tennessee Titans
Oct. 20, 1 p.m. vs. Los Angeles Rams
Oct. 27, 1 p.m. vs. Seattle Seahawks
Nov. 24, 1 p.m. vs. Tampa Bay Buccaneers
Nov. 28, 8:20 p.m. vs. New Orleans Saints
Dec. 8, 1 p.m. vs. Carolina Panthers      
Dec. 22, 1 p.m. vs. Jacksonville Jaguars
Fan Experience
Earlier this year, MBS announced changes to its award-winning fan experience program by transitioning to an all-cash system. This allows the stadium to move away from its whole-dollar pricing, initially instituted to speed up transaction times, and more importantly from the guest standpoint, to slash concession prices for a second consecutive year.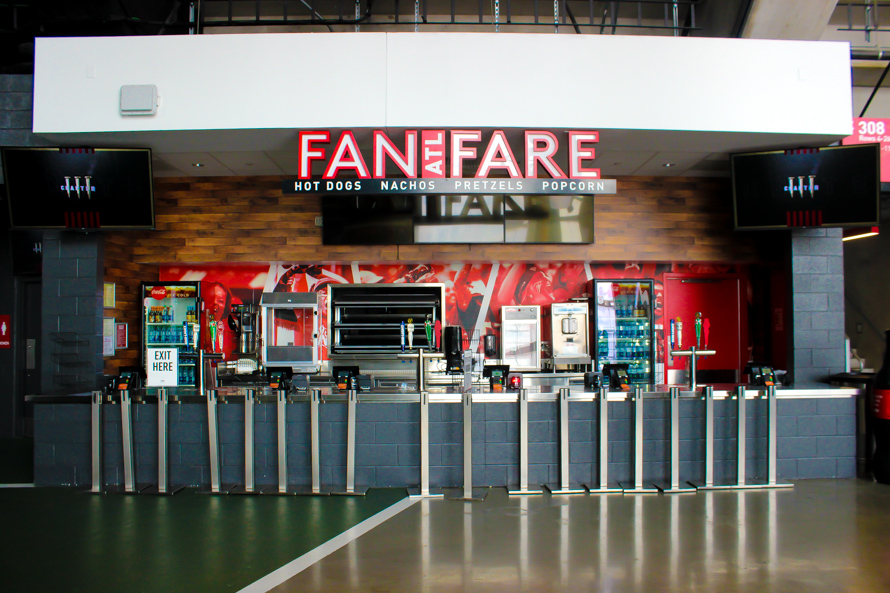 This latest round of price cuts reduces the costs of several concession items by 50 cents, including the stadium's top-seller – its hotdogs.
Here are the price cuts:
Hot Dog: from $2 to $1.50
Pretzel Bites: from $5 to $4.50
ATL Bud Burger: from $8 to $7.50
Ice Cream Waffle Cone: from $5 to $4.50
Chips and Salsa: from $3 to $2.50
Falcons fans will also get to try one of Atlanta's favorite sandwiches this season as Fred's Meat & Bread is the latest Atlanta-based restaurant to operate inside the stadium. Chef Todd Ginsberg's signature cheesesteak quickly became an institution at Fred's Meat & Bread at Atlanta's Krog Street Market. Featuring 10 ounces of ribeye steak, American cheese, and onions on a nine-inch hoagie, the sandwich goes $14 at MBS, the same price at Krog Street Market and the second Fred's location in Midtown. Fred's cart at Mercedes-Benz Stadium is near section 116.
Chick-Fil-A College Football Hall of Fame
Fans of college football can get their season started early during the entire month of August. The third annual Peach Bowl Football Fest, celebrating all that is college football, will take place Aug. 24 on Marietta Street in front of the Chick-fil-A College Football Hall of Fame (CFHOF) on the GWCCA campus starting at 10 a.m. The free event includes inflatables, a chance to participate in the SkillZone challenge, face painters, games, deejays, cheerleaders, mascots, and more.
Also, entry to CFHOF is free throughout August in celebration of college football's 150th anniversary. Check out this page for more info: https://www.cfbhall.com/happenings/free-month-at-the-hall/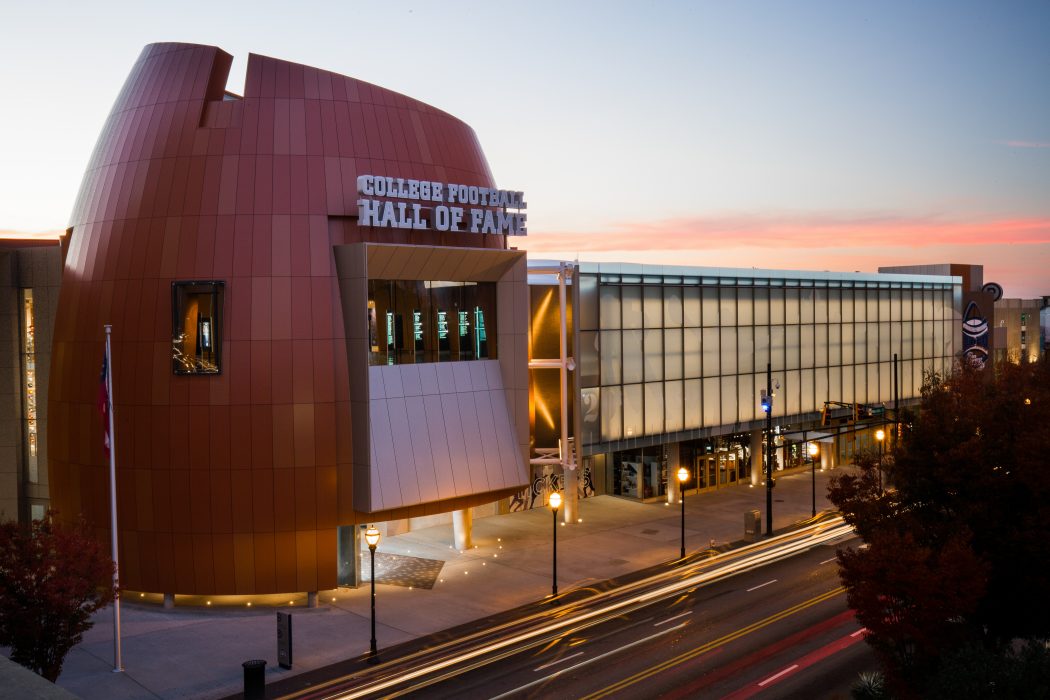 Chick-Fil-A Peach Bowl
The fun-filled football action continues the following Saturday (Aug. 31 ) when the No. 2 ranked Alabama Crimson Tide take on the Duke Blue Devils at the Chick-fil-A Kickoff Game at MBS. Prior to the game, Tailgate Town Built by The Home Depot will be located on International Plaza, between the Georgia World Congress Center, MBS and State Farm Arena from 10 a.m.-3 p.m. Aug. 31. This is the ultimate free pre-game tailgate destination for fans, featuring interactive sponsor displays, live entertainment, contests, games and more.
Mercedes-Benz Stadium Tour
Want an inside look at the state-of-the-art stadium at the heart of the Championship Campus? The latest episode of the GWCCA's monthly video series focuses on the behind-the-scenes tour offered by MBS. Follow along with us as we make stops at locker rooms, the field, Window to the City, Skybridges and 100 Yard Club.