Atlanta I-85 Bridge Closure Information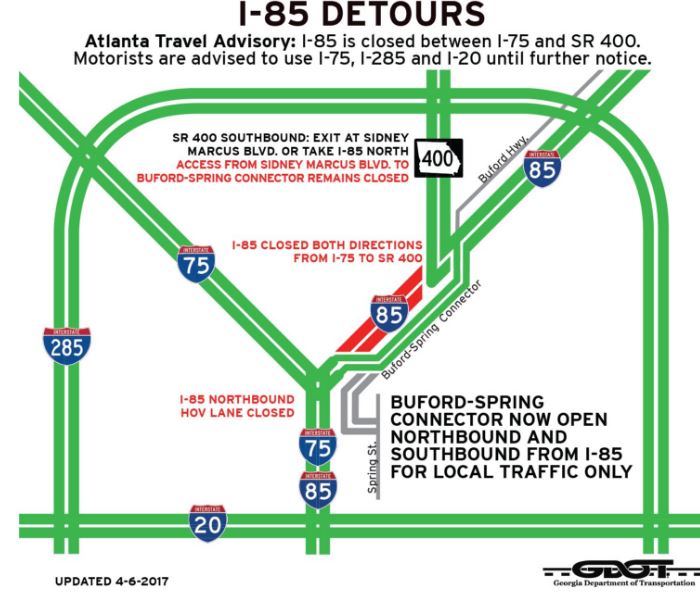 Earlier in April a section of Interstate 85 just north of downtown Atlanta caught fire and collapsed, causing officials to close this stretch of roadway while repairs are made. The current construction timeline indicates I-85 between I-75 and SR 400 will remain closed through mid-June.
City and state officials are doing a great job of communicating alternate routes to move people around Atlanta safely and efficiently, and we want to keep you abreast of these changes.
Below is a map outlining the current detours. Important items to note are:
I-85 is closed in both directions from I-75 to SR 400.
I-85 northbound traffic (guests commuting to Buckhead from Hartsfield-Jackson Atlanta International Airport or Georgia World Congress Center) will be diverted to Buford-Spring Connector, an access road adjacent to I-85.
Motorists are advised to use I-75, I-285 and I-20 until further notice.
Georgia Department of Transportation signage around the city is a great resource to guide visitors once they arrive, but ACVB wants to help on the front end so your meeting progresses on its normal schedule without disruption.
We encourage visitors to plan ahead, allow extra time for travel and use MARTA, our rapid transit rail service, to navigate the city. MARTA is the best way to get from the airport to Downtown, Midtown and Buckhead. Its efficient schedule, convenient station locations and inexpensive fare make MARTA an extremely viable option once your attendees arrive in Atlanta.
If you do plan to drive into the city, please consider using the WAZE app, free to download on your mobile device. The GWCCA traffic management team, along with GDOT work with Waze to update road closures to better direct guests to our parking.
Real-time updates are available via Georgia Department of Transportation, MARTA and the ACVB's website, atlanta.net. Please don't hesitate to reach out with any questions – we are happy to help.