From hosting the Celebration Bowl to the annual Sweetwater 420 Fest to an Atlanta United victory parade, the Georgia World Congress Center Authority (GWCCA) knows how to strut its stuff and put on the best events in Atlanta.
Part of the success of hosting events like these is ensuring that we provide a safe and secure environment for all — this is where the Authority's Department of Public Safety comes into the equation. Our mission is simple: to deliver a safe and enjoyable experience to all that visit our 220-acre campus (and yes, we are still growing).
Will you be coming downtown with your friends, family or loved ones to witness the beauty of our breathtaking new holiday tree in Centennial Olympic Park? Will you be reveling in the glory of college football this month at the Chick-fil-A Peach Bowl at Mercedes-Benz Stadium and its ancillary events on our campus, or checking out the game's greats at the Chick fil-A College Football Hall of Fame (also on our campus)?
Join us…but before you do so, there are some things the Department of Public Safety wants to remind you of, especially during the holiday season:
OUT OF SIGHT:
Before exiting your vehicle, remove valuables from plain view in your car (iPhone chargers, loose change, mail, wallets). This also includes shopping bags. Have a purse or backpack you don't want to carry around? Secure it in your trunk. Your mission is to become and remain a hard target for criminals.
REPORTING SUSPICIOUS ACTIVITY:
Many times, we tend to overlook crimes or incidents and say to ourselves, "that has nothing to do with me." Or worse, pay the incident no mind and not even look in that particular direction. Here on our campus, you are guaranteed to see a friendly and professional security officer on bike patrol at Centennial Olympic Park or a sharp police officer patrolling the campus in one of our marked GWCCA police cars. When in doubt, reach out to one of them and let them know what you've seen. You can also utilize one of our yellow emergency call box pylons throughout the campus or dial 404-223-4911. What you observe matters to us.
ESCALATOR GO UP, ESCALATOR GO DOWN: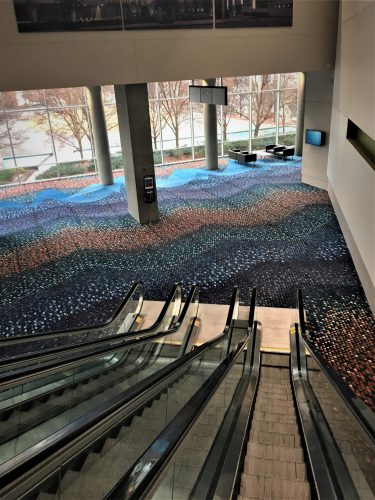 Mangled hands and feet, lacerated tendons, broken or cut off fingers and toes, and head trauma can result from escalator injuries. Here at the GWCCA, we have many escalators inside and out. When riding the escalators, please follow the posted rules and regulations. No horseplay of any kind, running backwards or sitting is allowed. A good practice is to check for loose or dangling items of clothing before stepping on.
Have a safe and happy holiday season.