As 2019 comes to a close, taking stock of the year's accomplishments is top of mind for many businesses and organizations, and the Georgia World Congress Center Authority (GWCCA) is no exception.
The Authority continued to fulfill its mission of creating economic benefits for the Peach State and its capital city in 2019. But new paths to achieving the second part of its dual-pronged mission statement – to enhance the quality of life for every Georgian – were also traveled throughout the year. And what better way to support this mission and broaden our reach than partner with an organization in one of our own buildings? In 2019, the Authority welcomed Junior Achievement of Georgia (JA) as a new Corporate Social Responsibility (CSR) partner.
As a result of this new CSR initiative, twice this year groups of GWCCA team members from various departments volunteered together at JA's Chick-fil-A Foundation Discovery Center, located on the third level of the Georgia World Congress Center's (GWCC) Building C. As volunteers, GWCCA employees served as mentors by sharing their stories of real-world experiences, bringing the immersive learning activities to life for the students. While guiding small groups of students, the volunteers provided those moments of enlightenment as they helped students discover their potential, the importance of financial literacy, and the opportunities that await them beyond the classroom.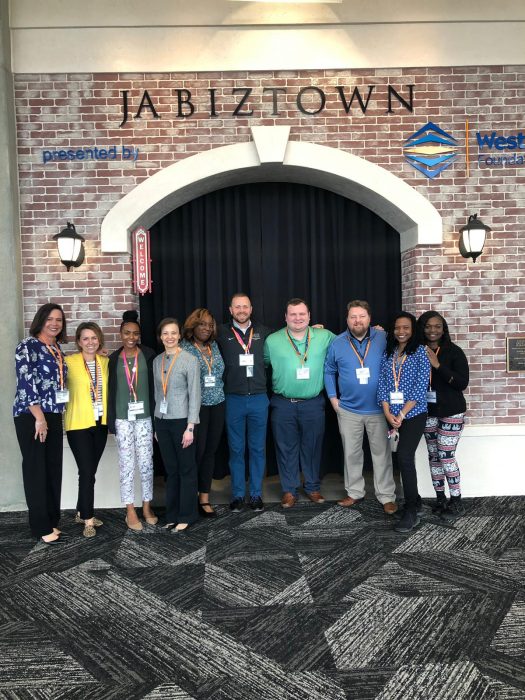 The two programs at Junior Achievement's Chick-fil-A Foundation Discovery Center, JA BizTown and JA Finance Park, welcome more than 30,000 middle school students annually from Atlanta Public Schools, DeKalb County Schools, Fulton County Schools and Marietta City Schools to the GWCCA campus. According to JA's website, 176,000 students throughout the state of Georgia participated in their program last year. The 15,000 volunteers represented over 400 partner organizations and contributed 3,000,000 hours of their time.
"I think that my experience with the students from the JA program taught me just as much as it taught the students," said GWCCA team member Jennifer Freeman who volunteered at JA. "As an adult, I sometimes forget that 'adulting' is something that is a learning process so it was fun getting to engage with the students in real-life grown-up situations. The energy was amazing and I would love to have the chance to volunteer again in the near future."
Founded nationally in 1919 and locally in 1949, Junior Achievement is the world's largest organization dedicated to educating students in grades K-12 about financial literacy, career readiness, and entrepreneurship, reaching more than 10 million students across the globe. These three areas of focus at JA align with the principles held by the GWCCA and supports JA's mission to enable students "… to develop skills to successfully navigate today's complex economic environment and discover how decisions today can impact tomorrow."
JA BizTown creates a unique opportunity where students are able to interact within a simulated macro-economy, and take on the role of an employee, taxpayer and consumer. During their visit, students receive job assignments and work in teams at their assigned business. By the end of the simulation each student completes a day's work, develops a personal budget, deposits a paycheck at the bank and makes purchasing decisions. Finance Park gives students the rare opportunity to experience their personal financial futures first-hand.
Prior to participating in JA, middle school students are led through a series of in-class lessons. The knowledge from the classroom is applied at JA and brings their Discovery Center experience to life. By participating in the activities at JA, the students are given an opportunity to develop their skills and increase their confidence. The GWCCA's team members brought their expertise and dedicated their time to the students and made a huge impact in 2019.
It is an experience that will stay with the volunteers and students for a long time to come.
Want to volunteer too? Learn more about Junior Achievement of Georgia by visiting http://www.georgia.ja.org/.