Among the many holidays and observances happening in May, two grill-centric celebrations – National Burger Month as well as National Barbecue Month – both signal that summer is soon upon us.
That means it is time to tackle the backyard grill and barbecue in the way you wanted for years. Let the chefs at the Georgia World Congress Center Authority (GWCCA) give you some tips and recipes.
Our chefs cook more than 65,000 pounds of meat off the grill annually. From our mouthwatering custom grind burgers offered at Social Table restaurant inside the Georgia World Congress Center to award-winningning smoked barbecue chicken, brisket and pork which is offered throughout the facility, you are going to be impressed.
Our burgers showcase some of the best of Georgia with locally-grown lettuces and tomatoes, toasted brioche buns made fresh in our bakery, and Halprens Meats ¼-inch grind premium beef burgers. When you top it off with your own special sauce or a slathering of Sweet Grass Dairy's pimento cheese spread you will please any crowd.
Let us show you how we make some of our most popular recipes.
BABY BACK RIBS DONE THE CONGRESS CENTER WAY
Here are some easy steps to conquering ribs. If ribs epitomize barbecue for most Americans, the baby back epitomizes ribs. Cut from high on the hog, just next to the spine, baby backs have tender meat—more so than spareribs—abundant fat, and a convenient shape and size that makes one rack perfect for feeding two people.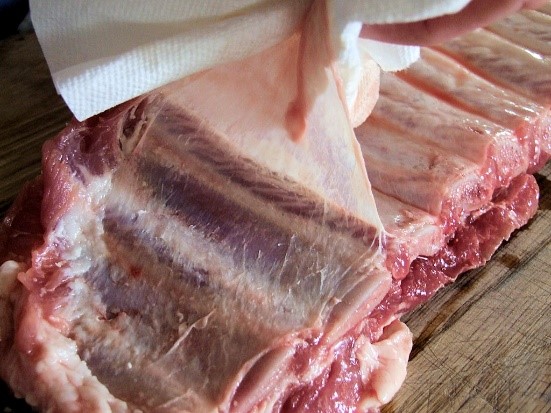 Place the ribs on a rimmed baking sheet to contain any mess.
Ribs have a papery membrane (the pleura) on the concave side of the rack. I like to remove it not only for aesthetic reasons, but because it impedes the absorption of smoke and spices. This is easily done with a butter knife or similar implement. Slide the blade under the membrane — I like to start near the middle bones — and lift up to pry it away from the bones. Then grab it with a clean dishtowel or paper towel and gently pull it off the ribs.
If desired, slather the ribs on both sides with your favorite mustard (many people use common yellow mustard; I prefer Dijon). Then apply your favorite rub. Alternatively, generously apply the rub directly to the raw meat.
Baby backs can be smoked low and slow at temperatures between 225 and 250 degrees; indirect grilled at higher temperatures, 275 to 325 degrees. Maintain a moist environment by placing a heatproof bowl of hot water in your grill before you cook the ribs. Or prepare a mop sauce—a thin, flavorful liquid—before grilling. Use a mixture of apple cider and vinegar, broth, beer, melted butter, or even coffee.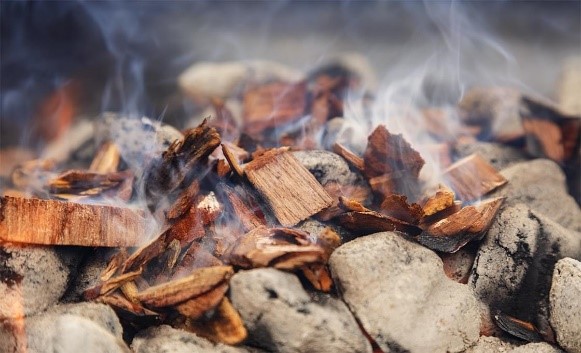 Next is to add the smoke. Ideally, you'll be working over a wood fire. But you can also add wood chunks or soaked, drained wood chips to the coals to generate flavorful smoke. It is nice to taste the meat on its own without the distraction of a sauce.
But if you prefer your ribs sauced, apply it during the last few minutes of cooking. Sizzle the ribs over direct heat, watching carefully so the sugars in the sauce don't scorch. You can, of course, also offer sauce at the table.
Read on for a couple of tasty sauce recipes.
Cider Mop Sauce
Yield: about 1 quart
INGREDIENTS
2 cups apple cider
3/4 cup cider vinegar
1/2 cup bourbon
1/2 cup water
1/4 cup Worcestershire sauce
1/4 cup lemon juice
1/2 teaspoon salt
Recipe Procedure
Combine all the ingredients in a heavy saucepan and bring to a boil. Reduce the heat and simmer the sauce for five minutes. Let cool to room temperature. Transfer the squirt to a spray bottle and use right away or refrigerate.
GWCCA BBQ GLAZE
Yield: Makes about 2 cups
INGREDIENTS
1 1/2 cups tomato puree
1/3 cup distilled white vinegar
3 tablespoons dark corn syrup
2 tablespoons brown sugar
2 tablespoons Worcestershire sauce
1 1/2 tablespoons molasses
1/2 teaspoon grated lemon zest
3 tablespoons fresh lemon juice
1 tablespoon thawed orange juice concentrate
2 teaspoons A-1 Steak Sauce
2 teaspoons soy sauce
1 teaspoon Tabasco sauce or other hot sauce
1 1/2 teaspoons coarse salt (kosher or sea), or more to taste
1 teaspoon onion powder
1 teaspoon garlic powder
1/2 teaspoon freshly ground black pepper, or more to taste
1/4 teaspoon ground cloves
Recipe Procedure
Step 1: Combine the tomato puree, vinegar, corn syrup, brown sugar, Worcestershire sauce, molasses, lemon zest and juice, orange juice concentrate, steak sauce, soy sauce, Tabasco sauce, salt, onion powder, garlic powder, pepper, and cloves in a large deep heavy nonreactive saucepan over medium-high heat. Gradually bring to a boil, whisking often.
Step 2: Reduce the heat to medium and let the sauce simmer until thick and richly flavored, six to 10 minutes, whisking occasionally. Taste for seasoning, adding more salt and/or pepper as necessary.