With Earth Day celebrating its 50th anniversary on Wednesday (April 22), it's a great opportunity to dive into the recently-published results from the world's largest gathering of green building professionals dedicated to sustainability in the built environment.
We're talking about the Greenbuild International Conference and Expo, of course, which was held in November on the Georgia World Congress Center Authority's (GWCCA) campus.
In addition to a keynote address by former U.S. President Barrack Obama at the Georgia World Congress Center (GWCC) and an invitation-only concert by Georgia-based rockers Collective Soul at Mercedes-Benz Stadium, the event utilized 100 percent reusable or recyclable staging and decor, 100 percent compostable eating utensils and dinnerware, 100 percent of the event's lanyards were made in the U.S, zero bottled water was sold at the GWCC, the event saw a 64 percent reduction in its water footprint, and zero PVC, vinyl and foam core was used, according to Greenbuild's 2019 Sustainability Report.
"GWCC was instrumental in making Greenbuild sustainability programs successful, collaboratively creating an excellent waste management plan, data collection and connecting us with local Georgia groups to support com­posting, food and materials donation as well as sustainable attendee engagement activities onsite," according to the report.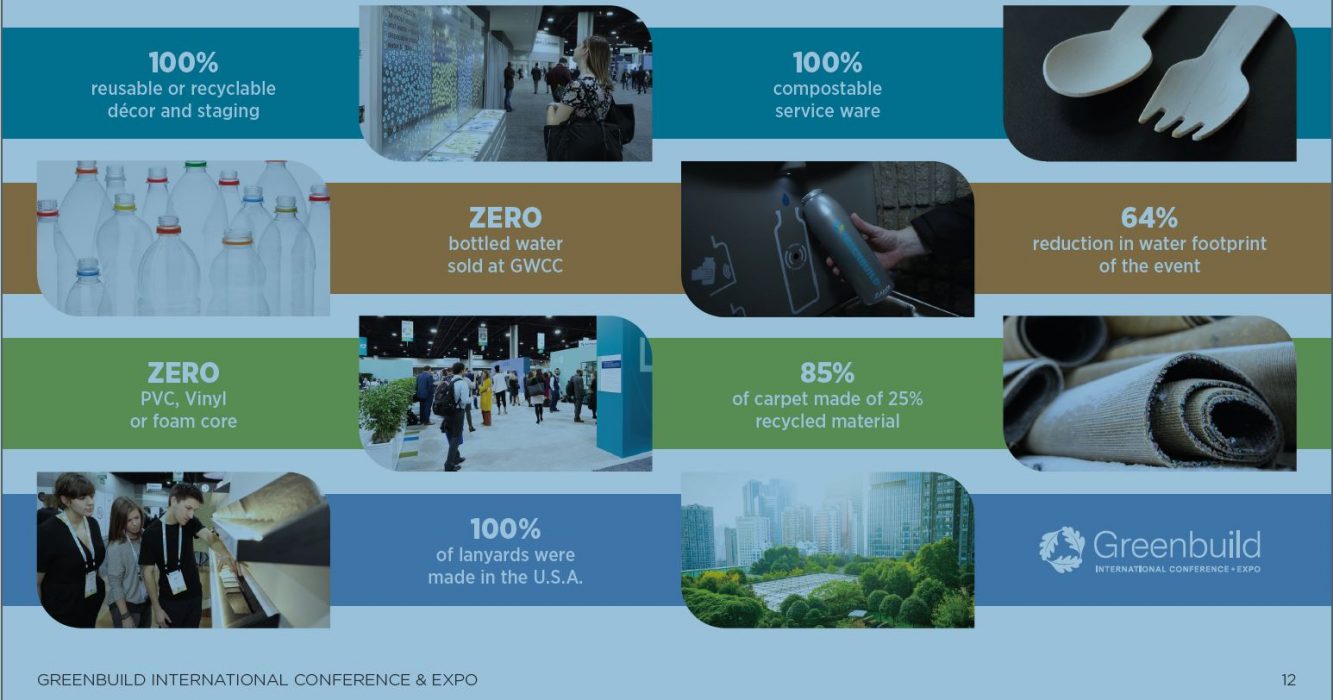 Greenbuild, which returned to GWCC for the second time in its 18-year history, is produced by Informa in collaboration with the U.S. Green Building Council (USGBC) and has been a leader in pushing the convention industry toward more sustainable practices. It is one of the first events to produce its own sustainability report.
All Greenbuild Sustainability Reports can be found here: https://www.greenbuildexpo.com/en/show-info/sustainability-at-greenbuild/reports.html
USGBC is the non-profit entity behind the Leadership in Energy and Environmental Design (LEED) rating system, which has become the world's pre-eminent guide to green buildings. Much has changed at GWCC since 2005, the last time we hosted Greenbuild. At that time, the building hadn't yet developed a recycling program. Today, GWCC is LEED Gold certified and is the largest LEED certified convention center in the world. Thanks in part to technological and operational improvements at GWCC, the estimated greenhouse gas (GHG) emissions per participant were almost half of that it was in 2005.
Likewise, composting was first initiated at GWCC for Greenbuild in 2005. In the last 10 years, GWCC has instituted standard composting practices for all kitchen food waste which has resulted in more than 4.9 million pounds of food waste diverted from landfills.
Like many conferences, Greenbuild places waste diversion high on its list of priorities. This is because waste diversion has historically been a challenge for the industry for many reasons: availability of resources in different municipalities, existing infrastructure, stakeholders involvement, and the time and space needed to separate materials.
For this particular conference, meeting organizers take many steps to ensure success by making simple decisions to reduce the amount of waste generated by eliminating disposable cups and bottled water, by not using foam core, vinyl, or PVC signage, and by working with the GWCCA food services team to ensure 100 percent of service ware was compostable.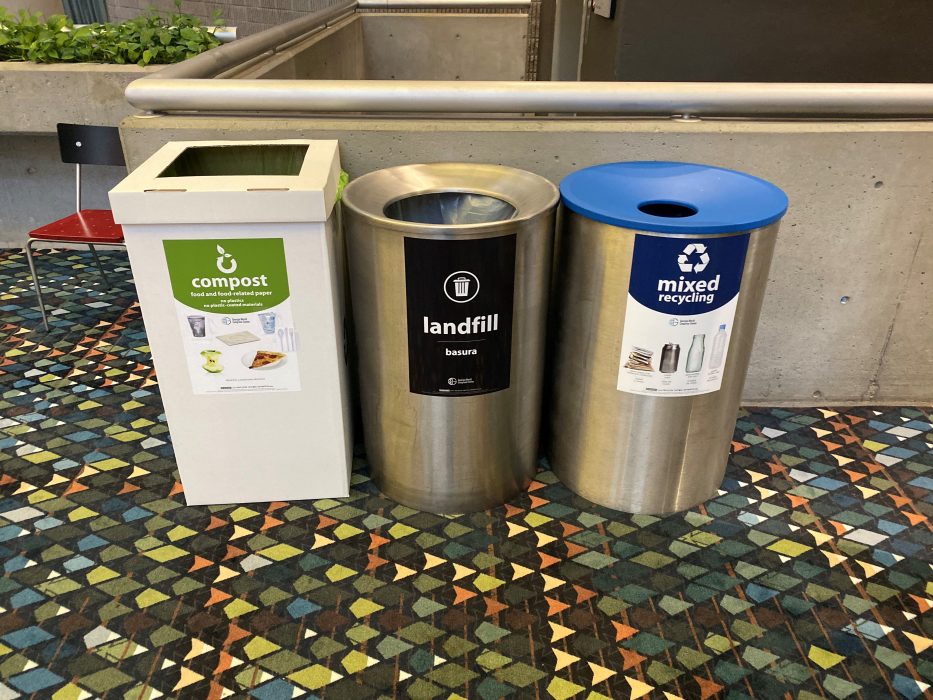 GWCCA's Facility Operations team managed the attendee-facing compost collection bins and student volunteers stationed at the containers helped guests to sort into the three-bin system. They also provide green exhibitor guidelines and awards that encourage the use of fewer products, the reuse or donation of materials, and the minimization of handouts. As a result, 82 percent of the event waste stream was diverted from landfills and the event was able to achieve TRUE Zero Waste Platinum Certification at 91 percent when factoring in reduction and reuse.
GWCCA prides itself on being a partner with each event that it hosts, and to hear more about the Authority's sustainability and CSR (corporate social responsibility) initiatives, tune in here to The Authoricast for Part 1 of an Earth Week series featuring this blog's author, Tim Trefzer, GWCCA's Director of Sustainability and CSR. Then come back on Earth Day (Wednesday, April 22) for Part 2: https://www.gwcca.org/the-authoricast.