Support comes as part of Bank of America's efforts to help build a thriving community and economy in Atlanta with targeted capital investments  
ATLANTA – Bank of America today announced a $1 million grant to help redevelop and expand Centennial Olympic Park. The bank's Atlanta market president Wendy Stewart presented the award to representatives from the Georgia World Congress Center Authority (GWCCA) — executive director Frank Poe and David Allman, chairman of GWCCA's Board of Governors.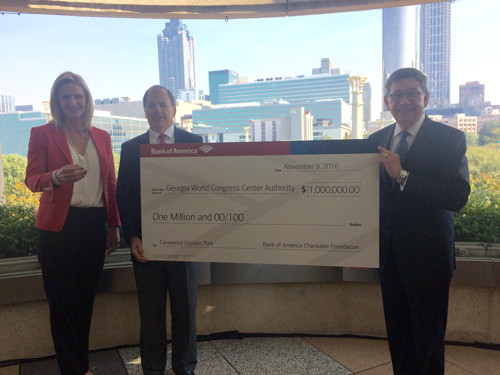 Bank of America's support for the park's expansion will help GWCCA realize its 2020 Vision strategic plan by funding improvements to the 21-acre site and in turn strengthening the economic health of Atlanta.
"Centennial Olympic Park is a cornerstone of Atlanta civic activity, and Bank of America has a deep legacy with the Olympics, going back to our local predecessor NationsBank," Stewart said. "We believed in the promise the park and the Games symbolized for a flourishing city, and since then have continually invested in the communities that make up our city by supporting neighborhood revitalization, arts and culture and environmental conservation."
Through its Vision 2020 strategic plan, GWCCA will develop projects to increase community access, attract visitors and expand programming opportunities. These projects include adding additional green space, creating a pedestrian plaza, revamping the park's popular amphitheater, creating a bike depot in conjunction with the PATH Foundation, and opening up the Baker Street corner to neighboring attractions.
"Over the past 20 years, Centennial Olympic Park has been a place where Atlanta welcomes visitors from around the globe," Poe said. "Through Bank of America's generosity, we are excited that the park will continue to serve as a glorious gathering spot for years to come."
 Through its predecessor NationsBank, Bank of America has supported the Olympic Games and its impact in the city dating back to the early nineties. As a sponsor of the Olympics in Atlanta, the company significantly invested in the Games and in bringing the event to Atlanta.
"Bank of America supports local communities through capital investments in Atlanta and in cities across the U.S.," Stewart said. "Through our grant and by partnering with GWCCA we're helping to create jobs, enrich the cultural fabric of Atlanta and drive investment in the surrounding communities."
About Bank of America Environmental, Social and Governance
At Bank of America, our focus on Environmental, Social and Governance (ESG) factors is critical to fulfilling our purpose of helping make people's financial lives better. Our commitment to growing our business responsibly is embedded in every aspect of our company. It is demonstrated in the inclusive and supportive workplace we create for our employees, the responsible products and services we offer our customers, and the impact we help create around the world in helping local economies thrive. An important part of this work is forming strong partnerships across sectors – including community and environmental advocate groups, as well as non-profits – in order to bring together our collective networks and expertise to achieve greater impact. Learn more at www.bankofamerica.com/about and connect with us on Twitter at @BofA_News.
About the Georgia World Congress Center Authority
Located in the heart of downtown Atlanta, the Georgia World Congress Center Authority (GWCCA) now includes Mercedes-Benz Stadium, the 3.9 million-square-foot convention center, the 71,250-seat Georgia Dome, and 21-acre Centennial Olympic Park. Additionally, GWCCA manages operations of the Savannah International Trade & Convention Center. These public facilities represent the largest combined convention, sports, and entertainment destination in the world. This past year, the GWCCA welcomed more than 2.7 million customers who generated $1.5 billion in economic impact, $87 million in new tax dollars, and sustained more than 15 thousand jobs in Georgia.
# # #