You may have been to ONE Musicfest before, but you haven't been to ONE Musicfest at Centennial Olympic Park.
It's the festival's 10th anniversary, but the first time being staged at downtown Atlanta's crown jewel and ultimate outdoor concert venue.
Stay calm, unConventional has you covered with this know-before-you-go guide to the Southeast's largest two-day urban progressive music festival featuring three performance stages happening Saturday (Sept. 7) and Sunday (Sept. 8) at the Park.
The first order of business: the Centennial Olympic Park box office. It opens today (Thursday) from 11 a.m. and 7 p.m., located on the perimeter of the Park at Marietta Street and Andrew Young International Blvd. It's where you pick up festival wristbands if purchased after Aug. 27, where will call is located and also the spot for walk-up ticket sales. Box office hours continue 11 a.m. to 7 p.m. Friday, 10 a.m. to 9 p.m. Saturday and Sunday.
Go to www.onemusicfest.com/tickets/ to purchase online tickets.
WHO IS PERFORMING AND WHEN?
Ever heard of Gucci Mane, Rick Ross, Wu-Tang Clan, Pharrell Williams, Ari Lennox, Usher, Summer Walker, and T-Pain? That's just the tip of the iceberg, check out the alphabetical bios of all the artists performing at the festival here and see the performance schedule below.
SATURDAY'S SCHEDULE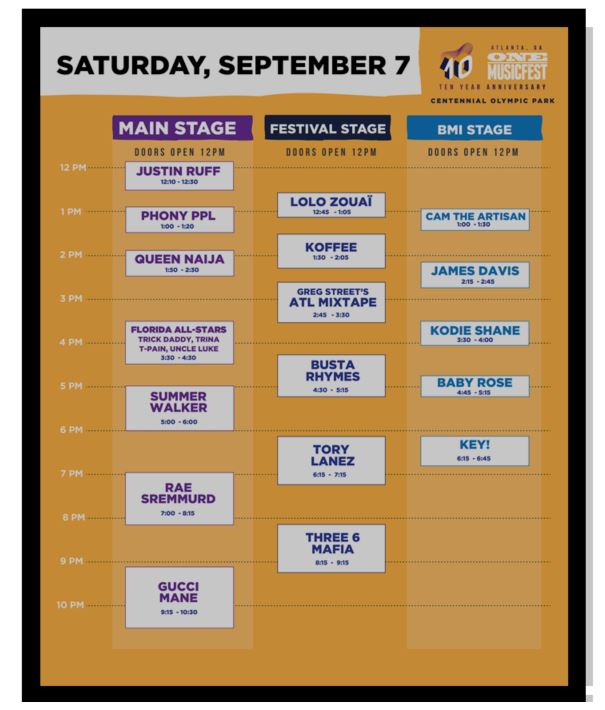 SUNDAY'S SCHEDULE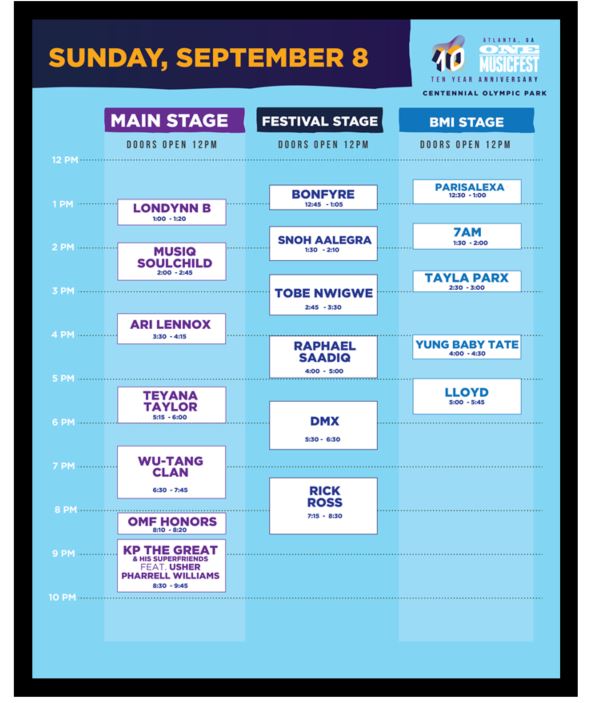 GETTING HERE
OK, you've got your ticket/wristband situation under control – how are you going to get here?
As the slogan goes, take MARTA, it's smarta. The Park is served by four nearby MARTA rail stations: Dome/GWCC/Phillips Arena/CNN Center (yes, the name is outdated) is the closest but Peachtree Center, Vine City, and Five Points are also within easy walking distance.
If driving, the Georgia World Congress Center Authority (GWCCA) campus has multiple parking options to choose from, and the closest to the Park is the Green Deck on Marietta Street abutting the College Football Hall of Fame. To pre-purchase parking, click here.
Keep in mind that downtown roads are very likely to be congested as other events are going on simultaneously on the GWCCA campus and the surrounding area, including the Ace Hardware Fall Convention at the Georgia World Congress Center and the GWCCA's International Plaza.
Rideshare (Uber/Lyft) is also encouraged.
FOOD & BEVERAGE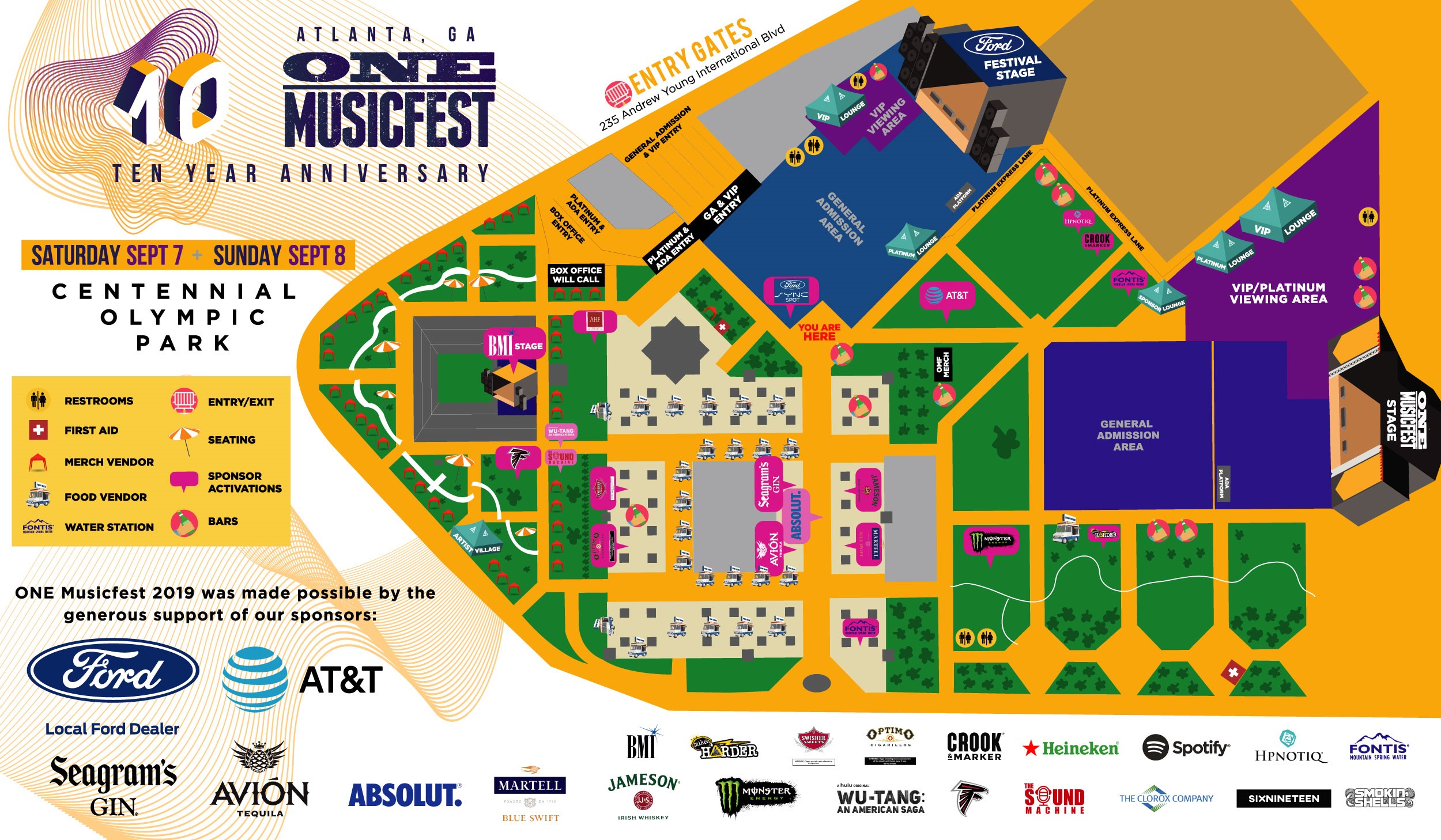 There's more than music on tap at OMF, and a signature component of the event is an array of 25-plus popular food vendors stationed around the Fountain of Rings area.
Food vendors include: Jalapeño Corndog, South of Philly Food Truck, Jerk Brothers Food Truck, Baba Kabab, Just Loaf'N, Just Wing'N, Local Green Atlanta, Crab Daddy's Surf & Turf, Supreme Fish Delight, Atlanta Seafood Company, Tropics Jerk Center, Let's Taco 'Bout It, Williamson Bros. BBQ, A Peace of Soul, Flavor Rich Food Truck, Healthful Essence, Around the Block Cheesesteaks, Makara's Mediterranean, Dre's Water Ice & Icecream, CocoCrissi, Bento Bus, Pizza Nova, and Slutty Vegan.
To wet your whistle, bars throughout the festival grounds and VIP areas will serve various beverages, including beer, wine and non-alcoholic drinks.

WHAT NOT TO BRING

It's going to be hot, so be sure to protect your skin with sunscreen (no aerosol cans), bring sunglasses and hat, and most importantly stay hydrated. On that latter point, free water stations will be set up for patrons throughout the festival site.
You can bring an empty plastic container to fill at the water stations, but you have to leave metal water bottles at home.
For a complete list of what you can and can't bring, click here.