ATLANTA – (Nov. 15, 2017) –
AT&T Playoff Playlist Live!, featuring free headlining performances by Jason Derulo, Charlie Puth, The Chainsmokers and Darius Rucker, is set for Jan. 6-8 at Centennial Olympic Park as part of the College Football Playoff (CFP) Championship weekend on the Georgia World Congress Center Authority's downtown Atlanta campus.
The free, three-day concert series will include fan-friendly entertainment, product give-aways, daily ESPN broadcasts and fireworks shows.
The CFP National Championship game kicks off at 8 p.m. Jan. 8 at Mercedes-Benz Stadium.
Gates for AT&T Playoff Playlist Live! concerts open at 4 p.m. Jan. 6 and Jan. 7, and at noon on game day (Jan. 8).
Other artists slated to perform include Lizzo (Jan. 6), Bebe Rexha and Spencer Ludwig (Jan. 7), and Brett Young (Jan. 8).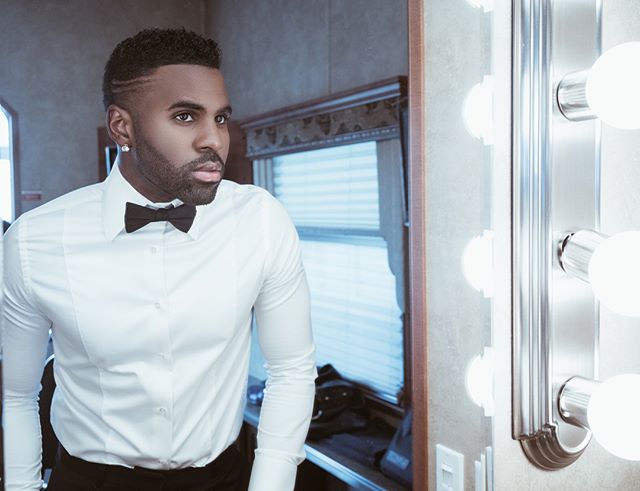 Derulo (pictured above) is a multi-Platinum powerhouse whose current hit "Swalla" has over 800 million YouTube views. With more than 102 million single equivalent sales worldwide, his introductory breakout "Whatcha Say" and "Talk Dirty" (feat. 2 Chainz) reached quadruple-Platinum status, while "Want To Want Me" and "Ridin' Solo" went triple-Platinum and "Trumpets," "Wiggle" (feat. Snoop Dogg), and "In My Head" earned double-Platinum certifications. Platinum singles include "Marry Me," "The Other Side," and "It Girl." Cumulative streams exceed 6.3 billion and his music has impacted a total audience of more than 20 billion listeners at radio.
Multi-GRAMMY nominated and multi-Platinum singer/songwriter/producer Puth is climbing charts with his latest single "How Long" from his highly-anticipated sophomore album VoiceNotes, which arrives January 19, 2018. "How Long" follows the first single from VoiceNotes, "Attention," which hit No. 1 at U.S. Pop Radio and peaked at No. 5 on the Billboard Hot 100. VoiceNotes is the follow-up to Puth's 2016 RIAA Platinum-certified debut album, Nine Track Mind, which featured multi-Platinum singles "We Don't Talk Anymore" (feat. Selena Gomez), "One Call Away" and "Marvin Gaye" (feat. Meghan Trainor).
Lizzo made her major-label debut for Atlantic Records in 2016 with the EP Coconut Oil. Lauded by Rolling Stone as one of the "20 Best Pop Albums of 2016," the EP boasted the hit "Good as Hell," which churned out 7.3 million Spotify streams, along with the current single "Truth Hurts." She's currently headlining her first national tour.
GRAMMY Award-winning and Billboard chart-topping artist/producer duo The Chainsmokers, return to Centennial Olympic Park, having performed here in May during the Shaky Beats Music Festival. Comprised of Alex Pall and Drew Taggart, the duo has created a signature sound spanning indie, progressive and pop realms. In 2016, the group catapulted to stardom with three certified multi-Platinum hits, "Roses," "Don't Let Me Down," and "Closer." In 2017, they released their now Platinum-certified debut album, Memories…Do Not Open, which debuted at No. 1 on the U.S. Billboard 200 chart. Most recently wrapping their "Memories…Do Not Open" arena tour, they have performed all over the world and at major festivals.
Rexha topped the Billboard charts in 2015 with the Platinum-selling "Me, Myself & I" (feat. G-Eazy). In early 2017, she released her debut EP All Your Fault: Part 1, followed by All Your Fault: Part 2, with current smash "Meant to Be" (feat. Florida Georgia Line). To date, she has accumulated over ten million overall single sales and one billion Spotify streams.
Trumpeter, singer and songwriter Ludwig launched his solo career with the infectious hit "Diggy," which soundtracked Target's 2016 Fall Style campaign. Prior to his Warner Bros. Records solo debut, he was the featured trumpeter for multi-Platinum act Capital Cities. Spencer merges jazz and pop for a sound that simmers with soul. He is currently working on new music, due out in 2018.
Three-time GRAMMY Award winner  Rucker began his solo country career in 2008 after first gaining fame with the rock band Hootie & the Blowfish. Since re-introducing himself as a country artist, Rucker has released four consecutive chart-topping albums, winning both CMA and GRAMMY awards. In 2014, Rucker's rendition of "Wagon Wheel" reached No. 1 on the Country radio charts and was certified triple-Platinum. With eight career No. 1 country singles, Rucker's fifth country studio album, When Was the Last Time, was released in October 2017.
Young's Gold-certified self-titled debut features two back-to-back No. 1 smashes, including the Platinum-certified "Sleep Without You" and two-time Platinum "In Case You Didn't Know." The California native was recently named one of Rolling Stone's "Artists You Need to Know" and has been recognized with nominations from the ACM Awards, People's Choice Awards, CMT Music Awards and CMA Awards.
For additional information on AT&T Playoff Playlist Live! and the national championship game, visit www.collegefootballplayoff.com