Georgia World Congress Center Authority is celebrating Black History Month with a series of events organized by its JEDI Council. An acronym for justice, equity, diversity, and inclusion, the JEDI Council coordinated several events for GWCCA Team Members on and off campus to celebrate and appreciate Black culture across the city of Atlanta.
A lunch and learn was held at Georgia World Congress Center where team members enjoyed a viewing and discussion of Jane Elliot's famous 1968 "Blue Eyes/Brown Eyes" Experiment. Alisha King, co-chair of the JEDI Council, said, "Our goal with this viewing is to bring to the forefront the various components of unconscious bias, how they form and how they affect those impacted by them." The entire executive suite of GWCCA was in attendance for the lunch and hour-long discussion. JEDI Council member and discussion moderator Shavannia Williams said of the event, "It was an empowering and meaningful discussion. I was proud to see the diversity among the team members who attended, and the courage displayed in sharing their experiences."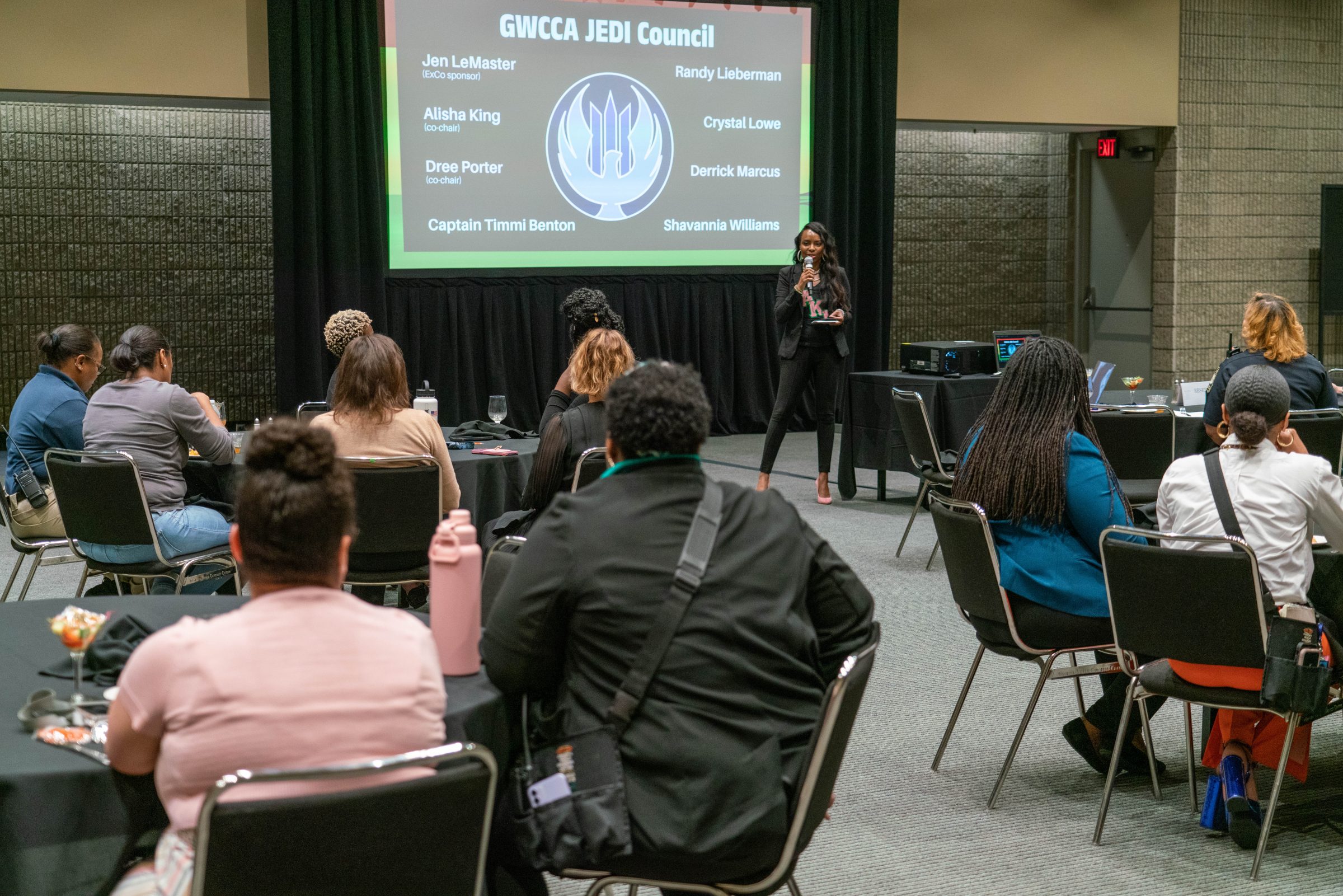 GWCCA Team Members will also be treated to a tour of the APEX Museum, the oldest Black history museum in the city of Atlanta, to further learn about the rich history of the African Diaspora. "These initiatives focus on appreciation and culture, and our hope is to instill a sense of value to the various contributions and successes of the African-American community," King said.
The JEDI Council was created three years ago and has sought to build on its legacy by: inspiring others to choose behaviors that demonstrate civility and respect; identifying pathways for celebrating distinct skills, experiences, and perspectives; curating access to resources and opportunities; and serving as ambassadors to the campus, the city, the state, and the industry at-large. JEDI's commitment to foster a more equitable culture transcends business as usual and results in enduring relationships with customers, communities, and each other. JEDI's Black History Month initiatives over the past few years have done just that. Council member Derrick Marcus said, "During the past three years, the JEDI Council's goal has been to share information that we feel would 'plant a seed' in the minds of our workforce. The one word that comes to mind is 'Enlighten'.   We realize that we may not see immediate change, but when the seed falls on honest and sincere hearts, change is inevitable. In the past years, we have walked away from some of the sessions and heard our team members say, 'I did not know that', or 'wow, I am glad I came, this was good'.  We all feel good that we have done what we set out to do, and that is to 'enlighten'."
GWCCA's JEDI Council is planning a similarly robust programming in March for Women's History Month.
Posted by
Austin Simmons
on Feb. 24, 2023