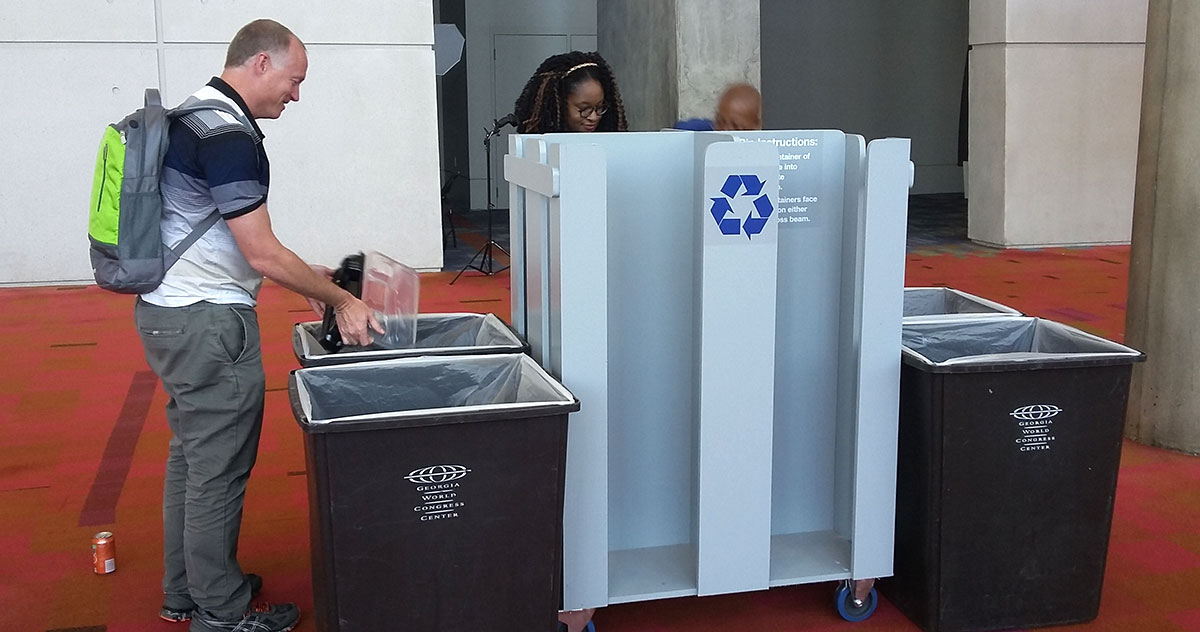 By Kent Kimes/GWCCA Sr. Staff Writer
ATLANTA – (Oct. 7, 2016)
When feeding the masses, mitigating the waste materials is always top of mind for the Georgia World Congress Center Authority (GWCCA), a leader in sustainability and owner/operator of the largest LEED (Leadership in Energy and Environmental Design) certified convention center in the world.
With a gigantic food order looming – including approximately 92,000 box lunches served across five days – for the Microsoft Ignite conference, Sept. 26-30 on GWCCA's downtown Atlanta campus, members of the Authority's sustainability, building services, engineering and food services teams put their heads together to come up with a creative solution for recycling the meals' plastic packaging.
"We asked ourselves, what can we do to both recycle as much as possible and also make Building Services' job of collecting the material as easy as possible?" said Tim Trefzer, GWCCA's Sustainability Manager.
The result: 26 rolling 4-foot-high plywood carts affectionately dubbed "BLuRCs" (Boxed Lunch Recycling Collection), designed by Harry Duncan, a carpenter with the GWCCA's engineering department.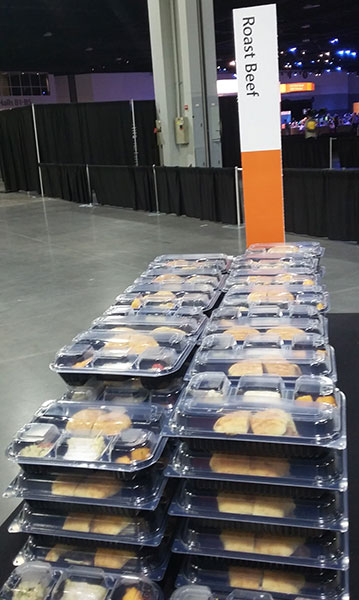 "We realized that there would be approximately 15,000 box lunches every day during Microsoft Ignite," said Trefzer. "The boxes that they're coming in are plastic and recyclable – but if we allowed attendees to just throw them out, as they normally would, the volume of that would cause all sorts of backups with Building Services, because they'd fill up trash cans and recycling bins really quickly."
Instead, the box lunch containers, prepared by GWCCA food services partner Levy Restaurants, were separated from the rest of the waste stream via the newly-designed collection carts, thus streamlining the recycling process. Each cart can hold up to 1,000 box lunch containers.
The new collection units, flanked by trashcans and regular recycling bins, were spread throughout the campus for Microsoft Ignite, including several at the outdoor lounge-like area on West Plaza between Georgia World Congress Center Building C and the Georgia Dome.
Painted light grey and adorned with recycling decals, the process for attendees utilizing the carts is simple, as spelled out on the accompanying signage: "1) Empty container of food waste into appropriate receptacle 2) Place containers face up in slot on either side of cross beam."
Provided a rough sketch of the concept that featured four compartments, Duncan said the design of the units immediately popped into his head and he went to work.
"I tried to make the design simple so it would be easy to assemble," said Duncan, who has a background in cabinetry.
Duncan and his engineering colleagues Phillip Haynes, Ben Cadore, Tim Smith, David Howard, Daniel Johnson and Terry Causey, logged 193.5 man hours building the fleet of recyclable collection carts, utilizing 52 sheets of plywood, 1,560 screws, 104 casters, 416 nuts, bolts and washers, and 20 gallons of paint.
Trefzer and GWCCA Recycling Specialist Ima Otudor believe the units can be used for other events on the GWCCA campus, and the project represents a creative collaboration between several departments and a commitment to innovation. "This is a great opportunity for Levy to showcase their collaboration and innovative efforts to work with clients," he said. "As they continue to use those same clamshell boxes, we should be able to use these collection carts frequently."
And the customer – which is the focus of everything the Authority does – was pleased.
"They were impressed that we even thought that far ahead and created something like this," said Trefzer. "Because Microsoft is really sustainability-oriented, they wanted us to find a way to recycle them anyway."