It's been two weeks since the day dubbed as "Mass Exodus Monday" when a record 101,999 passengers were screened at Atlanta's airport on their way out of town after the Super Bowl.
Widely hailed as a resounding success and further proof that Atlanta is the preeminent host city, Super Bowl LIII provided an opportunity for the Georgia World Congress Center Authority's (GWCCA) championship campus to shine on the world's stage.
While the estimated economic impact of Super Bowl LIII is still being tallied, we've compiled the following numbers that detail how the GWCCA team played a pivotal role in creating memorable experiences for locals and out-of-town fans alike attending events leading up to and including the big game.
500,000-plus total attendance combined at Super Bowl LIVE, the free six-day fan village at Centennial Olympic Park, and Super Bowl Experience, the NFL's interactive theme park inside the Georgia World Congress Center (GWCC).
80-plus artists performed at Super Bowl LIVE, including notable Atlanta-based hip-hop and R&B acts Goodie Mob, Monica, Pastor Troy and EDM duo ATLiens.
70,081 fans attended the Super Bowl at Mercedes-Benz Stadium on the GWCCA campus.
159,777 parking spaces on the GWCCA campus were allocated to service the Super Bowl operations.
82,700,379 square feet of event space booked at the GWCC and the Park for Super Bowl functions.
563 miles of fiber optic cable for TV and radio broadcasts originating from the GWCCA campus, installed from November through January by the GWCCA's IT partner CCLD Networks.
FOOD FOR THOUGHT
The GWCCA's food services partner, Levy Restaurants, which deployed 18 chefs from eight different states, along with 600 cooks, was busy preparing and serving:
16,000 sausages and hot dogs
Waste not, want not, as the adage goes, and leftover food items collected from Jan. 30-Feb. 3 – 66,821 pounds of it in fact – were donated from the GWCC by food donation partner Goodr. This was enough to provide more than a dozen different area nonprofit organizations with more than 27,600 meals.
THE GUEST EXPERIENCE
Meanwhile, the GWCCA's Guest Services team helped customers complete 1,209 electronic customer service surveys, resulting in an overall satisfaction score of 4.7 on a scale of 1-5. To read more about this customer-focused initiative, check out pages 12-13 in the GWCCA's 2018 Annual Report.
SAFETY FIRST
With the heightened security surrounding the Super Bowl, the GWCCA's Department of Public Safety, along with various officers from several state and federal agencies, worked long hours ensuring the safety of our visitors, team members, customers and guests.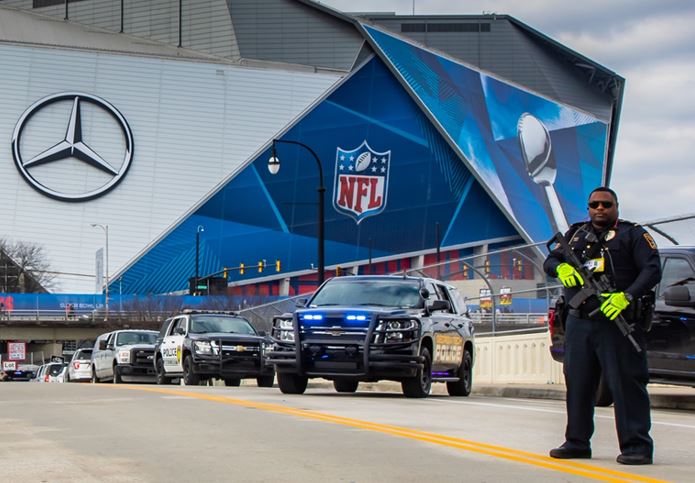 From Jan. 26 to game day, Feb. 3:
6,527 hours worked by 112 GWCCA Public Safety personnel.
700 total hours worked by GWCCA Public Safety's Command Center staff of five, each averaging 14-hour shifts.
15,835 hours worked by state officers from various agencies, including Georgia State Patrol, Department of Natural Resources, Department of Community Supervision, Georgia Department of Corrections, and Georgia Public Safety Training Center.
9,833 hours worked by 201 extra-duty officers from local departments.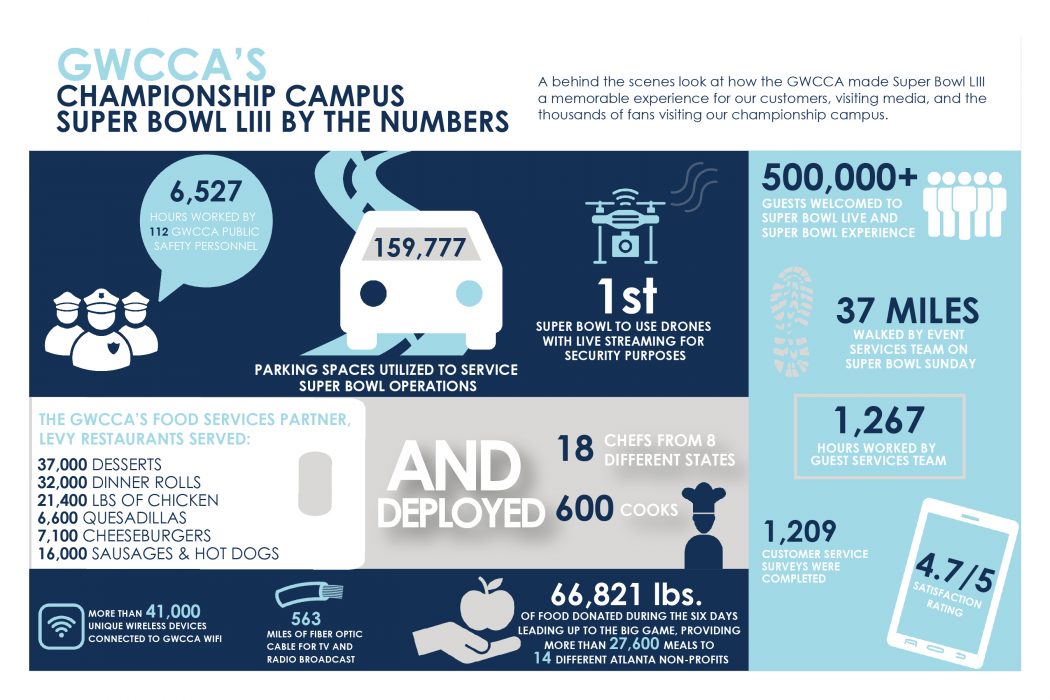 Posted by
Kent Kimes Sr. Staff Writer
on Feb. 19, 2019
A metro Atlanta native, Kent joined the Authority in 2015. He is your digital tour guide to the No. 1 convention, sports and entertainment destination in the world. His customer service approach is summed up by the Little River Band track "Help Is On Its Way."