Cheerleaders and cheer-families really like chicken tenders.
That's one of the many lessons learned in the successful inaugural year of Social Table, a spacious modern flexible eatery concept that officially opened inside the Georgia World Congress Center in February 2017.
Social Table served it first customers during the International Production and Processing Expo (IPPE) in late January/early February 2017 and then held its grand opening on Feb. 16, 2017. Soon thereafter, the restaurant served its first CheerSport, a national cheerleading competition attracting 50,000 visitors with an apparent appetite for chicken tenders, which were specifically added to the menu. When CheerSport rolled around again this February, Social Table was well-prepared and stocked with chicken tenders – and orders nearly doubled (45 percent increase) compared to 2017.
"We figured that out immediately last year and adjusted our menu to accommodate this year," said Amanda Dumich, director of restaurant and retail services for Levy Restaurants, the Georgia World Congress Center Authority's (GWCCA) food services partner.
And that's the basic formula for Social Table: tailor the menu to fit the events that are taking place on the GWCCA campus.
In other words, the eating habits and tastes of teenaged cheerleaders may not be the same as millennial web developers attending a tech expo, or pigskin fans on campus for College Football Playoff National Championship events.
For example, for the ASH (American Society for Hematology) Conference that brought 27,000 doctors, researchers and other healthcare professionals through the GWCC doors in December, Social Table removed pizza from the menu and added more health-conscious alternatives, such as vegetable and chicken Caesar Piadini.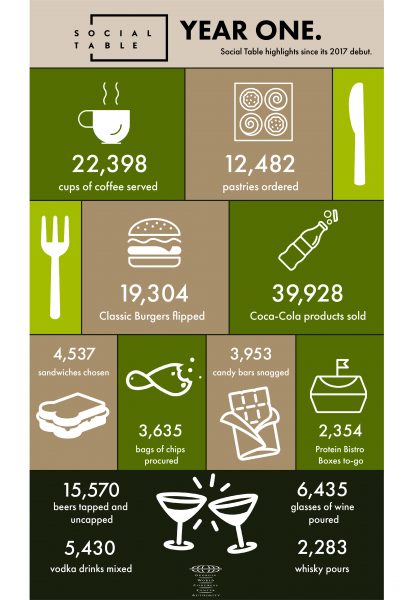 "The menu is constantly evolving," said Dumich. "We created new items for particular shows and if the items are well-received, we keep them on the menu. If they are not well-received, we remove them. Also, we change our menu based on clients' needs."
CheerSport 2018, meanwhile, proved to be the highest-revenue-driving event for Social Table to date, also providing the restaurant's highest one-day revenue.
Social Table replaced Terraces Restaurant, which was more of a fine dining outlet, located near the International Boulevard entrance of the GWCC's Building B, and features a grill, grab-and-do stations and build-your-own salad bar.
The $3.1 million makeover, a collaboration between the Authority, Levy and its experience design agency, Curiology, and Atlanta-based design and architecture group ai3, transformed the space into a sleek gathering spot, with various seating configurations, including a full-service 35-seat bar.
Social Table was projected to meet its return on investment in five years, but Dumich said that goal should be fulfilled after only its second year of operation.