Jam bands are generally defined as groups that incorporate long sections of improvising – or jamming – into their live shows.
While infusing many other genres throughout its 15-year history, the Sweetwater 420 Fest's bread-and-butter has remained artists associated with the jam band scene, from Grateful Dead drummer Mickey Hart to Umphrey's McGee, and this year's two-night headliner Widespread Panic.
Upping the ante on the improvisational nature of jam rock, Everyone Orchestra took to the 420 Fest main stage this afternoon (Saturday, April 20) at Centennial Olympic Park as a chilly drizzle began overhead.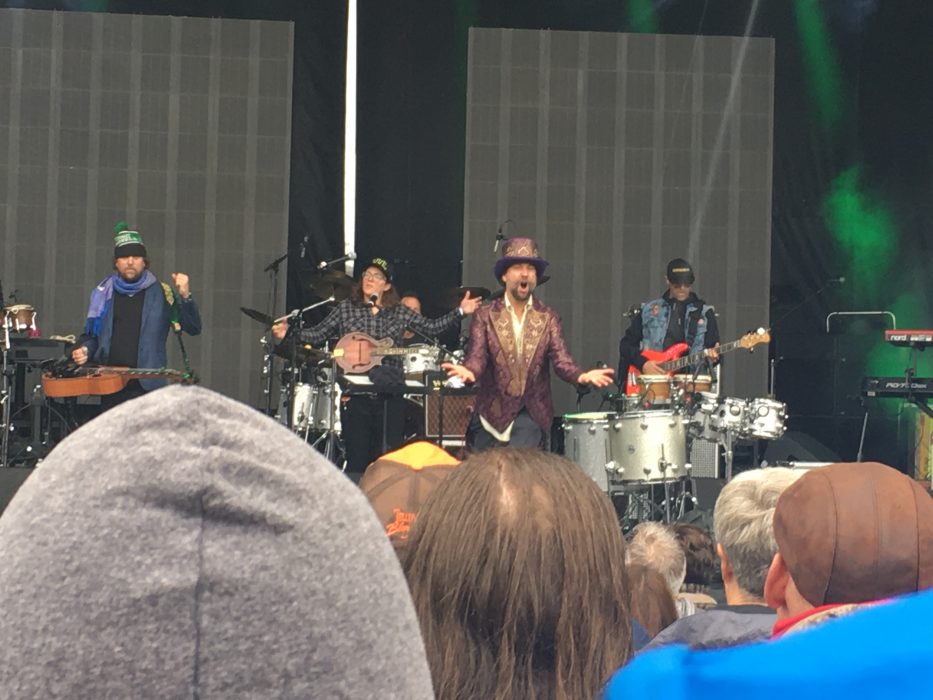 The band isn't really a band at all, but rather a collective of rotating musicians without a permanent member, other than conductor Matt Butler.
For today's performance, Butler recruited some of the festival's scheduled performers along with industry heavy-hitters such as Stephen Perkins, the drummer for Jane's Addiction, and members of jam band stalwarts Umphrey's McGee and the Trey Anastasio Band.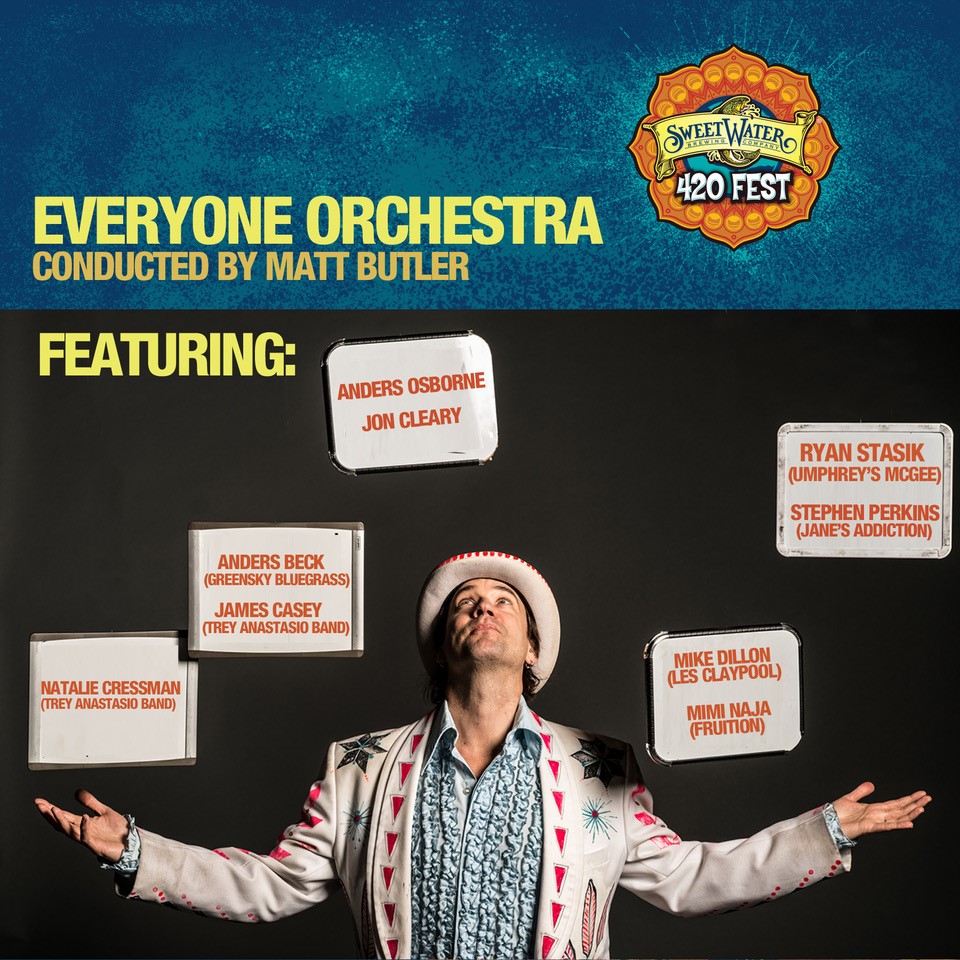 Clad in a purple top hat and matching tails, Butler looked the part of a rock 'n' roll conductor, facing the musicians and giving them cues and visual commandments.
Turning to the crowd, he said, "this is the schtick – we're improvising – we're making it up. They have no idea what's going to happen."
"Alright, let's do this!"
Perkins began a fast-driving beat and the others joined in one by one – bass, keyboards, percussion, guitar, dobro, mandolin, electric banjo, and two-piece horn section, weaving a tapestry of sounds. Butler cued each musician and emphatically led them into their solos, using hand gestures, count-ins, physical movements and messages flashed on a computer tablet.
With the rain intensifying just as the musicians were warming up, a small throng had gathered toward the front of the stage as many patrons sought shelter under various tents and structures in the Park. But by the time the first jam was reaching a crescendo, a larger gathering filled in the north lawn area, grooving to the pulsating rhythms. Motifs flowed straight into the next, then found their way back to the begining.
After the first lengthy improvised number came to a close, Butler joked, "soundcheck is done – were' ready to rock!"
The second jam started with a slower but heavier groove – something Perkins might play with hard-rocking outfit Jane's Addiction, as Butler cued the rest of the band in after the rhythm section's pattern had been established.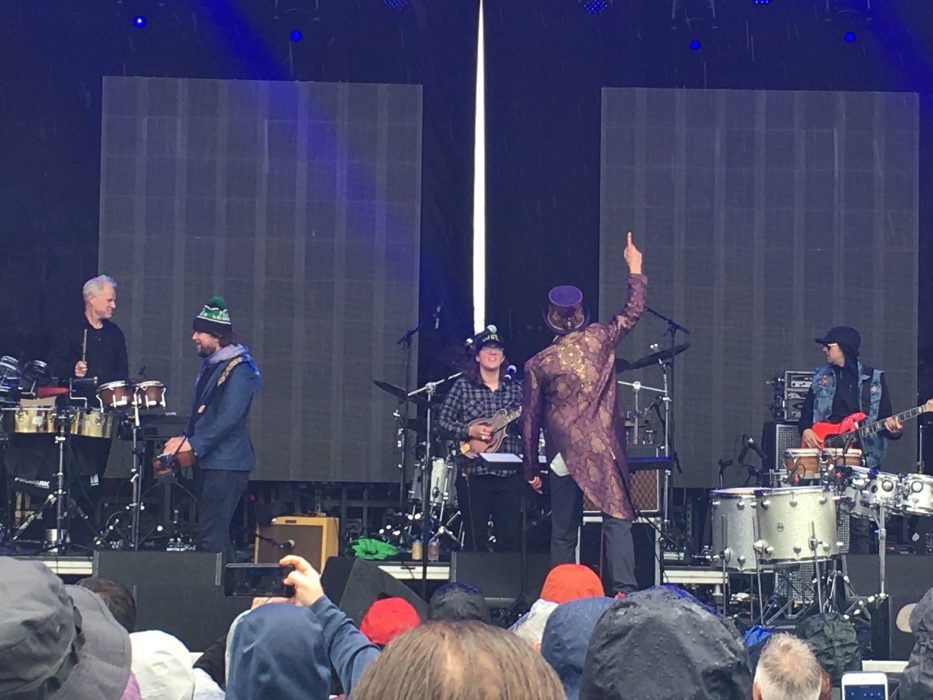 Then Butler grabbed the microphone and began to sing, "the storm is…passing through," which became the theme of the improvised song, a nod to the weather that began to dry up as the band jammed on.
Butler's musical project, which he conceived in 2001, has become a popular attraction at summer and jam band-centric music festivals and the Everyone Orchestra proved to be a worthy addition to SweetWater 420.
"This is so much fun – what a band," Butler remarked.
The fun continues tonight with Widespread Panic performing two sets, and picks up again tomorrow (Sunday, April 21) with a full slate of entertainment spread across four stages. Sunday's notable acts include The Claypool Lennon Delirium, Jason Isbell and the 400 Unit, Pigeons Playing Ping Pong and another two-set performance by Widespread Panic to bring the 2019 edition of Sweetwater 420 Fest to a close.