Landmarks & Legacies is an occasional unConventional blog series exploring the various identifying and distinctive physical features of the GWCCA campus.
Perhaps you've posed for a selfie with the enormous, reflective stainless steel soccer ball overlooking The Home Depot Backyard when you attended an Atlanta United game at state-of-the-art Mercedes Benz Stadium (MBS).
But did you know that futbol gigante located on the GWCCA campus has a name?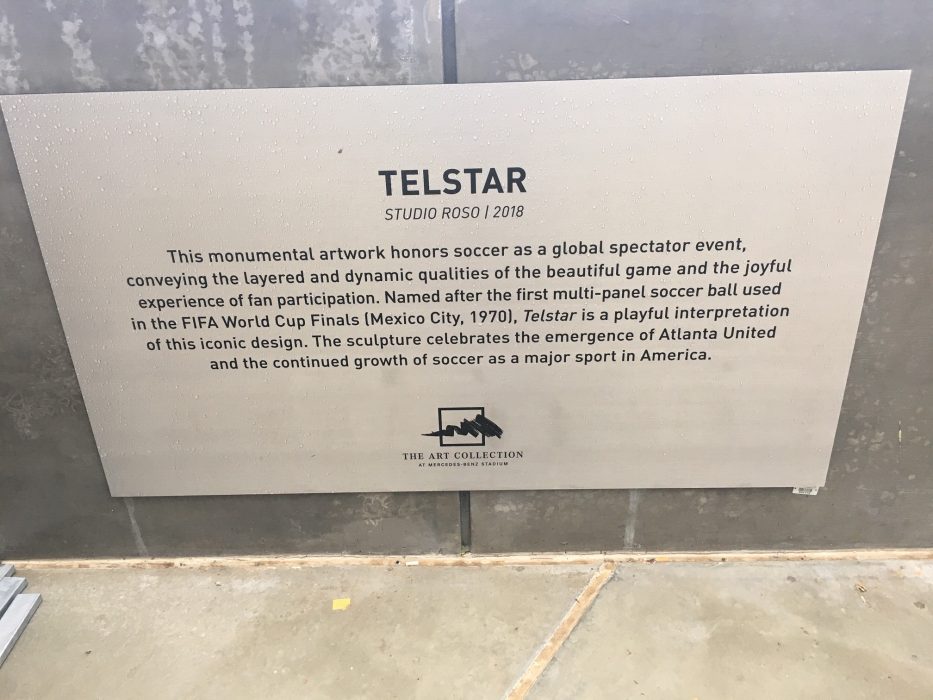 At nearly 35 tall and with a 35-foot diameter, its official name is Telstar and it is the largest soccer ball sculpture in the United States.
With Atlanta United's 2020 home opener set for Saturday (March 7) at MBS, here's a little primer on one of the more prominent pieces of MBS' public art collection.
Why Telstar?
Because the multi-panel design is an homage to the now-iconic black-and-white patterned soccer ball, the Adidas Telstar, popularized by its use in the 1970 FIFA World Cup Finals.

"This monumental artwork honors soccer as a global spectator event, conveying the layered and dynamic qualities of the beautiful game and the joyful experience of fan participation," reads an excerpt from the plaque describing the sculpture. "The sculpture celebrates the emergence of Atlanta United and the continued growth of soccer as a major sport in America."
It is a companion piece to the venue's other massive outdoor sculpture, the 73,000-pound stainless steel Atlanta Falcon, which of course represents the stadium's other professional sports team.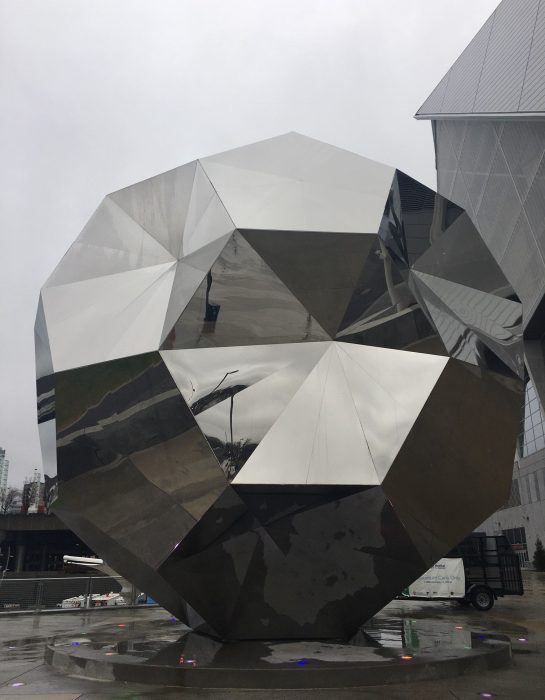 "Located on the exterior grounds of the stadium, the Falcon and soccer ball are positioned for the public to enjoy within the larger downtown landscape and community spaces designed around the building," according to a press release issued Sept. 8, 2016.
The Adidas Telstar name was inspired by the Telstar communications satellite, a spherical device dotted with dark panels that roughly resembles a soccer ball, but also kind of looks like the Death Star from "Star Wars."
The Telstar soccer ball sculpture is part of The Art Collection at Mercedes-Benz Stadium, curated by the Savannah College of Art and Design (SCAD), featured in the stadium's concourses, suite and club spaces, corporate offices and of course, exterior plazas.


Consisting of 350 polished stainless steel panels which form 121 facets on the surface, Telstar was designed by London-based Studio Roso and built in a London workshop by Other Fabrications. It was then shipped to Atlanta in three 40-foot sea containers and installed outside MBS during the summer of 2018.
"Sitting on the ground outside the stadium, this impactful work creates an immediate relationship with the thousands of passing fans uniting people, nature and architecture in a fragmented collage," according to Studio Roso's website.
If you're coming to campus for a game – or any event for that matter – make sure you check out the architectural and artistic wonder of Telstar.