Welcome to Landmarks & Legacies, a new unConventional series exploring many of the distinctive physical features, prominent landscapes, public art displays, historic monuments, and architectural idiosyncrasies of the Georgia World Congress Center Authority's (GWCCA) 220-plus acre downtown Atlanta campus.
You may ask, why is there a giant stainless steel peach sculpture on the GWCCA's East Plaza?
Why is there a monument to Paul "The Dixie Derrick" Anderson outside of the Georgia World Congress Center's (GWCC) Building B lobby?
Do you know the official name of the Olympic gymnast statue on Georgia International Plaza?
This series will answer those questions, and many more, while digging deeper into their stories, and explain the significance of these landmarks and the legacies they leave at the No. 1 convention, sports, and entertainment destination in the world.
First up, let's dive right into one of the newer features to grace our campus: the vibrant, whimsical interactive mural that enlivens Centennial Olympic Park's refreshed Visitor Information Center.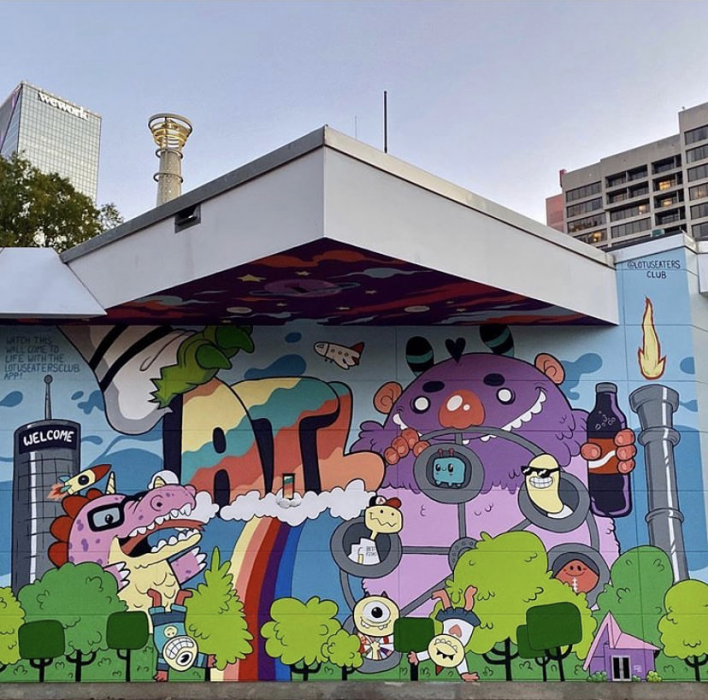 Murals and street art have stimulated this city's overall visual appeal in recent years and the GWCCA campus has joined the movement.
A little bit of background on the visitors center at the Park before we move forward. The building, located near the popular Fountain of Rings, was spruced up last summer and is now staffed by Atlanta Convention & Visitors Bureau (ACVB), in essence replacing ACVB's old visitor information center at Underground Atlanta.
ACVB gauged interest from the city's artist community to create a mural on one of the visitors center's external walls and decided upon a collaboration between Lotus Eaters Club and Tiny Doors ATL.
From the submissions received, ACVB felt the collaboration between Lotus Eaters Club and Tiny Doors ATL represented the most potential because of both entities' already-established track records for creating public art in Atlanta, expanding marketing footprints and thriving digital presence.
Also, ACVB staff was already familiar with the artists from filming its video series Music Voyager, most specifically Episode 6, focusing on Atlanta collaborators, said Sheretha Bell, Vice President, Brand, ACVB, who headed up the project.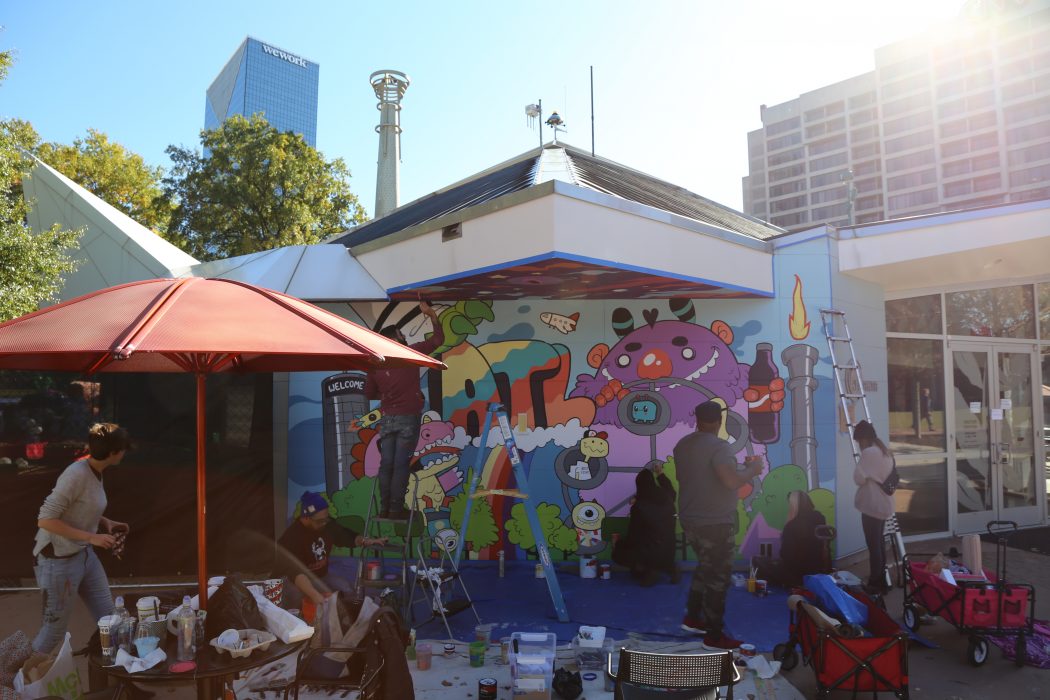 Over the second weekend in November, Lotus Eaters Club artist Killamari and Karen Anderson Singer (Tiny Doors ATL) and a small crew got busy creating the colorful and interactive public art display at Centennial Olympic Park.
Titled Welcome to ATL. This is where the fun begins,  the mural features cartoon-style scenes and iconic imagery from the city, such as the Westin Peachtree Plaza, a guy sporting what looks like a Braves cap, a plane in flight (representing the world's busiest airport/hub for Delta), a red-and-white striped soda bottle (World of Coca-Cola anyone?), nearby Ferris wheel (SkyView Atlanta), lots of trees and greenery, one of the Park's Hermes Towers, and a depiction of the Park's angular-roofed visitor center itself.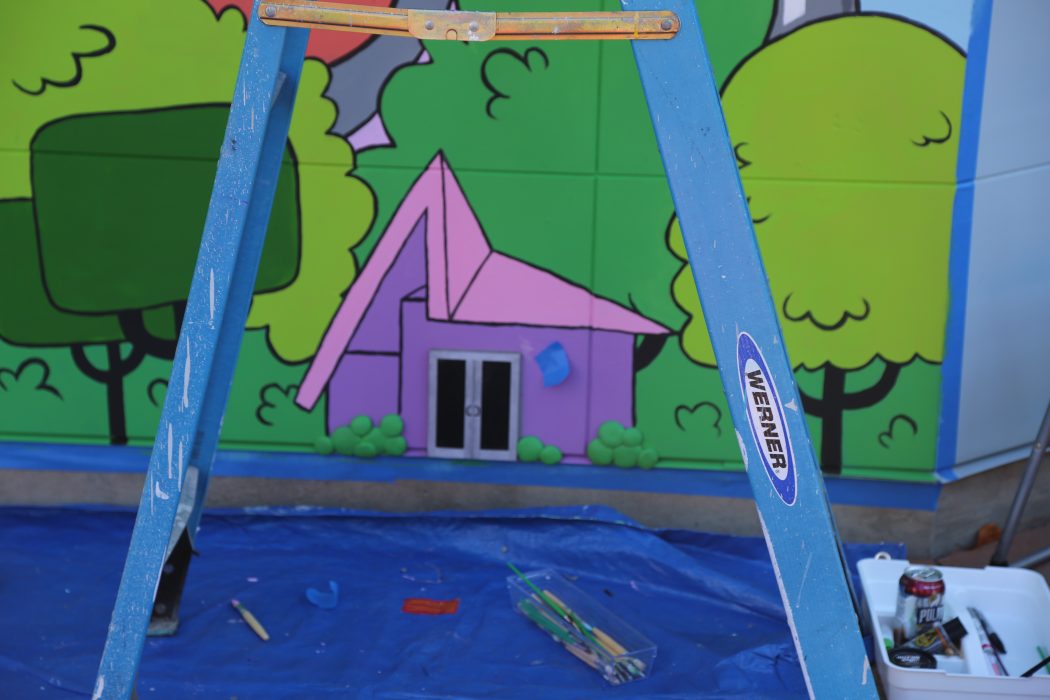 And within that artistic rendering of the visitors center can be found one of three of Singer's diminutive door sculptures incorporated into the mural (pictured above). Tiny Doors ATL has created a buzz around the city, with public art installations at popular locales such as the Atlanta Beltline, Grant Park, the Krog Street tunnel, Woodruff Arts Center and GWCCA campus neighbor State Farm Arena.
Singer (pictured above) is excited about the addition of Centennial Olympic Park to her portfolio as the 22 acre-greenspace is Atlanta's lasting legacy of the 1996 Summer Olympics and it's where everyone is welcome — every resident, visitor, every color, big and small.
"I consider accessibility over just about everything. Accessibility is very important to me because that's what makes public art public," she said. "I want it to feel like it belongs to everyone. I love to see people interact with these three doors and this mural. What I hope people see when they look at this project is they see the joy, they see Atlanta represented, and they find themselves somehow. You can be from anywhere and find some understanding, and that's what I think is cool about it, because Centennial Olympic Park really is for everyone. It's a park for everone from around the world, so what we did is try to create a piece that can resonate with anyone from around the world."
But disovering each tiny door isn't the only interactive experience imbedded in the visitors center mural.
There's also an Augmented Reality (AR) feature that can be unlocked via the Lotus Eaters app.
"Once you download the Lotus Eaters app from Google Play or the Apple Store, click on Welcome Center," explained Bell. "Hold up your phone to any of the three AR markers on the mural and the animation begins. If you take a picture of someone standing in front of the mural near the dragon, the music starts and the action surrounds them — fountains will splash, the Ferris wheel spins and the stars move. Coloring sheets and postcards are also available inside the Visitor Information Center."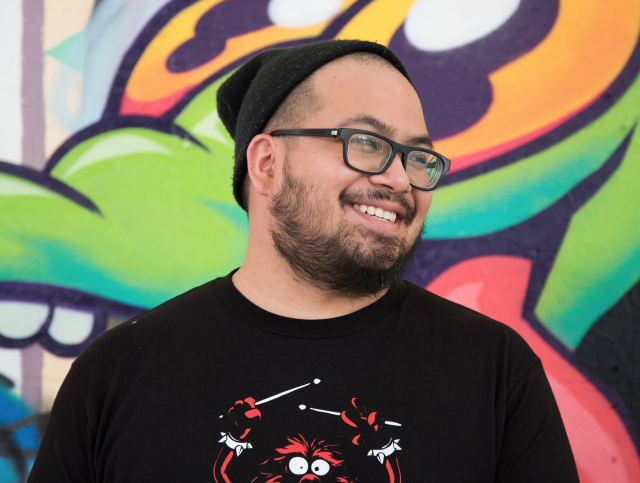 Andrew Wilson, Executive Vice President & Chief Marketing Officer, ACVB, said, "the hope is that visitors to the mural will find it fun and quirky, and stay a little longer to explore the tiny doors and AR elements than they perhaps would have if the mural had been more one dimensional."
Feedback has been positive so far.
"We've seen videos and photos shot at the mural," said Bell. "Children run over with excitement, then they are surprised by the little doors, especially the one in space – if they find it."
Can you find it?
Perhaps a visit to Centennial Olympic Park is in order.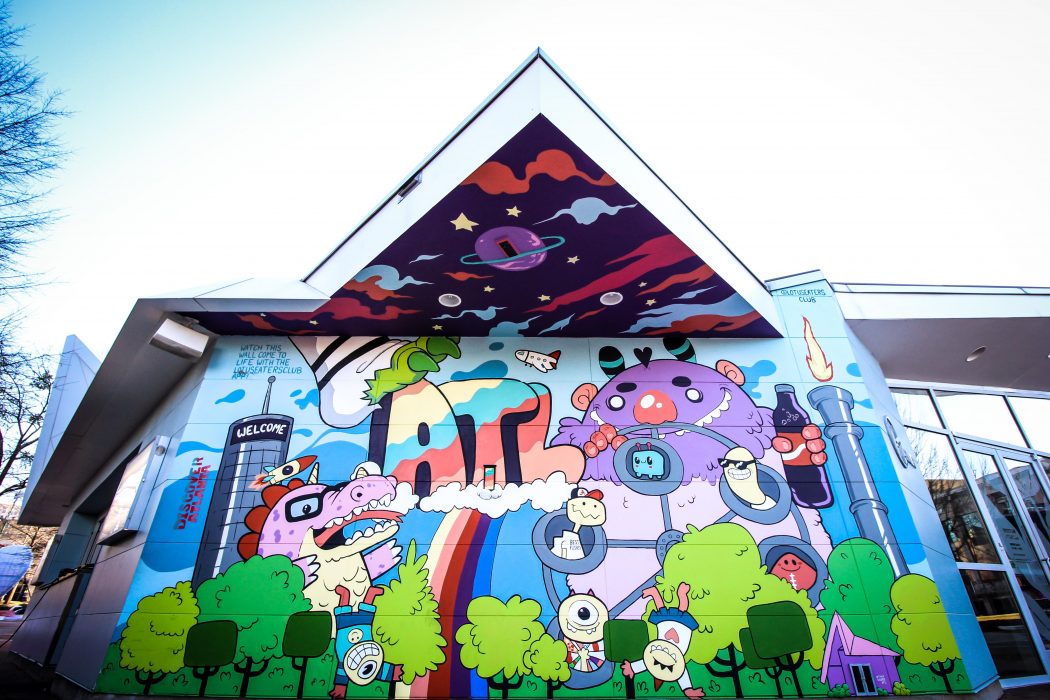 Landmarks & Legacies is an occasional unConventional blog series exploring the various identifying and distinctive physical features of the GWCCA campus.