Before the reigning MLS Champions, Atlanta United and Mercedes-Benz were a reality, big-time soccer was getting its introduction to Atlanta at the former Georgia Dome on the Georgia World Congress Center Authority's (GWCCA) campus.
On June 24, 2009, Mexico and Venezuela played the first international friendly (exhibition) soccer game at the Georgia Dome. The crowd of 51,000 showed that Atlanta had a strong passion for the sport and helped pave the way in making Atlanta the soccer capital of the South and the GWCCA's downtown campus as its anchor.  With the major success of the inaugural foray into international soccer, it only makes sense that the same two teams will play the first international friendly at Mercedes-Benz Stadium (MBS) on Wednesday (June 5) as part of the 2019 Mexican National Team U.S Tour.
Now in its 17th edition, the annual Mexican National Team U.S. Tour matches have become one of the most popular events in the sport, with an average of approximately 63,000 fans per game in 2018. With nearly 85 games played since 2002, the Mexican National Team has been able to use the matches not only to prepare for important competitions like the FIFA World Cup and CONCACAF Gold Cup, but also to reach their fervent fan base across North America.
Wednesday's game at MBS will kick-off at 8:30 p.m. and tickets are still available. For more information about the tour and to purchase tickets visit: www.mextour.org/events/mextour-atlanta.
Prior to the game, the GWCCA's International Plaza, between MBS, the Georgia World Congress Center and State Farm Arena, will become a free futbol fan zone with various activities from 4-8 p.m. Wednesday.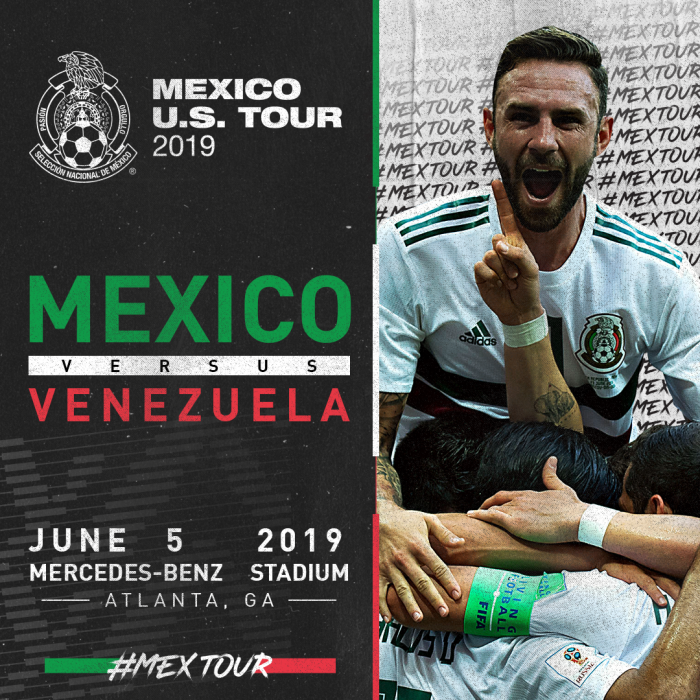 El Tri no stranger to the A
The Mexican National Team has been no stranger to downtown Atlanta. After the maiden voyage of 2009, they returned to play Bosnia and Herzegovina in front of more than 50,000 at the Dome. They also returned twice more to the Dome as part of a CONCACAF Gold Cup doubleheader against Trinidad and Tobago in 2013 in front of a crowd of 54,000 and in 2015 joined another doubleheader featuring the U.S. National Team, Jamaica, and Panama that had more than 70,000 in attendance. Mexico has won each game.
A return for Tata
Fans of the Atlanta United will see a familiar face with the return of Mexican National Team coach Gerardo "Tata" Martino. Tata served as the first coach in Atlanta United history and led them to unprecedented success, especially inside MBS. The Five Stripes went 22-5-7 at home during the previous two regular seasons, famously defeating Portland to win the last MLS Cup on Dec. 8, 2018.
Notable international matches at the Georgia Dome
Date                     Winning Team   Result    Losing Team                    Attendance
June 24, 2009     Mexico                4–0        Venezuela                             51,115
February 9, 2011 Mexico              2–0        Bosnia and Herzegovina    50,507
July 20, 2013      Panama              6–1        Cuba                                        54,229
                              Mexico                 1–0        Trinidad and Tobago
July 22, 2015      Jamaica              2-1         United States                        70,511
                              Mexico                 2-1         Panama
Posted by
Parker Hendricks Marketing Specialist
on Jun. 03, 2019
With a background in collegiate sports marketing, Parker Hendricks joined the Authority in 2016. He is the GWCCA's social media guru. Winston Churchill described customer service the best, "We make a living by what we get. We make a life by what we give."