Saturday, March 5, 2017
Event Websites: www.feldentertainment.com
www.monsterjamonline.com
Trucks for March 5 MonsterJam
Grave Digger driven by Adam Anderson
Max-D driven by Neil Elliott
Scooby-Doo driven by Brianna Mahon
El Toro Loco driven by Becky McDonough
Soldier Fortune Black Ops driven by Tony Ochs
Time Flys driven by Kelvin Ramer
Wild Flower driven by Rosalee Ramer (Georgia Tech Student)
Razin Kane driven by Buddy Tompkins
Ice Cream Man driven by Roy Pridgeon
Bounty Hunter driven by Jim Creten
Scarlet Bandit driven by Dawn Dreten
Monster Energy driven by Damon Bradshaw
*Trucks/drivers subject to change
View from Your Seats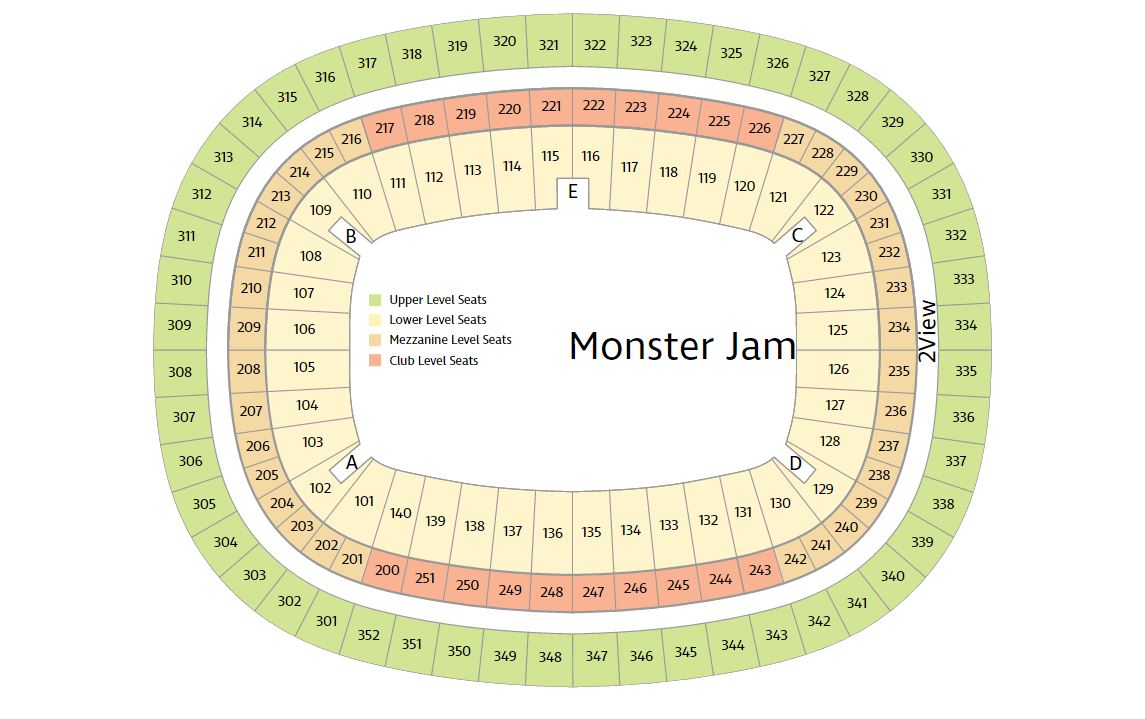 Party Suites
Got a Group? Get a Georgia Dome Party Suite just for this event!
We're geared up for mega madness of tough trucks! Party suites are the ideal space for you to host a party or celebrate with a special group. Reserve your party suite today and you'll have the perfect place to see the smashing and feel the trembles of these daring drivers trample over the Georgia Dome floor. Contact 404.223.8200 or email [email protected] for pricing and availability.
Summary of Event
Monster Jam will bring the biggest line-up of monster trucks ever seen at the Georgia Dome. The twelve-feet-tall, ten-thousand-pound machines will bring fans to their feet, racing and ripping up a custom-designed track full of obstacles to soar over or smash through! Monster Jam provides a massive night of entertainment for the whole family.
MonsterJam event ticket, along with Pit Pass required for entry.
Promotions
Avoid the lines, skip the crowds and enjoy VIP access with the Total Access Pass for the Monster Jam event at the Georgia Dome
A VERY limited number of tickets are set aside for the BIGGEST Monster Jam fans, so make sure to purchase NOW!
Each Total Access Pass includes:
One (1) event ticket in the best seats in the house
Exclusive access to drivers with a private meet and greet from 1:00PM – 2:00PM
Everything will be yours when you arrive at the Georgia Dome. Quantities are limited. Don't miss out–these will go fast!
Getting to the Dome
The Georgia Dome is located to the immediate west of the downtown Atlanta area on the corner of Northside Drive and Georgia Dome Drive. The Dome is also accessible by the MARTA rail system via Vine City and Georgia Dome stations. Parking is at a premium on event days, so taking MARTA is highly recommended. For complete information on MARTA visit itsmarta.com. Many MARTA stations offer free parking lots.
While traveling to and from events, all drivers are encouraged to follow the directions of traffic police
For Complete Traffic and Parking Information please click here.
Parking Availability
Public parking is available in the Red Deck, , Blue Lot, Yellow Lot and Brown Lot. Presold parking passes are available in the Yellow Lot and Blue Lot. https://gwcc.clickandpark.com/