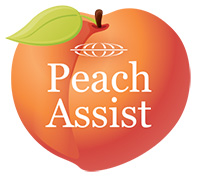 ATLANTA – (Sept. 12, 2016) -Peach Assist, the Georgia World Congress Center Authority's new mobile alert program, provides exhibitors the option of requesting assistance or services via text without having to leave their booths. Peach Assist utilizes a text message number – 69050 – that allows anyone on the show floor to text their needs to the dispatch center.
Exhibitors at returning major trades shows – the Bronner Bros. International Beauty Show on Aug. 20-22 and the International Woodworking Fair on Aug. 24-27 – got their first tastes of Peach Assist and staff responded to more than 300 alerts sent through the new service.
"Our goal is to make doing business at the Authority easier. Many exhibitors are a one-or-two-person operation," said Joe Skopitz, director of products and services. "Allowing exhibitors to communicate their needs directly with us without having to leave their booth and halt set-up is why this program was introduced."
The Peach Assist program, which was modeled after the Georgia Dome's Fan Assist mobile concierge, was the result of a recently formed Growth & Innovation team. The goal of the Growth & Innovation team is to generate new business ideas, new revenue streams, and introduce new products and services to enhance customer, exhibitor and attendee experiences.
"The Growth & Innovation team has hit a home run with Peach Assist," said Skopitz. "I look forward to seeing how this will help us enhance the customer experience at the GWCC, and make it easier for exhibitors to operate on our campus."
Media Contact:
Alicia McNease/Sr. Communications Specialist
[email protected]
404-223-4051
About the GWCCA
Located in the heart of downtown Atlanta, the Georgia World Congress Center Authority (GWCCA) now includes Mercedes-Benz Stadium, the 3.9 million- square-foot convention center, the 71,250-seat Georgia Dome, and 21- acre Centennial Olympic Park. Additionally, GWCCA manages operations of the Savannah International Trade & Convention Center. These public facilities represent the largest combined convention, sports, and entertainment destination in the world.
www.gwcca.org