Hitting the century mark in today's rapidly-changing business landscape is no small feat and German-based food processing pioneer BAADER chose to celebrate this milestone at IPPE (the International Production & Processing Expo), coinciding with the company's recently-unveiled rebranding efforts.
One of IPPE's long-running exhibitors, BAADER commemorated its 100-year anniversary with a special ceremony Wednesday afternoon on the show floor of the Georgia World Congress Center's (GWCC) Building B exhibit halls.
Petra Baader, Executive Chairwoman, led a champagne toast at BAADER's elaborate two-story booth replete with a food service area, serving bars, café seating, more private pub-style booth seating in back, a live jazz quartet, a tunnel-like kiosk featuring video content, observation deck and meeting space upstairs – and of course, a demo area for machinery.
"Within the past 100 years, we've gone through good times and bad times," said Baader, whose grandfather, Rudolph M.J. Baader, founded the company in 1919. "We know that one thing is for sure: it is your loyalty and trust invested in us over an entire century that allows us to celebrate our centennial."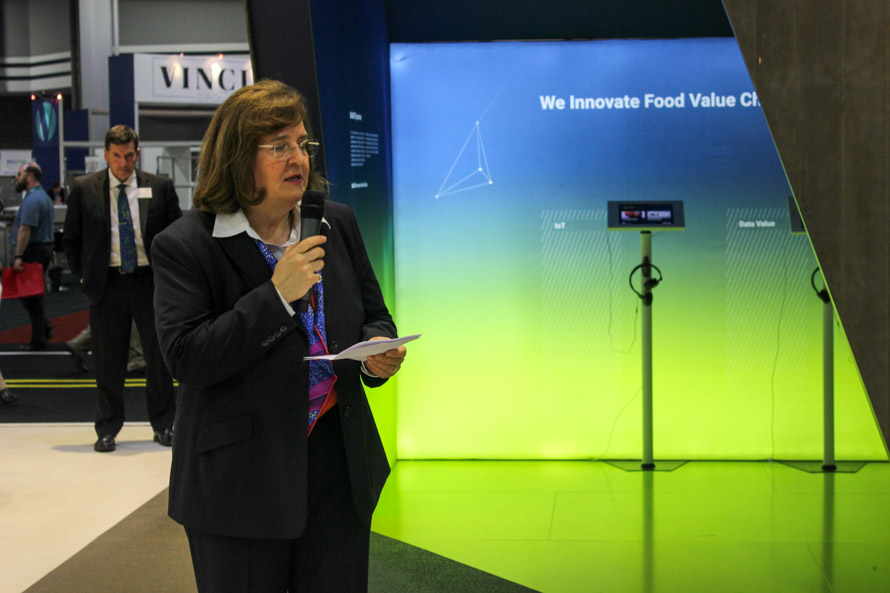 This was BAADER's 64th year exhibiting at IPPE, and like the convention itself, the company has grown, evolved, diversified and gone through a few name changes.
"One hundred years ago, my grandfather Rudolph Baader, founded BAADER with the aim of developing the world's first heading and deboning machine for herring. Three years later he introduced his fabulous idea to the market, changing the way fish was processed ever after," said Baader.
The company entered the poultry processing industry in 1985 and in 2007 merged with Denmark-based Linco Food Systems, establishing BAADER-LINCO as the third largest player in the global poultry market.
Recent rebranding included changing the company's poultry division from BAADER-LINCO to simply BAADER – of particular note because IPPE has its roots in the poultry industry.
IPPE can be traced to the Southeastern Poultry Exposition which began in 1951 with 67 exhibitors and approximately 2,000 attendees.
The event moved to the then-spanking-new GWCC in January 1977, and was referred to as the Southeastern Poultry & Egg Show in the GWCC Annual Report for Fiscal Year 1976-77.
It's been at the GWCC ever since and eventually evolved into the International Poultry Expo (IPE), before changing its name again to IPPE in 2013 as it became a collaboration of three shows – International Feed Expo, International Poultry Expo and International Meat Expo — "representing the entire chain of protein production and processing," according to a press release.
As the GWCC expanded, IPPE has grown right along with the convention center, with this year's event being the largest one on record, featuring more than 600,000 square feet of exhibit space spread across all three buildings, more than 1,420 exhibitors and approximately 33,000 registered attendees.
Meanwhile, another toast held today at the GWCC celebrated the record-breaking IPPE, the final day of the convention that began Tuesday but came with new challenges posed by Super Bowl LIII taking place on the Georgia World Congress Center Authority (GWCCA) campus. IPPE traditionally happens the last week of January/sometimes bleeding into the first of February, but was shifted due to the big game and its host of events on the GWCCA campus Jan. 26-Feb. 3.
This also meant IPPE's move-in time had to be accomplished in a much narrower window than usual, compressed into five days.
"We had a long journey ahead of us coming into this one, but it was amazing to watch a group of professionals with a plan execute against it flawlessly," said Joe Bocherer, the GWCCA's Chief Commercial Officer.
Nath Morris, Executive Vice President of the U.S. Poultry & Egg Association and Expo Vice President for IPPE, echoed the sentiment.
"The planning that went into this and the communication that put these plans together was incredible," he said.
Morris lauded the GWCCA's food services partner, Levy Restaurants, for being creative, flexible and responding to exhibitor needs, citing BAADER's toast celebration as an example.
"BAADER celebrated their 100th anniversary with a happy hour out here last night," said Morris, pointing out to the exhibit floor from the show office overlooking the Building B exhibit halls. "They had food brought in and wanted a Nordic theme, and (Levy General Manager) Jeff (Kern) got with them and figured out how to make it happen."