Waste diversion. Carbon footprint. Net positive. Circular economy. Materiality matrix.
Sustainability in the public arena isn't just a bunch of buzzwords, it's sound business practices, smart marketing and making our cities better places to live.
And organizations – especially government agencies – need to shout from the rooftops about their measurable sustainability initiatives in easily-relatable fashion, according to Liza Milagro, Resilience & Sustainability Manager for Hartsfield-Jackson Airport.
"Make it sexy! Sustainability is fun!" she proclaimed. "It's not just for Birkenstocks and granola bars anymore."
And what's sexier than improving businesses' bottom lines while helping to sustain Mother Earth and making positive impacts on the surrounding community?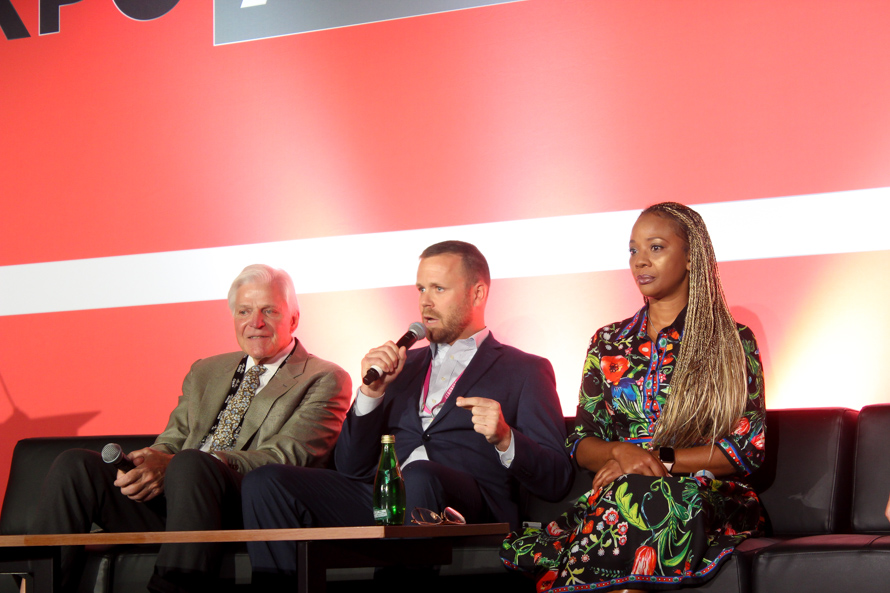 Milagro made these observations Wednesday (Sept.11) at a Smart City Expo-Atlanta sustainability panel at the Georgia World Congress Center (GWCC), also featuring Georgia World Congress Center Authority's (GWCCA) Tim Trefzer, Corporate Social Responsibility Manager. Also representing the Authority, Sr. Director of Campus Operations Jeff Oden participated in a panel discussion at the expo Thursday (Sept. 12) on sustainability.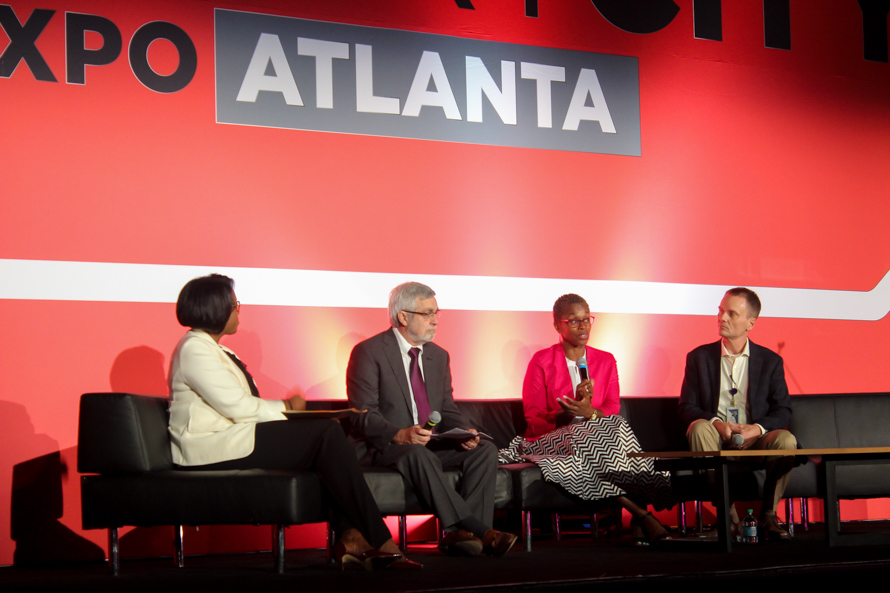 A first-time event in Atlanta and at the convention center, the three-day Smart City Expo, which wrapped today (Sept. 13), was designed to immerse attendees in the concepts of what constitutes a "smart" city (infrastructure, civic engagement, digital transformation, innovation and talent, and climate and sustainability). "For us that means ensuring equity, prosperity, humanity, inclusion, belonging, and justice are on par with A.I. (artificial intelligence), IoT (Internet of Things), blockchain, big data, and automation as we shape the future of our cities," wrote expo co-founder Aarti Tandon in the expo's program forward.
The event featured more than 200 speakers, ranging from mayors of several U.S. cities and entrepreneurs to Atlanta luminaries Bernice A. King, CEO of The King Center and Ambassador Andrew Young, to rapper/actor/businessman Tip "T.I." Harris.
The GWCCA's Trefzer and Oden had the opportunity to share many insights about sustainability and corporate social responsibility programs on the Authority's 220-acre downtown campus, which includes the world's largest LEED (Leadership in Energy and Environmental Design) Gold certified convention center and Mercedes-Benz Stadium, the first professional sports stadium in the U.S. to achieve LEED Platinum status.
"We actually had 3.7 million people visit our campus last year, not hundreds of millions (like Hartsfield-Jackson Airport), and we are kind of at the behest of the events we host where each event is unique and different, they ultimately have the say over what materials they are using, and in some cases how they are discarded," said Trefzer in response to the panel moderator's question about the role that consumers can take in upholding sustainability standards. "I really think that, especially in the case of sporting events, trade shows, and conventions, as attendees, we need to be enforcing the event planners to think differently about how they go about hosting an event. It's happening, more in some industries than it is in others. For instance, the convention industry would traditionally use foam core boards (not recyclable) for signage throughout. But today the signage here for Smart City Expo, it's all corrugated board and that's 100 percent recyclable. So that's just one example, but we as attendees have to ask the questions. When you get a follow-up survey, put it in that survey. Ask for metrics. Ask for data. The more you ask, the more they'll change."
Oden, meanwhile, surprised panel moderator Latanza Adjei, Sales Vice President of Georgia Power, when he told the crowd about the GWCCA's on-site beehives installed last year at the small pocket park at the corner of Northside Drive and Joseph E. Boone Blvd.
Adjei asked the panel to discuss the bottom-line benefits of achieving sustainability and resiliency goals.
"The GWCC has undergone an energy savings performance project and has netted out tons of savings," said Oden. "If you think about the campus itself, we generate $1.7 billion in economic impact for the state of Georgia. So this campus is a catalyst for the activities and growth of our state. So we're looking at all kinds of opportunities through compostable materials and waste management to try to continue to improve."
Oden continued:
"All of our renovations and expansions at a minimum have to be LEED Gold certified," said Oden. "We're currently in the middle of an expansion project just outside the doors here – we're adding another 100,000-square-foot exhibit hall. But part of that, we're adding in a garden that we can use for our employee cafeteria and service kitchens that serves customers like you guys. And our chefs will be able to go out to that garden and hand-pick particular items in order to use in-house and be sustainable."
"If you think about our customer base, some that we may all compete for especially in the convention business – a lot of our competitors are doing the same thing. So what we're trying to do is find ways to set us apart."