Metro Atlantans love their cars, but the best advice for locals looking to take part in Super Bowl LIII revelry on the Georgia World Congress Center Authority (GWCCA) campus is: leave the driving to someone else.
The week-plus of Super Bowl festivities leading up to the big game start today on the championship campus with the opening of the Super Bowl Experience at the Georgia World Congress Center and Super Bowl Live at Centennial Olympic Park.
"We want the people of Atlanta to be a part of this," said Brett Daniels, Chief Operating Officer of the Atlanta Super Bowl Host Committee. "Next weekend is maybe more focused on the out-of-town guests but this weekend is about Atlanta."
The best option for getting here is MARTA (itsmarta, afterall).
"A lot of the places people usually park, for example, are now compounds used for broadcast and production," said Daniels. "Just hop on MARTA, that's going to be the easiest way in out of the area down here. Everything else is walkable once you get here – that's what makes the campus here so great."
MARTA serves the GWCCA campus with four rail stations in proximity, including two flanking Mercedes-Benz Stadium where the big game will be played Feb. 3: Vine City Station and Dome/GWCC/Philips Arena/CNN Center Station.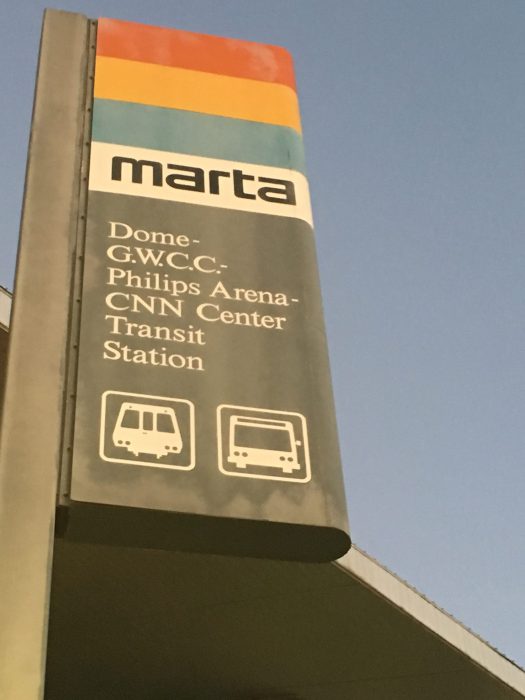 Let's pause for a moment: yes the name of the station expected to get heavy traffic is outdated as Dome (i.e. the Georgia Dome, which was imploded in 2017)) doesn't exist anymore and Philips Arena is now State Farm Arena.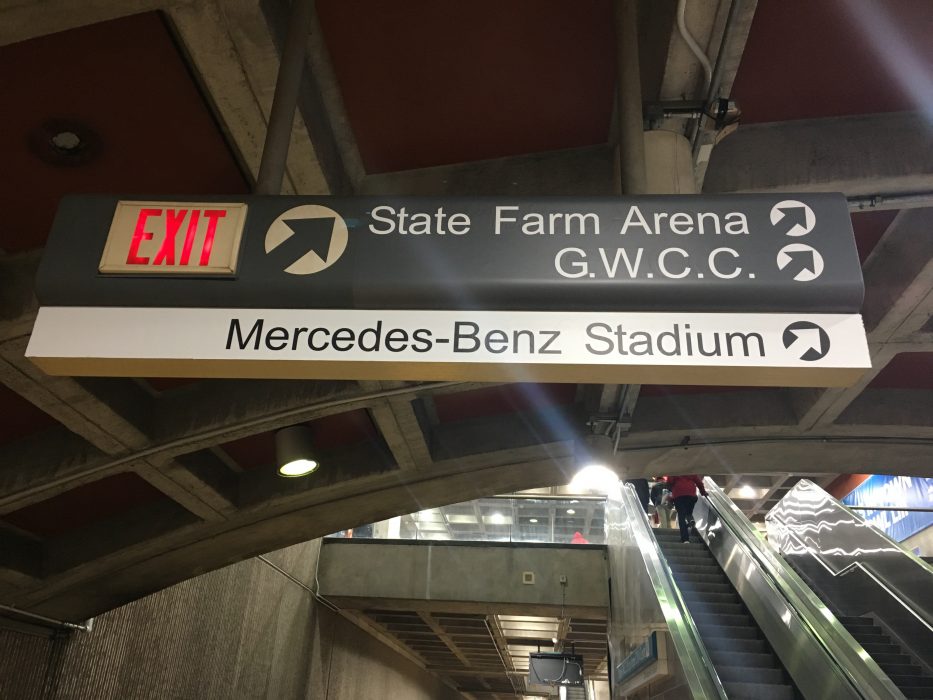 However, as seen above, new directional signage inside the station points the way to the stadium, and the renamed arena, where several Super Bowl events are also slated, including Monday's Super Bowl LIII Opening Night featuring the opening press conferences for both the New England Patriots and Los Angeles Rams.
Note: there is no access from Vine City Station for Super Bowl Experience and Super Bowl Live.
If you're headed to Super Bowl LIVE at Centennial Olympic Park and are coming from the north, MARTA's Peachtree Center Station is also a viable option. Likewise, if you're using MARTA's North-South lines, Five Points Station is a short walk from the park (and less hilly than the trek to and from Peachtree Center).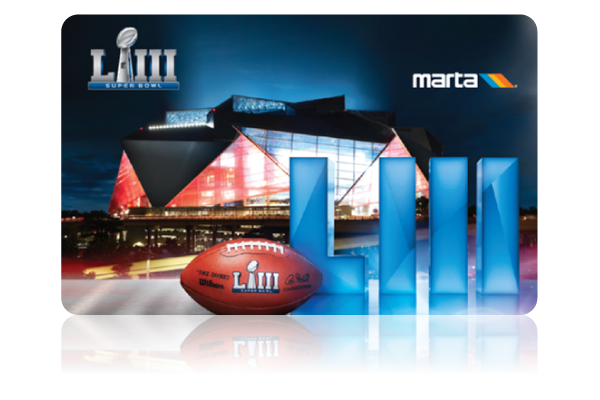 And if you're a memorabilia collector, you'll surely want to get your hands onto one of MARTA's Super Bowl LIII commemorative Breeze cards. Breeze cards are reloadable and are your fare for riding trains, buses and the Atlanta Streetcar.
Check out MARTA's Super Bowl week plans and info here.
RIDE SHARE
Perhaps public transportation isn't your thing, and you're more of an Uber/Lyft type of person.
Today through Feb. 2, the designated rideshare and taxi drop-off and pick-up location is on Centennial Olympic Park Drive in front of CNN Center.
On game day, Feb. 3, the drop-off/pick-up spots are at Centennial Olympic Park Drive in front of CNN Center and for drop-off only, the GWCCA's Yellow Lot on Ivan Allen, Jr. Blvd.
For everything you need to know about transportation related to Super Bowl LIII events, check this link.