The week of Jan. 13-19 was unofficially "green week" for Atlanta's Super Bowl LIII sustainability activities, part of the Atlanta Super Bowl Host Committee's Legacy 53 initiative.
On both Jan. 15 and Jan. 19, two of the final urban forestry projects were completed.
The first, located at the Salvation Army Bellwood Boys and Girls Club on Donald Lee Holloway Parkway, added approximately 45 shade trees near the play and picnic areas and along the fence line.
The second project, located in Doraville, in northeastern DeKalb County, included planting dozens of additional trees. These two projects nearly wrap up the 14 projects that were planned to leave a legacy long after the game is over. In addition to a variety of shade trees, other installations included edible vegetation and community gardens, fruit trees, and even a pollinator habitat to be used for education at Zoo Atlanta.
Zoo Atlanta was also the drop-off site for Jan. 19's recycling rally in which the public was invited to bring unwanted electronics to be properly recycled. The zoo was chosen as the host because many of the minerals that are found in electronics are mined from precious gorilla habitat. By recycling these items, these materials can be reused so that more habitat can be protected. Although it was a cold and rainy day, more than 400 vehicles arrived with electronics and 87 pallets of electronic items were collected.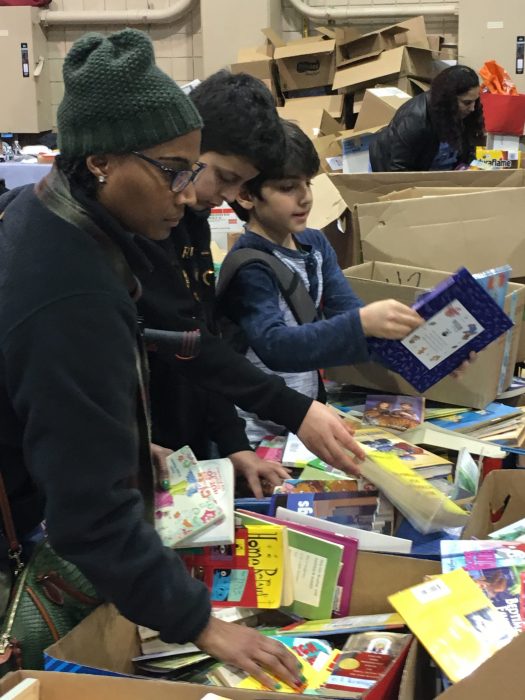 Rounding out the week's projects was Super Kids-Super Sharing, a program that began the last time Atlanta hosted the Super Bowl. Now in its 20th year, Super Kids has grown from a handful of participating schools to more than 100 schools from metro-Atlanta – and even Savannah. Students were asked to donate new and gently-used books, sports equipment, and school supplies, which were then divvied up amongst schools in need. An astounding 40,000-plus items were brought in and then sent out within a matter of hours at the Infinite Energy Center in Duluth. Not only was this an opportunity to keep valuable materials out of landfills, it supports lower-income schools and even brings together children from Atlanta with different socio-economic, religious, and ethnic backgrounds all for a common cause.
This wasn't the end of the sustainability efforts. Looking forward to the big game next Sunday (Feb. 3) our focus has transitioned. Many of the events will have both food and materials leftover afterwards and our goal is to collect and distribute as much of this as possible. Items like fabric banners and carpet, turf and toys are all among the materials that can be captured and distributed to organizations around the state.
Rest assured knowing that Atlanta, while already a leader in sustainable conventions, sports, and entertainment, will continue to raise the bar with its turn hosting Super Bowl LIII.