And now we know who is facing off for the Lombardi Trophy on Feb. 3 at Mercedes-Benz Stadium (MBS) on the Georgia World Congress Center Authority (GWCCA) campus.
After thrilling overtime contests in both the AFC and NFC championship games on Sunday, the Los Angeles Rams and New England Patriots will lock horns at MBS in 12 days.
If you recall, the last time the Rams (then based out of St. Louis) hoisted the Lombardi Trophy it was on the GWCCA campus, when the so-called "Greatest Show On Turf" edged out the Tennessee Titans 20-16 at the now-defunct Georgia Dome on Jan. 30, 2000.
And the Rams and Patriots hooked up for their first Super Bowl tilt two years later in New Orleans – the beginning of the Tom Brady-Bill Belichick dynasty.
With the on-field matchup now set, Super Bowl hoopla is officially in effect, and Atlanta is on the cusp of a 10-day festival leading up to Super Bowl LIII, with the GWCCA's championship campus as the epicenter of the action.
But how can you enjoy the festivities without a ticket to the big game?
How about experiencing the Super Bowl Experience?
Described as an interactive NFL theme park, the Super Bowl Experience opens Saturday at the Georgia World Congress Center, covering approximately 800,000 square feet of exhibit space, utilizing all five exhibit halls in Building B.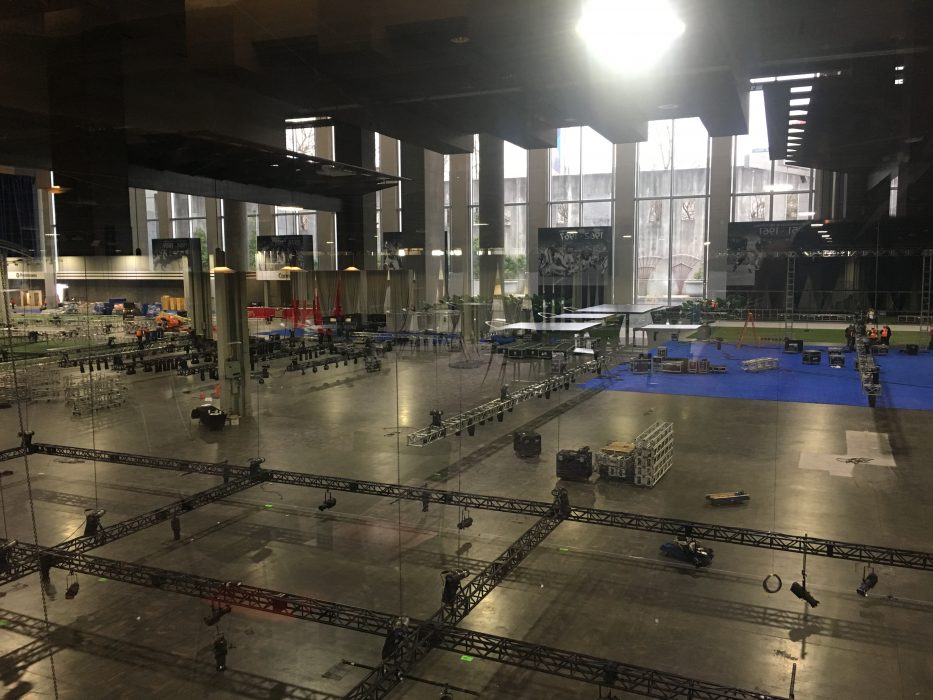 unConventional, along with a handful of local media outlets, got a sneak peek of the Super Bowl Experience today, which is still in the set-up phase before doors open Saturday to the general public for an eight-day run at the GWCC. On game day (Feb. 3), Super Bowl Experience is limited to Super Bowl ticket-holders.
It's basically Disney World for football fans (and non-fans, too), and geared toward visitors and locals alike who want to get a taste of the excitement surrounding the Super Bowl. The Super Bowl Experience offers interactive games, immersive exhibits, the chance to snag (free) autographs from current and former NFL players, an exhibit featuring Super Bowl rings from the previous 52 contests, and selfie ops with aforementioned iconic Vince Lombardi Trophy.
You can also test your football skills, try your luck at kicking field goals, and run the 40-yard dash, 3-cone drill and broad jump at the Combine Corner.
There'll be food, beverages (including the Bud Light Tavern), a kids play area, a nearly-regulation turf clinic field (40-yards-by-80-yards), the NFL Draft Set, tons of merchandise at the on-site NFL Shop, and for the hometown fans, Atlanta Falcons photo ops.
"Is Julio (Jones) going to be here – is Matt Ryan going to be here?," said Nicki Ewell, NFL Director of Events. "They may be, but that schedule will be on superbowl.com."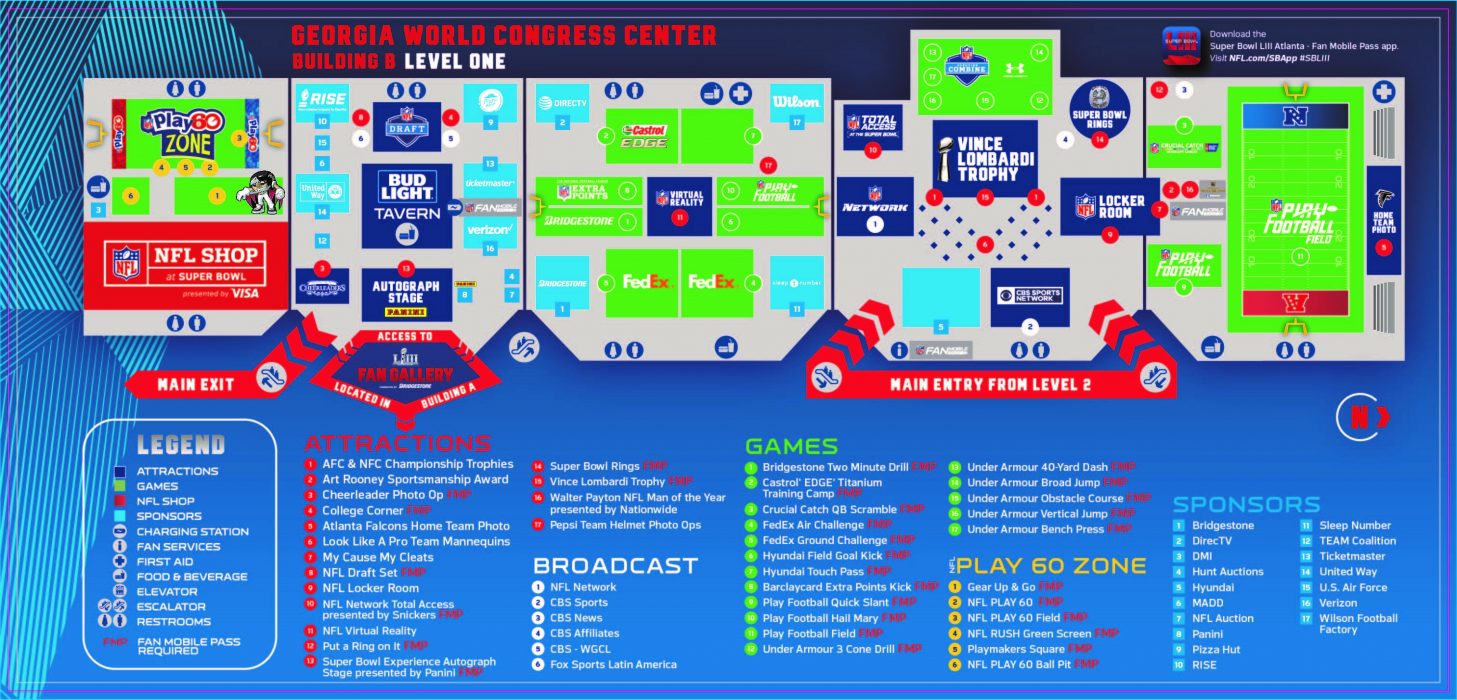 As Ewell spoke with local TV outlets on the exhibit hall floor, work carts whizzed by, workers unfurled carpeting, and crews began to raise massive rigging from the floor to the ceiling.
Overall, building out the Super Bowl Experience at the GWCC involves three miles' worth of rigging truss, 400,000 square feet of carpeting, 250 semi trucks, and 15,000 hours of manpower.
"There's tons and tons of people working, but we'll be ready to open Jan. 26," said Ewell.
Here are some pro tips if you're coming to the Super Bowl Experience:
Download the app. Stay on top of schedules, discounts, etc. with the NFL Fan Mobile Pass.
Advance tickets range from $20-$55 available online here.
However, if you want to avoid Ticketmaster fees, the Super Bowl Experience box office will be set up in the GWCC's main A/B lobby. Also, discounted tickets purchased at the box office will be offered for Monday (Jan. 28) through Wednesday (Jan. 20) where the purchase of one adult ticket ($20) will include up to three complimentary tickets for ages 12 and younger.
Parking on the GWCCA campus is limited throughout Super Bowl festivities, so riding MARTA or utilizing Lyft or Uber is recommended.
Security checkpoints will be in effect. "We will have airport level screening here," said Newell. "Dress light, don't bring in backpacks. Of course you can bring in strollers and diaper bags. The lesser you have bringing in, the quicker you'll get in."
Hours of operation: 10 a.m. to 10 p.m. Saturday (Jan. 26), 10 a.m. to 8 p.m. Sunday (Jan. 27), 3 p.m. to 8 p.m. Jan. 28-29, 3 p.m. to 10 p.m. Jan. 30-31, 10 a.m. to 10 p.m. Feb. 1-2. Also open 2 p.m. to 5 p.m. Feb. 3 to Super Bowl ticket-holders only.
"Don't wait for Super Saturday (Feb. 2) – come early," said Ewell. "Come to Super Bowl Live first (at Centennial Olympic Park) – then come to the Super Bowl Experience."