Saturday, February 25, 2017
Main Event – 6:30 p.m.
Doors Open/Practice & Qualifying – 12 noon
Event Website:www.supercrossonline.com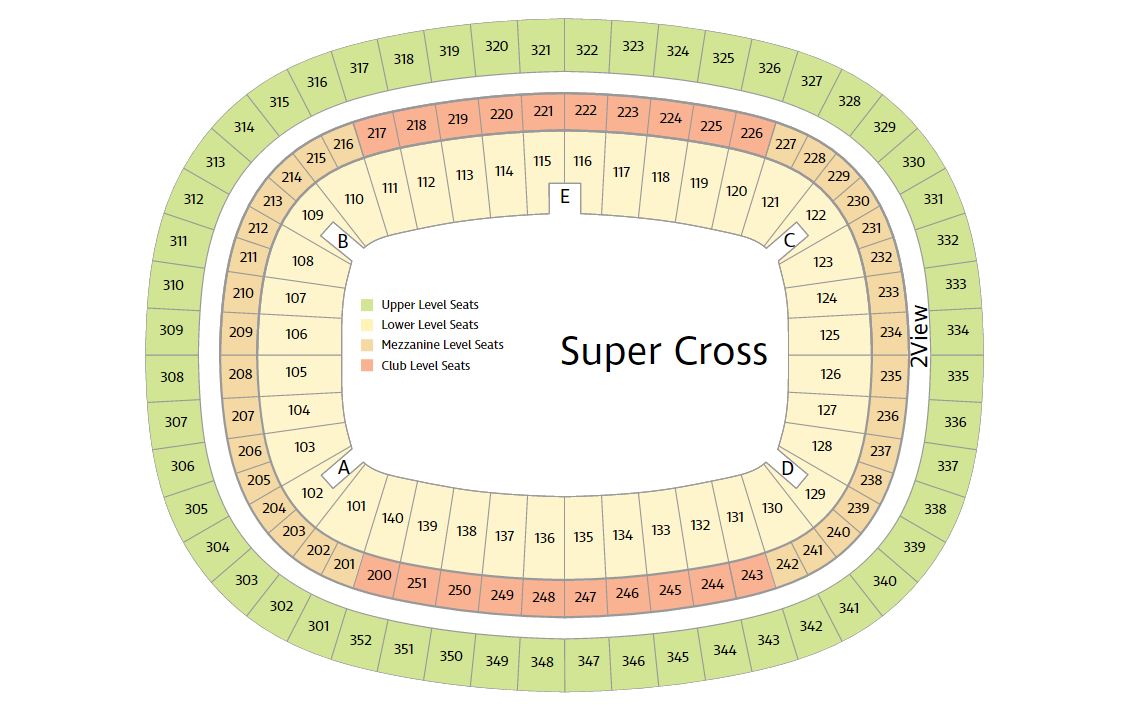 Motofest – The World's Greatest Motocross Festival
For the first time ever, Monster Energy Supercross and AMSOIL Arenacross will compete in the same city, at the same venue, on the same weekend with a landmark four-day spectacle to celebrate 25 years of racing. The inaugural "Motofest," one of the most historic events in the 40-plus year history of stadium motorcycle racing, will happen February 24-27 inside Atlanta's legendary Georgia Dome.
Friday, February 24 – AMSOIL Arenacross
AMSOIL Arenacross will make its Atlanta debut Friday at the Georgia Dome for Round 7 of the championship. After an afternoon filled with practice and qualifying, the action officially gets underway on Friday night at 8:00 p.m. ET on a challenging four-lane track layout on the famed Georgia red clay.
In addition, fans arriving early will have one exclusive opportunity to meet and get autographs from both Monster Energy Supercross and AMSOIL Arenacross riders for the first time at the pre-race Track Party from 5:30 p.m. to 7:30 p.m. ET.
Saturday, February 25 – Monster Energy Supercross
On Saturday, Monster Energy Supercross takes center stage with its eighth stop of the 17-race championship. Practice/qualifying will kick off at Noon ET as will the hugely popular Fan Fest (12:00 – 6:00 p.m.). Fans will have the opportunity to get up close and personal with the stars and machines of Monster Energy Supercross and AMSOIL Arenacross.
Racing will get underway Saturday night at 6:30 p.m. ET as Ryan Dungey, Ken Roczen, Chad Reed and many more battle it out for the win.
Sunday, February 26 – AMSOIL Arenacross Amateur Day
The action-packed weekend will also feature Amateur Supercross on Sunday when the fastest amateur competitors in the country will compete on the same track as their professional counterparts for a once-in-a-lifetime afternoon of racing. A full slate of action will provide a loaded day of competition, featuring classes for all ages and skill levels.
Party Suites
Got a Group? Get a Georgia Dome Party Suite just for this event!
Witness the top Supercross competitors in the country as they compete in heated contests from start to finish! Reserve your party suite today!
Contact 404.367-2177 for pricing and availability.
The Monster Energy Fan Fest is from 12 noon until 6:00pm for fans to see the riders, teams and their bikes up close at the Georgia World Congress Center, Building B – Halls 1-4. Fans need to purchase a Pit Pass for $20 through ticketmaster.com or the Box office along with their event ticket for entry.
No entry is allowed into the Fan Fest without an event ticket plus $20.00 Pit Pass. Autographs are not guaranteed. Fans can gain FREE entry into the Fan Fest if they bring a can of Monster Energy to the GWCC with an event ticket. One can per entry.
Getting to the Dome
The Georgia Dome is located to the immediate west of the downtown Atlanta area on the corner of Northside Drive and Georgia Dome Drive. The Dome is also accessible by the MARTA rail system via Vine City and Georgia Dome stations. Parking is at a premium on event days, so taking MARTA is highly recommended. For complete information on MARTA visit itsmarta.com. Many MARTA stations offer free parking lots.
While traveling to and from games, all drivers are encouraged to follow the directions of traffic police.
For Complete Traffic and Parking Information please click here.
Accessible Parking
Accessible parking spaces are available in the Red Deck on a first-come first-served basis. Disabled parking placards will be checked by parking personnel and/or law enforcement to ensure the person who has been issued the placard by the State is present in the vehicle.
Pre-purchase parking passes here: https://gwcc.clickandpark.com/
Tailgating Guidelines
Tailgating is allowed in all stadium surface lots. The Georgia Dome values your excitement and commitment and the following policies are established to ensure tailgating is fun and safe for everyone. All guests wishing to tailgate must observe the following guidelines.
Tailgating is not permitted in any deck parking areas
Marked parking spaces are for vehicles only. Parking spaces may not be used for tents, grills, chairs or other items. Each vehicle must have a valid parking permit.
Amplified sound which disrupts or conflicts with the functioning or operation of any area of the Georgia Dome or public safety, as determined by Georgia Dome management, is prohibited in any parking lot.
Tents cannot exceed 8' x 10'
Tailgating is defined as the placement of any item on the ground (chairs, coolers, grills, games, etc.).
Tailgating must be confined to the area directly behind the vehicle or in adjacent landscape areas.
Maintain a 14' drive aisle between rows of vehicles at all times.
Any grass areas beyond the designated tailgating spaces are considered common ground.
Tailgating is permitted from the time that lots open and until two (2) hours following the conclusion of the event.
All guests must follow the directions and instructions provided by stadium personnel (parking staff, security, police, etc.). Failure to do so may result in ejection from the parking lot.
Please dispose of trash in the appropriate receptacles.
Please dispose of coals in the designated coal containers located throughout the lots. Please do not dump coals or store stoves on the grass, parking areas, under or around vehicles.
Propane tanks cannot exceed a cylinder size of 20 pounds.
The following items/activities are prohibited:

Deep fryers or any oil-based cooking or frying
Open flame fires of any kind. Charcoal or gas cooking is permitted.
Disorderly conduct
Picketing, political campaigning or soliciting/distribution of any kind
Saving parking or tailgating spaces
Weapons and fireworks
Sale of food, beverage, merchandise, etc.
Amplified sound systems or the use of radios/audio devices at loud levels is at the discretion of Stadium Personnel.
Inappropriate or vulgar music and language.
Tailgating parties that do not follow these rules/regulations may result in termination of parking privileges for the current game (see code of conduct).
To report problems, please call Georgia Dome Public Safety at 404-223-4911 or Text the word "Dome" to 69050.