Tuesday Talk rounds up the latest Georgia World Congress Center Authority (GWCCA) news you might have missed and also points forward to upcoming events on our campus.
Sweetwater 420 Fest is coming back to Centennial Olympic Park in 2020 with a double-dose of Phish frontman Trey Anastasio.
Anastasio will perform at the three-day event with the Trey Anastasio Band and also as part of recently-reunited supergroup Oysterhead, with The Police drummer Stewart Copeland and Primus bassist/vocalist Les Claypool.
The first round of artist announcements also includes Gary Clark Jr., Joe Russo's Almost Dead, Lake Street Dive, The Floozies, Dr. Dog, The Marcus King Band, Larkin Poe, Delta Rae and Funk You.
Early bird tickets went on sale this morning, with three-day general admission passes starting at $125. For tickets, go to: http://www.sweetwater420fest.com/tickets
An additional 30 bands on the festival bill will be announced later.
"We've listened to our patrons' feedback and are adjusting the artist schedule to minimize overlap," Jennifer Bensch, President of Happy Endings Productions, which produces the festival, said via press release. "I'm looking forward to bringing in Oysterhead and pleased Sweetwater 420 Fest will be their first music festival after a long hiatus. They will join our well-rounded variety of music genres, including jam, rock, Americana, alternative & EDM, performed throughout the three-day fest."
The festival, heading into its 16th year will be held at the Park for the seventh time, set for April 24-26.
It's also not the first 420 Fest for Anastasio, who performed two sets with his namesake band at the 2017 festival.
IT'S A SMALL WORLD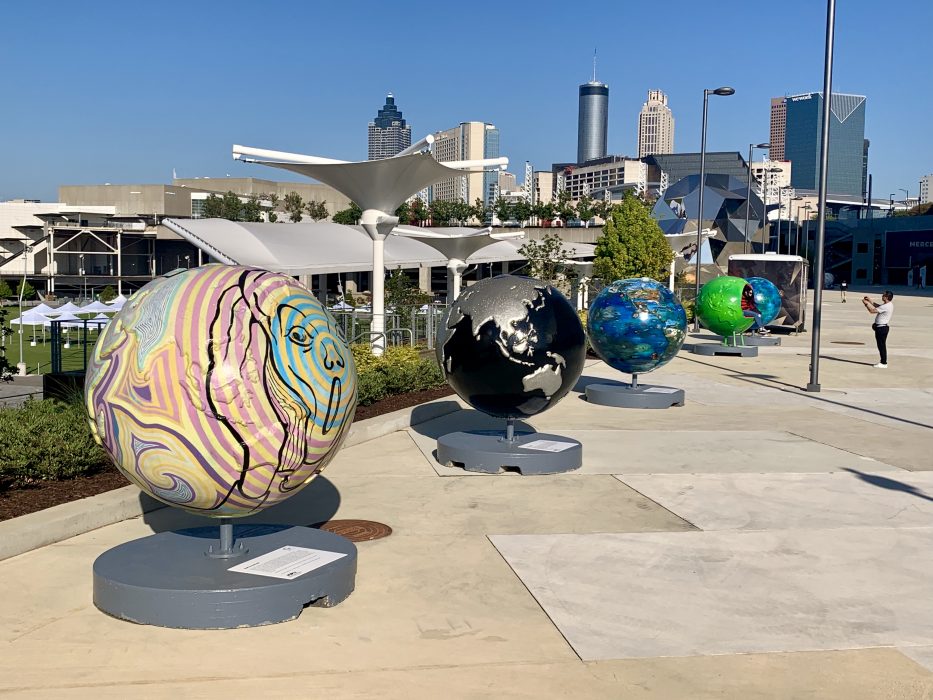 Recent visitors to Mercedes-Benz Stadium (MBS) on the GWCCA campus may have noticed a series of artistically-decorated globes placed on pedestals along the perimeter of the venue and the adjacent The Home Depot Backyard.
On Monday (Oct. 21), MBS' general manager and the public art project's founder explained what Cool Globes: Hot Ideas for a Cooler Planet is all about, and how it compliments the stadium's eco-friendly ethos.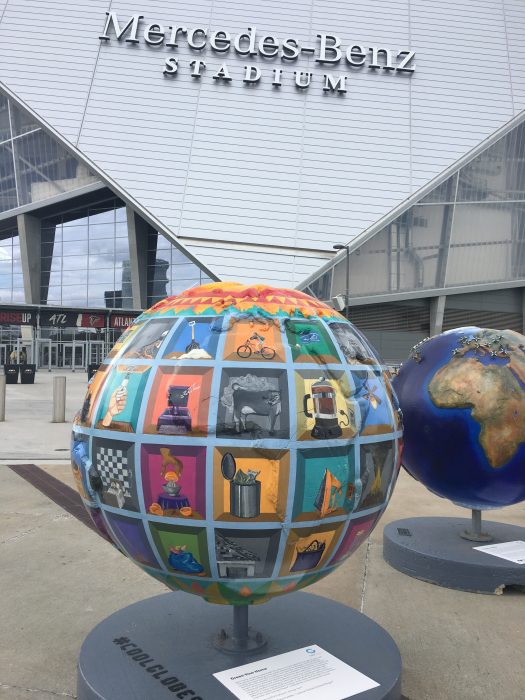 "It's a pleasure to have this beautiful art here that will be on display through the football season," said MBS General Manager Scott Jenkins. "We built an incredible building for the fan experience but also from an environmental perspective and obtaining LEED (Leadership in Energy and Environmental Design) Platinum certification, so we're always proud of the things we've done here. We have an aggressive zero waste journey we're on, we've got lots of solar power, we collect rainwater and reuse it for cooling tower water and irrigation. There's some cool innovation that's here in this building and that's a part of the values of The Blank Family of Businesses that we're continuously good neighbors and good community members."
Thirty Cool Globes are on display outside the stadium, and each depicts a solution to climate change and each is affixed with a plaque offering practical ways to answer the call.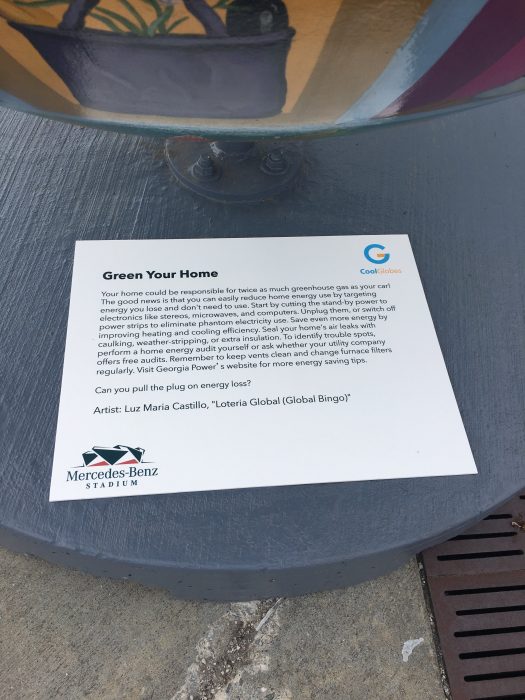 For instance, the placard attached to the globe entitled "Loteria Global (Global Bingo)" by artist Luz Maria Castillo (see picture above) offers ways to green your home.
"Our hope is to empower individuals to be part of the solutions. That is the message of Cool Globes, that this isn't somebody else's problem. Climate change is a problem we all need to address and we all need to be a part of the solution whenever we can and think about what you can do as individuals," said Wendy Abrams, founder of Cool Globes, which began in Chicago but has since become, pardon the pun, global. "This is our 22nd exhibit in the last 12 years, on four continents and translated into nine languages."
Abrams' applauded the sustainability efforts at MBS, which is the first professional sports stadium to achieve LEED Platinum status in the U.S. LEED is one of the most popular worldwide green building certification programs with Platinum as the highest tier awarded.
"I'm so honored to be partnering with Mercedes-Benz Stadium," said Abrams. "Not only are you a delight to work with but you are really a great example of a corporate leader, a civic leader who not only talks the talk but walks the walk."
Cool Globes adds to the collection of public art on display throughout the GWCCA's 220-acre campus, including MBS's giant falcon and soccer ball sculptures, Olympic gymnast sculpture on International Plaza, Gary Johnson's Modern Peach sculpture on East Plaza, and Centennial Olympic Park's Quilt Plazas. And speaking of the Park, the most popular new addition of public art there, The Spectacular interactive Olympic rings sculpture, is scheduled to be reinstalled Monday (Oct. 28) after being removed for maintenance.
THIS WEEK ON CAMPUS

Georgia-based Wellstar Health System is holding its one-day Annual Leadership Conference today (Oct. 22) at the Georgia World Congress Center's (GWCC) Thomas Murphy Ballroom.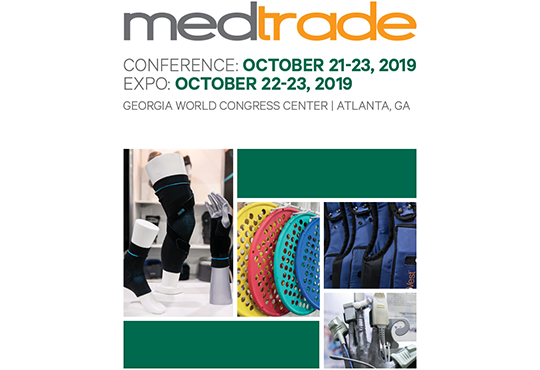 With an expected total attendance of 3,600 (split evenly among attendees and exhibitors) MedTrade, the largest home medical equipment expo and conference in the U.S., continues in GWCC Building C today (Oct. 22) through Wednesday (Oct. 23).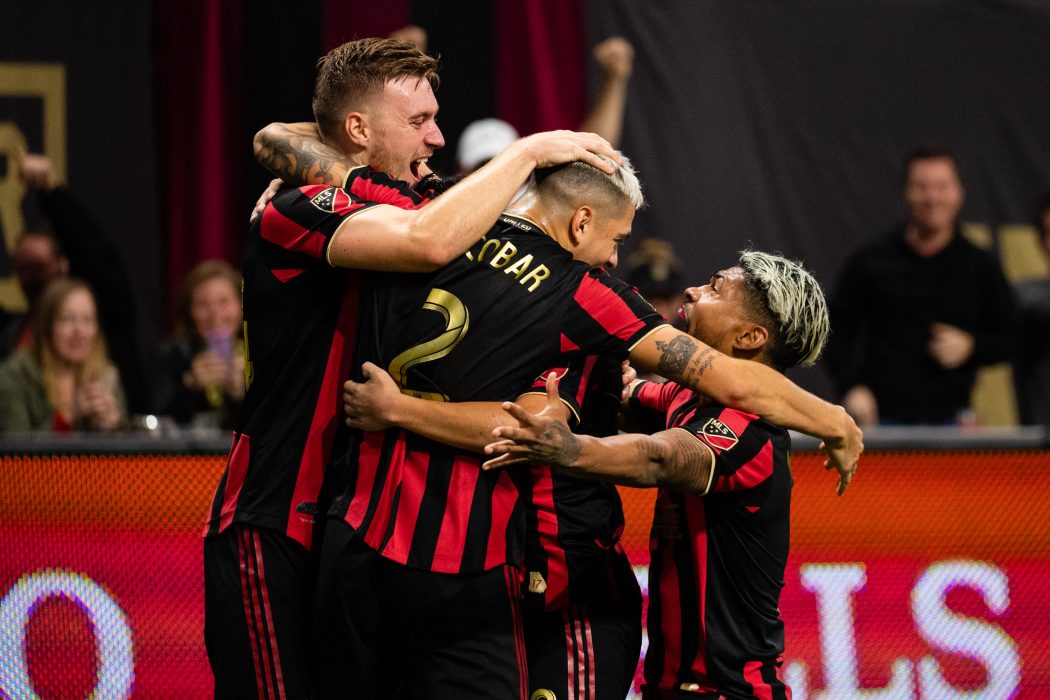 Having dispatched the New England Revolution 1-0 this past weekend, the Atlanta United move on to the next round with an MLS Cup Playoffs Eastern Conference Semifinal match against the Philadelphia Union at 8 p.m. Thursday (Oct. 24) at MBS. The United, as you recall, captured the MLS Cup trophy in 2018.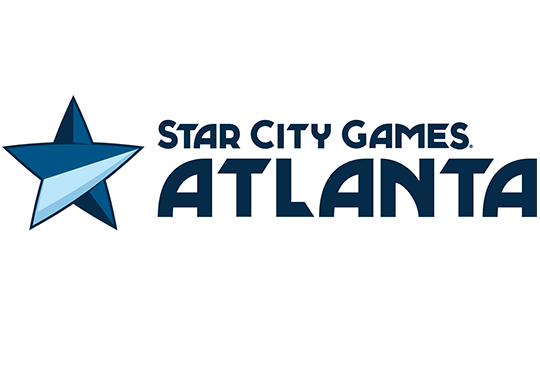 Star City Games, the world's largest open-entry Magic: The Gathering trading card game tournament, returns to the GWCC this weekend (Saturday, Oct. 26 and Sunday, Oct. 27), with table-top action taking place in Exhibit Hall C1.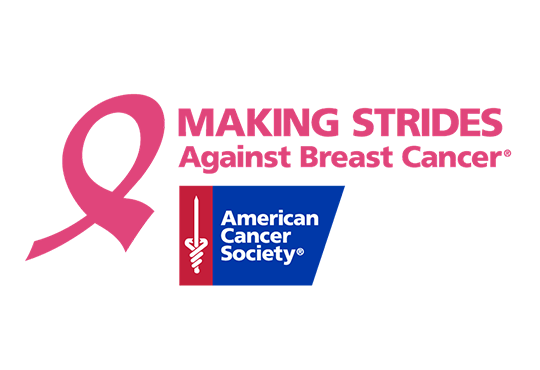 For the first time since 2015, the American Cancer Society's Strides Against Breast Cancer charity walk returns to Centennial Olympic Park on Saturday (Oct. 26). Check-in starts at 7 a.m. Saturday and the walk will begin at 9 a.m. Approximately 20,000 participants are expected.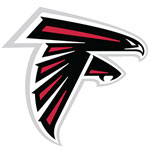 The Atlanta Falcons return to the MBS turf on Sunday (Oct. 27) against the Seattle Seahawks. Kickoff is at 1 p.m.