Live music emphatically returned to Centennial Olympic Park the weekend of Oct. 23-25 with Big Night Out, downtown Atlanta's first socially distanced concert series. Each night, attendees experienced a concert like they have never seen before in 4- and 6-person private pods.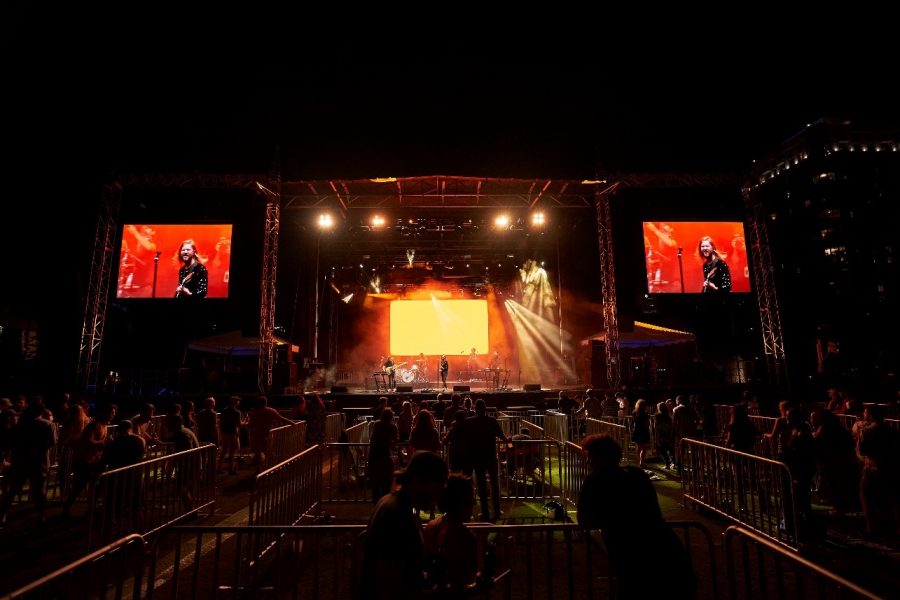 Friday night kicked off with Moon Taxi and Pigeons Playing Ping Pong, followed by Marcus King Trio and Futurebirds on Saturday. Big Boi & Friends, featuring KP the Great and special guests Big Grams, Goodie Mob, and Killer Mike, took the stage Sunday night to close the three-night event.
Big Night Out featured several safety protocols to keep concertgoers, artists, and staff safe. All attendees were subject to temperature checks and required to wear a mask. Attendees had the option to order food and beverages via a mobile app and have selections delivered directly to their pod. Additionally, each pod was distanced 6 feet on all sides and accompanied by 6-foot-wide active walkways connecting the pods to cashless concessions and sanitized restrooms.
Some attendees brought chairs and blankets to their pods, while others chose to stand. Regardless of how they enjoyed the music, the sentiment was one of feeling like a VIP.
"One of the most frequent comments was that everybody felt like a VIP. You combine the private space with the delivery of your drinks, everybody felt pretty great," concert promoter Josh Antenucci of Rival Entertainment said. "I wouldn't be surprised, even long term, if some of the components like in-seat delivery, private space allocations become the norm at different festivals."
Antenucci joined The Authoricast to discuss the event's execution, safety precautions, and energy during the weekend.
To listen to the full conversation as well as a recap from the event, click here or subscribe to The Authoricast wherever you listen to podcasts.