It's that time again for caps, gowns, tassels, and rites of passage at the Georgia World Congress Center (GWCC). We are excited to host the DeKalb County School District graduation ceremonies so get ready family, friends, and community. We will kick off the graduation season starting with Towers High School's commencement ceremony on Tuesday (May 28).
Here at the Georgia World Congress Center Authority (GWCCA) we offer congratulations to you and your graduate on a job well done. We want to ensure you and your guests have the best experience this graduation season. To ensure everything goes well on graduation day, we've compiled a few graduation day tips that will help navigate this exciting yet hectic milestone.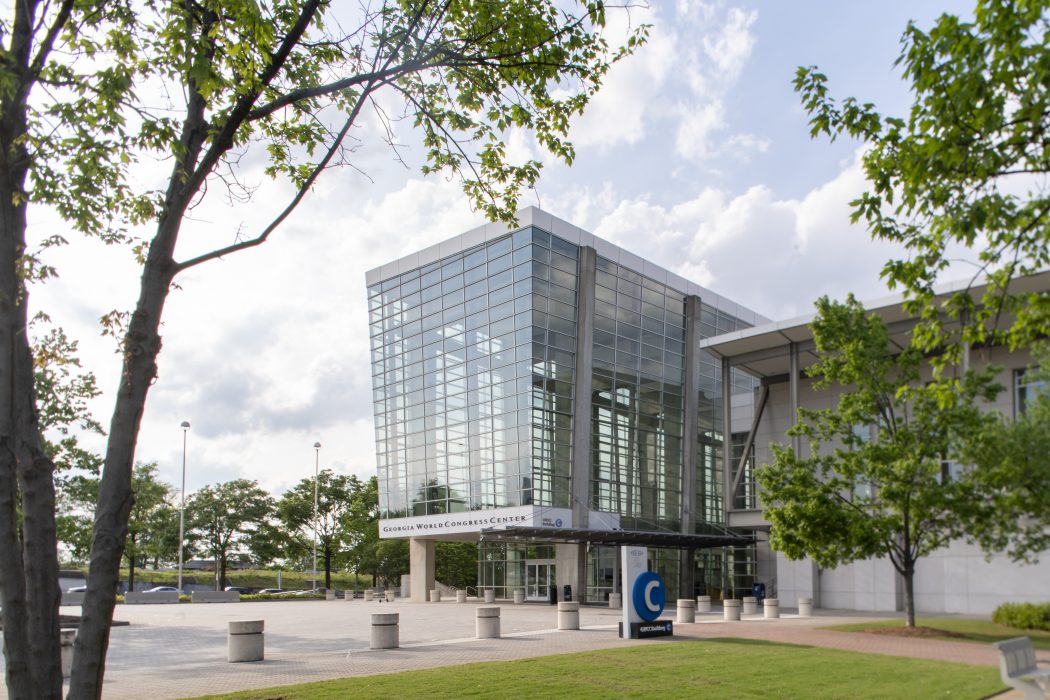 DeKalb County high school graduations are hosted on our downtown Atlanta campus in the GWCC's Building C. The address for GPS purposes is: 235 Northside Dr., NW, Atlanta, Georgia 30313.
Parking on GWCCA campus
The closest parking is in the Blue Lot (which is located on Northside Dr.) or the Yellow Lot (which is at the intersection of Northside Dr. and Ivan Allen Jr. Blvd.).
Pre-purchasing parking will guarantee you a space in the lot. Reserve your parking online at: gwcc.clickandpark.com.
If you are taking MARTA, the closest train stop to GWCC Building C is the Vine City Station which is located on Rhodes Street near Northside Dr.
Please note, because of the Atlanta United match at Mercedes-Benz Stadium at 6 p.m. Saturday, campus parking lots convert to game day rates at 1 p.m. on Saturday. Parking may be limited on Saturday, so make sure you reserve advanced parking online.
Things to remember to make this graduation season successful:
Bring your ticket and arrive early.
If a ticket is required please remember to have it on hand at the time of arrival. * Remember, you will not be allowed into the ceremony without your ticket – no exceptions.*
Once the processional has begun, there will be no entry allowed until all graduates are seated.
Suggestions on what to bring
Bring a light sweater or jacket. The AC will be on in the building.
Wear comfortable shoes. At 3.9 square million feet (and growing), the GWCC is the country's fourth-largest convention center, which means there will be a lot of walking.
Suggestions on what NOT to bring
Helium balloons are prohibited here at the GWCC. You will not be allowed in the building with any helium balloons. We suggest you leave them in your vehicle until the ceremony is over.
ADA Guests
Drop off attendees:
Off Northside Drive at the Gold Deck, there is a drop-off location (see picture below).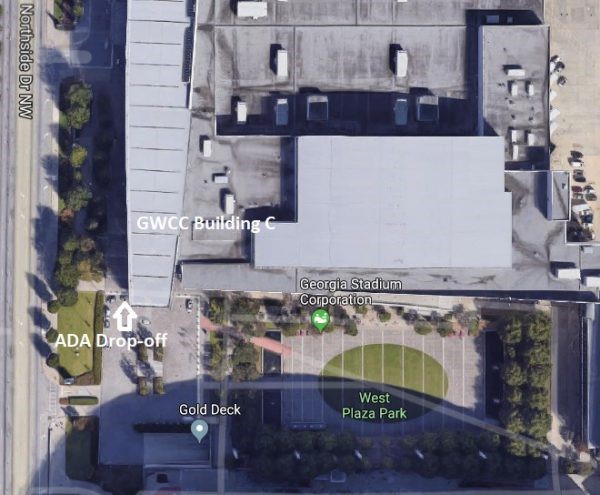 Wheelchairs:
Available on first-come, first-serve basis.
Free of charge with a valid state ID and on-site contact number (ID is held at the information desk where the wheelchair is picked up).
Finding your graduate after the ceremony:
All DeKalb County graduates will meet you at West Plaza outside of Building C (please let your graduate know what you are wearing to make it easier to locate you).
Please refrain from congregating in the lobby area. It will be easier to meet your graduate in the designated area.
Other events happening on campus:
Solar Energy Trade Show, Building A, May 28-30
Atlanta United vs. Minnesota United, Mercedes-Benz Stadium (MBS), 7 p.m., May 29
Atlanta Dream vs. Seattle Storm, State Farm Arena, 7:30 p.m., May 31
Savannah College of Art and Design Graduation, Building C, June 1
Atlanta United vs. Chicago Fire, MBS, 6 p.m., June 1
Ultimate Women's Expo, Building A, June 1-2
American Society for Mass Spectrometry, Building A, June 2-6
2019 DeKalb County Graduation Schedule
Tuesday, May 28
Towers High School, 10 a.m., Hall C1
Columbia High School, 1 p.m., Hall C1
Cedar Grove High School, 4 p.m., Hall C1
DeKalb School of the Arts, 7 p.m., Hall C1
Wednesday, May 29
Lithonia High School, 10 a.m., Hall C1
Dunwoody High School, 1 p.m., Hall C1
Redan High School, 4 p.m., Hall C1
Clarkston High School, 7 p.m., Hall C1
Thursday, May 30
Lakeside High School, 10 a.m., Hall C1
DeKalb Early College Academy, 1 p.m., Hall C1
Stephenson High School, 4 p.m., Hall C1
Cross Keys High School, 7 p.m., Hall C1
Friday, May 31
McNair High School, 10 a.m., Hall C1
Arabia Mountain High School, 1 p.m., Hall C1
Chamblee High School, 4 p.m., Hall C1
Tucker High School, 7 p.m., Hall C1
Saturday, June 1
Druid Hills High School, 10 a.m., Hall C1
Martin L. King Jr. High School, 1 p.m., Hall C1
Miller Grove High School, 4 p.m., Hall C1
Elizabeth Andrews High School, 7 p.m., Hall C1
Sunday, June 2
Stone Mountain High School, 10 a.m., Hall C1
Southwest DeKalb High School, 1 p.m., Hall C1
Tapestry Charter School, 4 p.m., Hall C1