Not only is the NCAA Men's Basketball Final Four crowning the Division I champion on Atlanta's championship campus in 2020, but the men's Division II and Division III championships will be played here, too.
It's a feat that's only been pulled off once before – back in 2013, and that was also in Atlanta.
In case you haven't heard, the culmination of next year's March Madness happens April 4-6, 2020 at Mercedes-Benz Stadium (MBS) on the 220-plus acre Georgia World Congress Center Authority (GWCCA) downtown Atlanta campus, and the DII and DIII tournament titles will be decided at neighboring State Farm Arena on April 5, 2020, Dan Gavitt, the NCAA's Sr. Vice President of Basketball announced today at a press event at the GWCCA's International Plaza.
"It's never been done anywhere else," said Gavitt. "And we're going to do it again."
He said in 2013 when the DI Final Four games were played at the now-defunct Georgia Dome, the DII and DIII championships took place over the same weekend at the venue formerly known as Philips Arena, and "attracted more than 14,000 fans and record number of media to those games, giving those student-athletes a unique experience they will cherish forever."

Being able to host marquee events on a centralized footprint underscores the versatility of Atlanta as a host city and highlights the compact nature of the GWCCA campus paired with the adjacent State Farm Arena – showcased most recently by the overwhelming success of Super Bowl LIII.
As alluded to, this is not the GWCCA's first Final Four. In addition to the 2013 championship, the GWCCA campus also hosted Final Fours in 2002 and 2007, with those games held at the Georgia Dome. Overall, 2020 will mark Atlanta's fifth men's Final Four, with its first foray in 1977 at the Omni Coliseum, which was replaced by Philips/State Farm Arena.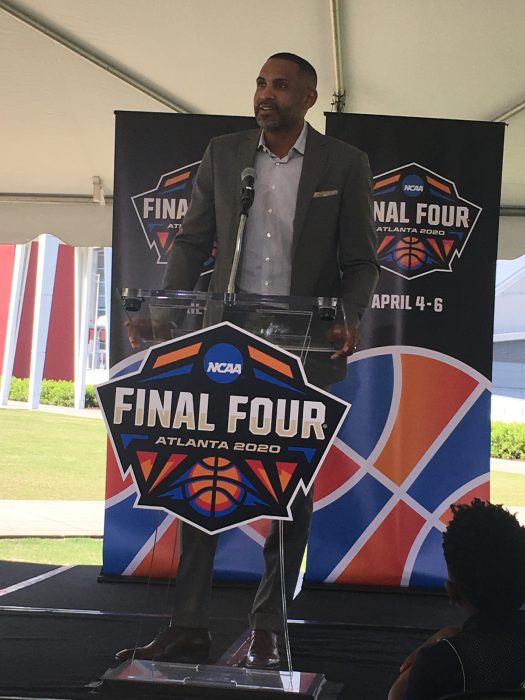 "As you know, this is the best city in terms of hosting a sporting event," said former NCAA and NBA star Grant Hill, who is part of the Atlanta Hawks ownership group. "The spotlight will be here in Atlanta on Final Four weekend. We get to show again, how great a host we are. It's something to me that's super-exciting."
In addition to the actual games, the 2020 Final Four will also include ancillary events on the GWCCA campus and social initiatives throughout the city dubbed "The Year of Basketball."
"It's 345 days until Final Four Friday, which is going to start four days of unparalleled basketball excitement in this city: Final Four Fan Fest at the Georgia World Congress Center, the March Madness Music Fest in Centennial Olympic Park…The Dribble on Sunday, 3,000 kids dribbling basketballs all over this campus," said Carl Adkins, Executive Director of the Atlanta Basketball Host Committee. "This city's going to be on fire with basketball."
After the event, unConventional caught up with Hill, who was named an official Year of Basketball ambassador, and asked him to expound on his comments about Atlanta – and specifically the GWCCA's championship campus – as an ideal fit for the Final Four.
"It will be great – I just envision this being a hotbed, people congregating with lots of spirit, just enjoying, anticipating, celebrating," said Hill, who won two NCAA championships with Duke. "This is just the perfect environment for it. Championship campus…yeah, I like that."