The Georgia World Congress Center Authority's (GWCCA) annual Fourth of July Celebration returned tonight to Centennial Olympic Park with a bang.
Billed as the Southeast's largest Independence Day fireworks show, a crowd close to 20,000 gathered in the Park to witness the pyrotechnic extravaganza.
Set to a mix of patriotic and popular music – including the ubiquitous "Old Town Road" by Lil Nas X – more than 3,000 shells launched from the northern edge of the Park along Baker Street cascaded up to 400 feet high illuminating downtown Atlanta's nighttime sky.
"We've been doing this show more than ten years now," said Johnathan Barhite of J&M Displays. "My favorite part about this show is hearing 20,000 people yell and scream the lyrics to the song as we're shooting the fireworks."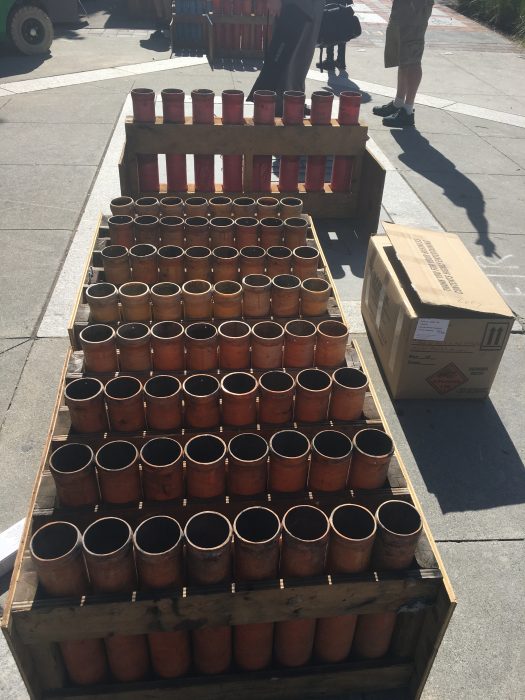 It was also a homecoming of sorts as the event returned to the Park after a one-year absence. Last year's celebration was moved to the GWCCA's International Plaza due to Park renovations, but the $27 million in improvement projects were recently completed, so the program returned to familiar ground.
"I think everyone is excited to be back in the Park," said Barhite. "There's a little shade from the trees, there's a better set-up in terms of getting in and out, and everybody loves the (SkyView) Ferris wheel."
The focus of the event also shifted for this year's celebration, as the traditional lineup of live entertainment was scaled back, to allow the 17- minute fireworks spectacle to take the spotlight.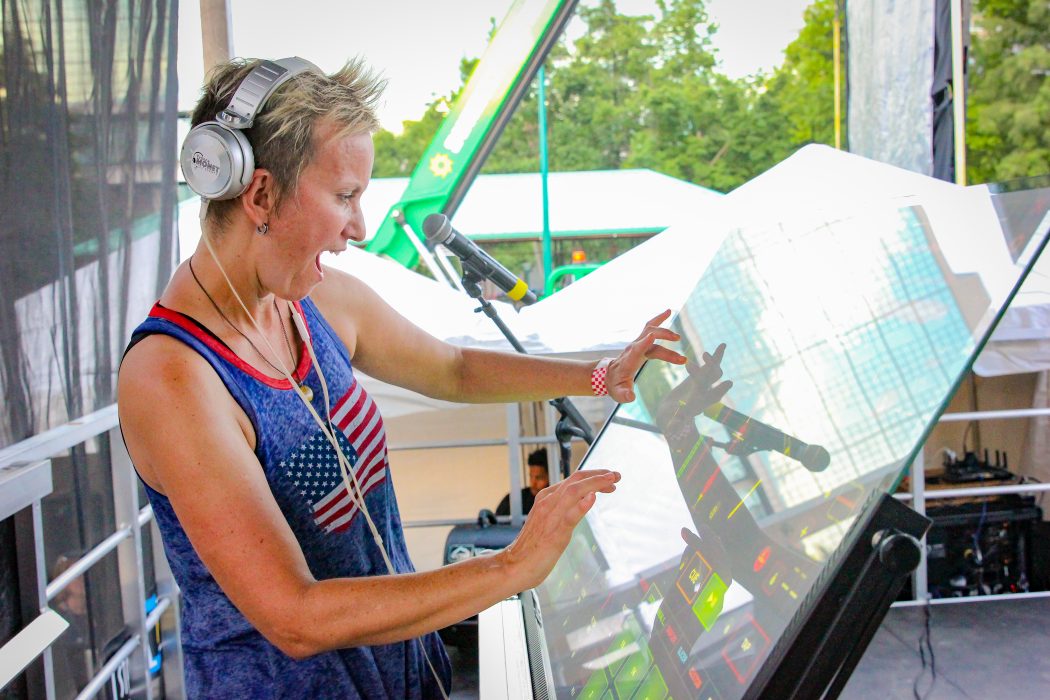 Prior to the fireworks DJ Yvonne Monet (pictured above) spun tunes from the stage set up in North Park, entertaining the crowd with popular songs such as "Shake It Off" by Taylor Swift and "Summertime" by DJ Jazzy Jeff and The Fresh Prince, and Atlanta-inspired songs and artists such as "Welcome to Atlanta" by Jermaine Dupri featuring Ludacris and Outkast's "ATLiens."
Gates opened at 6:45 p.m., and by 8:30 p.m. more than 11,000 guests had entered the Park.
"Enjoying the festivities!" guest Monte Dixon commented on the Park's Facebook event page at approximately 8:35 p.m.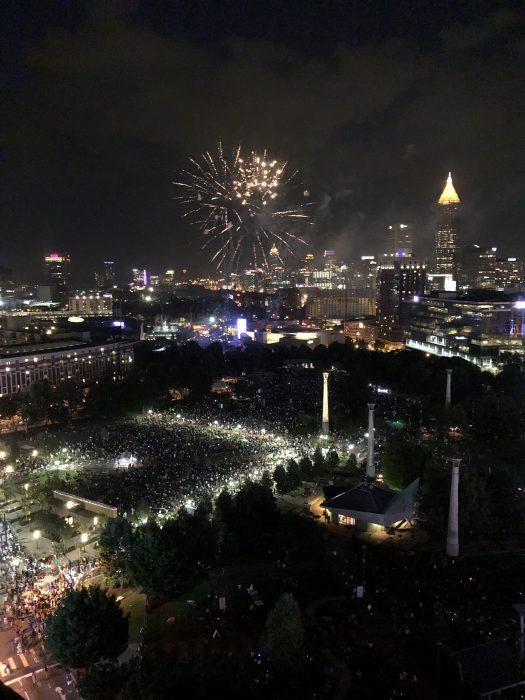 At 9 p.m., GWCCA's public safety department determined that the Park was at capacity and closed the gates to incoming traffic. But thousands more gathered outside the Park, along adjacent streets, and some set up blankets and chairs on International Plaza, to watch the fireworks.

Monet finished her set with Europe's "The Final Countdown" – and then at 9:38 p.m. the fireworks were unleashed, wowing the crowd.
The Park will be closed for event recovery, but is expected to be open by noon tomorrow (July 5).