Tuesday Talk rounds up the latest Georgia World Congress Center Authority (GWCCA) news you might have missed and also points forward to upcoming events on our campus.
You're in charge of the office holiday party planning committee, and the theme is lined up, date narrowed down, entertainment booked, but oops – it's almost Thanksgiving and you haven't secured a site yet.
Have no fear, believe it or not, there is still just enough time to book and plan a fabulous winter holiday event on the GWCCA campus, which includes the 3.9 million-square-feet-and-growing Georgia World Congress Center's (GWCC) plethora of meeting rooms, ballrooms, exhibit halls, and auditoriums.
The clock is ticking, so where do you start?
unConventional tapped GWCCA Sales Manager Sarah Wilburg for tips on booking 2019 winter holiday and end-of-year celebrations at the No. 1 convention, sports and entertainment destination in the world.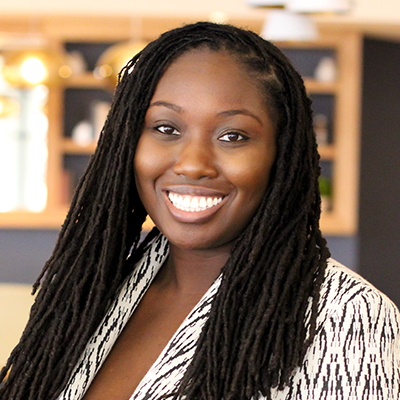 First off, is it too late to book and plan your holiday event at the nation's fourth-largest convention center?
"Absolutely not," said Wilburg. "I've booked things with only a week's advance notice – we don't recommend that. But if you need it, we'll try our best to make it happen."
What types of groups and parties can the GWCC accommodate? "We can accommodate any type of group, any sized group," said Wilburg. "We are a great place to have a holiday party because we are super-central. We're in the middle of downtown, across from CNN Center, across from State Farm Arena, across from Mercedes-Benz Stadium, easily accessible. We can accommodate parties from 5 people to 10,000 people and more. It all comes down to availability."
She also pointed out that food and beverage catering is in-house (Levy Restaurants), and security, medical services, contracted audio-visual service (ON Site) and information technology (CCLD) are all in the building, while there is also ample on-campus parking.
"Basically, everything is here – it's the total package," she said.
Wilburg advises having a plan and knowing exactly what you want when booking a holiday celebration, especially when it comes to menu offerings.
"One of the great things about our facility's food and beverage team is that they have set menus but they can go above and beyond that to produce whatever you desire for your event. The sky's the limit," said Wilburg. "Our food and beverage department is very diverse and can do a multitude of things including vegetarian meals and vegan meals. Don't limit yourself is my No. 1 tip."
On the flip side, if you don't know what you want, Levy's holiday menus with two different pricing tiers are a great fit and include premium cocktail service options, and customers choose the slate of heavy hors d' oeuvres, carving station items, action station offerings, and dessert station fare.
With it being so close to the holidays, Wilburg recommends being prepared to act quickly if you book an event. "Be ready to get moving, just so we can prepare to execute a successful event for you," she said.
A few more basic tips:
Know your attendance numbers (or have a solid estimate).
Know how you want the room to be set up (this will help determine which event space is right for your event).
Provide event details, such as times, production schedule, etc.
Call now! (404-223-4029 or send email to [email protected]).
THIS WEEK ON CAMPUS
It's another huge week and weekend of events of the GWCCA campus as we get closer to the Thanksgiving holiday next week.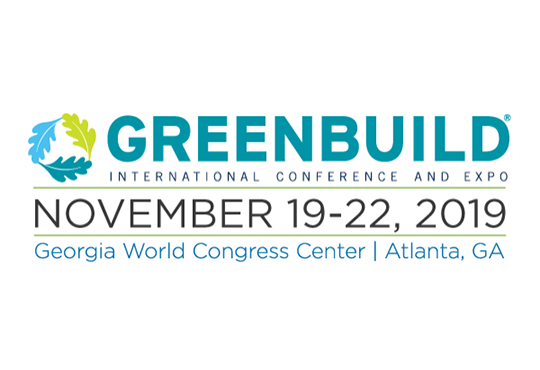 The Greenbuild International Conference and Expo – the event dedicated to sustainability in the built environment – swung into action today (Nov. 19) at the GWCC and continues through Friday (Nov. 22). Greenbuild features keynote addresses by former president Barrack Obama and Bernice King, Chief Executive Officer of the King Center for Nonviolent Social Change, and includes the Greenbuild Celebration on Thursday (Nov. 21) at Mercedes-Benz Stadium (MBS) featuring a concert by Atlanta-based rock band Collective Soul.


Centennial Olympic Park kicks off its International Winter Wonderland on Friday (Nov. 22) as two concurrent seasonal events will be open to the public: the Atlanta Chinese Lantern Festival: Into the Wild and Atlanta Christkindl Market. The Chinese Lantern Festival opens at 6 p.m. Friday and runs nightly through Jan. 5. For tickets, click here. This is a return engagement for the Chinese Lantern Festival, which was staged at the Park in 2016-17, but this iteration has a wildlife theme, with more than 25 hand-crafted giant, illuminated lanterns depicting various land and sea creatures. The Christkindl Market, meanwhile, is a newcomer to the Park. The free, family-friendly German-themed village will be open from 11 a.m. to 9 p.m. daily through Dec. 23, except Thanksgiving Day (Nov. 28) when it will be closed, and Dec. 24, when operating hours are 11 a.m. to 3 p.m. For more information, go to http://christkindlmarket.org/.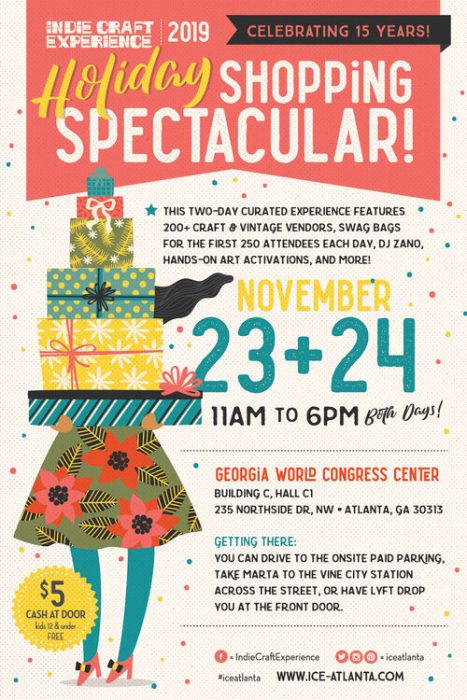 The Indie Craft Experience Holiday Shopping Spectacular, featuring 200-plus curated craft and vintage vendors, hands-on art activations and more, is set for Saturday (Nov. 23) and Sunday (Nov. 24) at the GWCC's Exhibit Hall C1. Hours are 11 a.m. to 6 p.m. both days. Admission is $5 at the door, ages 12 and younger get in free.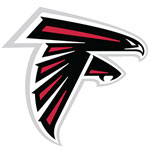 The suddenly resurgent Atlanta Falcons return to MBS on Sunday (Nov. 24) for a grudge match against the division rival Tampa Bay Buccaneers. Kickoff is at 1 p.m.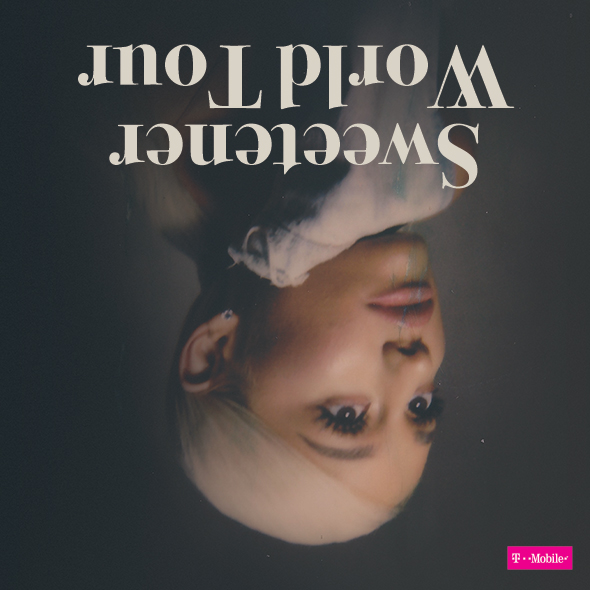 Across the street at campus neighbor State Farm Arena, pop superstar Ariana Grande brings her Sweetener World Tour on Tuesday (Nov. 19). And the Atlanta Hawks have a pair of games. The Hawks take on the Milwaukee Bucks at 7:30 p.m. Wednesday (Nov. 20), and battle the defending NBA champion Toronto Raptors on Saturday (Nov. 23), also at 7:30 p.m.