The NCAA Division I, II, and III Men's National Champions will be crowned on our championship campus in April as Mercedes-Benz Stadium and State Farm Arena host the NCAA Final Four but the hoops action is already heating up this summer in downtown Atlanta.
Thousands of high school basketball players hoping to become the next college stars will converge on the Georgia World Congress Center Authority (GWCCA) campus throughout the month of July as we play host to three major summer tournaments.
Hoopseen: Best of South 2019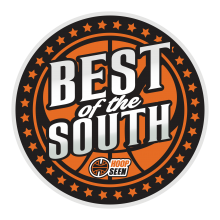 First up, HoopSeen will run the Best of the South basketball travel team tournament at the Georgia World Congress Center (GWCC) starting today (July 11) through Sunday (July 14). This event is the largest tournament in the country for non-sponsored teams (tied to shoe brands), featuring 325 boys teams, representing 31 states. The Best of the South tournament is now in its eighth year but will be visiting the GWCC for the first time, having been staged at various smaller venues. A change in rules to the NCAA recruiting calendar narrowing the days each college coach can recruit made the change to a larger venue possible. "There has been a shift in how the NCAA allows college coaches to recruit, they used to have three weeks, and now they have four days. The Georgia World Congress Center allows us to get everybody under one roof which is a huge selling point," said HoopSeen's Justin Young.
The four-day event tips-off at 11 a.m. today and will feature 974 games across 26 courts in Building B. It is open to the public and tickets are $20. For more information about Hoopseen Best of the South basketball tournament go to: https://hoopseen.com/events/26.
NIKE Tournament of Champions
When the Best of the South tournament wraps on Sunday, 20 of the 26 courts will remain and more will be added and reconfigured as we prepare for The ATL Peach Splash and the National Championship on July 20-25. The tournaments are a part of the Nike Tournament of Champions which are among the most competitive and prestigious interscholastic and club tournaments in the world.
The ATL Peach Splash (July 20-22) will host as many as 600 girls teams and will set the stage for the National Championship that immediately follow. The National Championship (July 23-25) is returning to the GWCC for the fourth year and will feature up to 60 regulation courts along with concessions and retail space.
For more information on these tournaments visit: https://www.thetoc.org/product-category/basketball/.