ONE Musicfest got off to a blistering start Saturday at Centennial Olympic Park.
Despite temperatures that soared into the mid-90s, more than 14,000 festival-goers found ways to beat the heat with personal cooling devices, church-style fans handed out by vendors, grabbing bits of shade under the Park's tree canopy and staying hydrated via free water stations throughout the Park.
They came to soak up the relaxed and good-time vibes that permeated the festival, which is celebrating its 10th anniversary while marking its first time being staged at Centennial Olympic Park.
Billed as the Southeast's largest two-day progressive urban music festival, the Atlanta-based event, which continues Sunday (Sept. 8), has been held at various venues around town.
But many festival guests unConventional spoke with on Saturday said that 22-acre Centennial Olympic Park is the perfect venue for the event, citing the spaciousness and easy accessibility in the heart of downtown Atlanta.
"I think being here is more of a central location for everyone," said Shay McCray, an Atlanta-based FUBU Radio host and personality. "Me, myself living in Midtown, and my friend living in Doraville, was able to come to more of central location versus those other areas where the parking was horrible. It was very easy to get here, because you can come in so many different ways."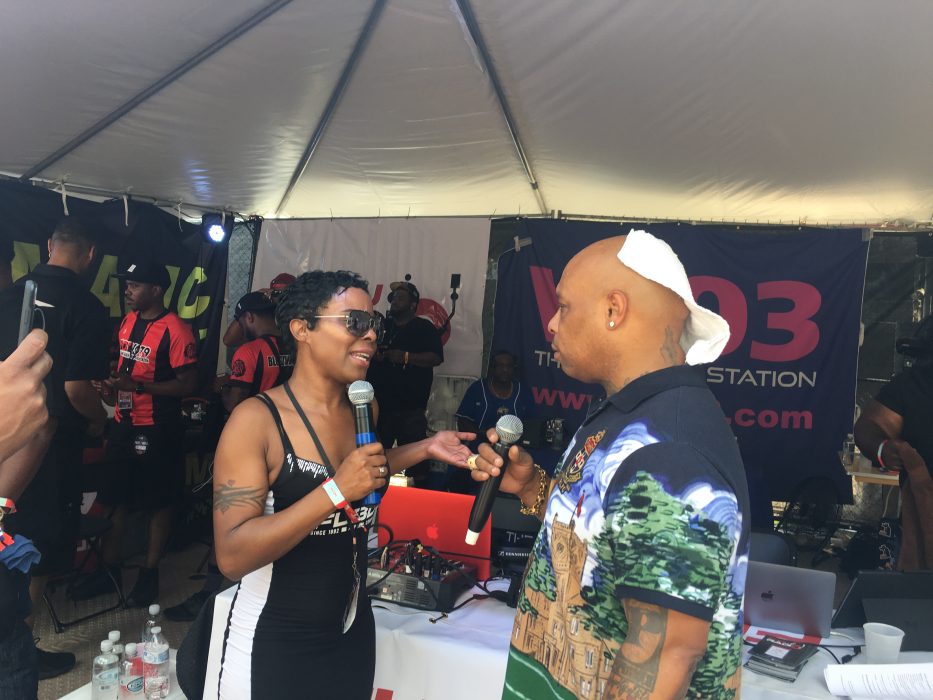 The festival features three stages of continuous entertainment, along with 25-plus food vendors, an artisan market and various merchandise booths.
At 3:30 p.m. Saturday, the Florida All-Stars featuring T-Pain, Trick Daddy, Trina and Two Live Crew mastermind, Uncle Luke (Luther Campbell) hit the Main Stage adorned with the festival's colorful graphic rendering of the Atlanta skyline.
"Damn, it's hot!" interjected Trick Daddy between rhymes.
When Trina came on stage at 3:56 p.m. to deliver her lines during Trick Daddy's "Nann," the crowd roared, becoming noticeably more energized, standing up en masse and dancing.
And the crowd sang along, word-for-word as T-Pain performed his hit "I'm In Love with a Stripper."
After the Florida All-Stars wrapped up, a throng began to form at the Festival Stage on the West Lawn area, anticipating the 4:30 p.m. set from platinum-selling rapper Busta Rhymes, who did almost as much talking as he did rapping, and teased the crowd with a snippet from his break-out collaboration with A Tribe Called Quest, "The Scenario."
Meanwhile, over on the BMI Stage at the Park's recently revamped Southern Company Amphitheater, a slate of up-and-coming acts – Cam the Artisan, James Davis, Kodie Shane, Baby Rose, and Key! – entertained the relaxed crowd who lounged on the lawn, or underneath the amphitheater's permanent shade structures.
Chandra Major, a local corporate events planner, who attended ONE Musicfest at other locations, said she particularly liked the spread-out footprint of the site, saying that she didn't hear any sound bleeding over from one performance stage to the other.
"I work in the event industry, so I always think about logistics," she said. "And I feel like with Centennial Olympic Park, you guys do large events, so you guys can handle pretty much any kind of event. I feel like it's not as congested, it's spread out a little bit more. Even with the different stages, there's no sound bleed, which is good."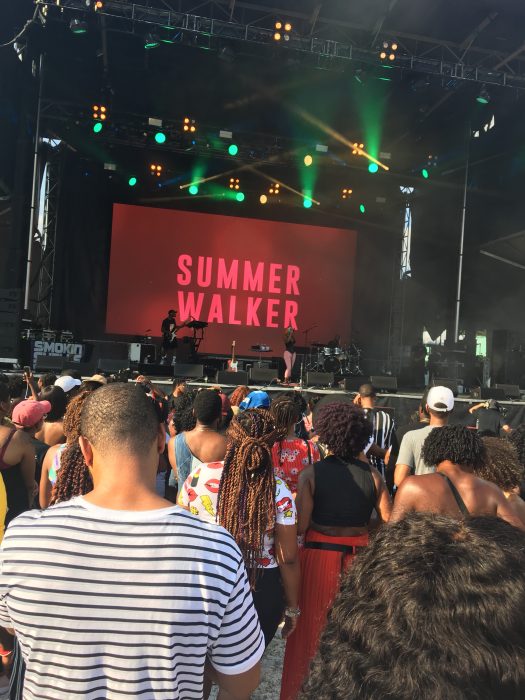 The highlight of Saturday afternoon was undoubtably R&B singer-songwriter Summer Walker, who slowed the pace down on the Main Stage, delivering a soulful set of ballads and jazzy-influenced tracks mostly from her debut album "Last Day of Summer," including the hit singles "CPR" and "Girls Need Love."
Walker, an Atlanta native, enthralled the crowd backed by her two-man band, and at one point broke out a cherry red Fender Telecaster and accompanied herself. As she sang, images of Atlanta flashed on the backdrop behind her, including aerial shots of Centennial Olympic Park.
The festival resumes Sunday with a heavy-hitting lineup including Rick Ross, DMX, Wu-Tang Clan, Ari Lennox, Musiq Soulchild, Raphael Saddiq and an OMF Honors ceremony paying tribute to Atlanta music producers Jermaine Dupri and Dallas Austin.
The festival closes out Sunday night out with KP the Great and His Superfriends, aka Usher and Pharrell Williams, along with recently announced Lil Jon – and probably more – as festival organizers have touted more than 15 surprise appearances throughout the weekend.

For everything you need to know about ONE Musicfest, check out unConventional's know-before-you-go guide.