Amid the glitz, glamour, pomp and circumstance of the 90th Academy Awards presented tonight at the Dolby Theatre in Hollywood, the Georgia World Congress Center Authority's downtown Atlanta campus will have a supporting role.
That's because Oscar-nominated action flick "Baby Driver" was filmed in part at the GWCCA's Red Deck, Gold Deck and now-defunct Georgia Dome loading docks and surrounding areas during 20 jam-packed days in March 2016, and follow-up shoots in November 2016.
The GWCCA is even thanked in the film's end credits.
"Baby Driver," set in Atlanta, is nominated in three Academy Award categories: Film Editing, Sound Editing and Sound Mixing – validation of the movie's creative car chases and action sequences, and incorporation of music as a central and thematic plot device.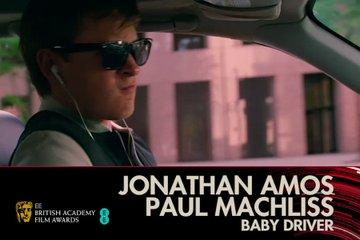 A possible harbinger of bringing home Oscar gold, "Baby Driver" was the surprise winner for film editing at the recent BAFTA (British Academy of Film and Television Arts) Awards.
"BAFTA winners tend to also go home with an Oscar," wrote ABC News' Michael Rothman.
"Baby Driver" location managers Kyle Hinshaw and Doug Dresser are also nominated for a Location Managers Guild International Award in the Outstanding Locations in Contemporary Film category, their fate determined at the April 7 awards ceremony.
How did the GWCCA's campus become an outstanding location to shoot pivotal scenes for writer/director Edgar Wright's "Baby Driver"?
Landing the "Baby Driver" production can be traced back to the second installment of "The Hunger Games" shot on the GWCCA campus, said Authority sales manager Kathy Pomey, including the chariot staging area scenes incorporating the train trestle tunnels on Lower International Drive.
"After that, because of the individuals that worked on that film, word got out that we're film-friendly," said Pomey, who had experience as a production location scout prior to joining the Authority's sales team.
The Georgia World Congress Center's aesthetic resemblance to an airport was well known among movie location scouts, Pomey said. But by asking the question, "so what else do you need?" Pomey said, "The next thing you know this little airport scout turned into two-to-three hour scouts of our campus. They were actually surprised that we had all these other unique areas, specifically our industrial-looking areas, our tunnels, our parking decks."
But the GWCCA's portfolio of concrete and steel parking decks weren't an instant sell for Wright, the British auteur who is best known for his trilogy of "Shaun of the Dead," "Hot Fuzz" and "The World's End."
Hinshaw said that Wright was in search of a massive parking structure for the film's climactic chase sequence set to Queen's "Brighton Rock."
"Edgar had already created storyboards and animatics depicting the geography of the chase scene already cut to the music," said Hinshaw. "I showed him photos of the Red Deck very early on in prep, but due to the complexity of the scene and certain elements that did not quite fit with Edgar's overall vision of the sequence, we had to do a massive search of parking decks in the city. We probably scouted every available parking deck in Atlanta – none of them had enough elements to satisfy the sequence, and the Red Deck was still the best option. Edgar made a few tweaks, and decided on using the Red Deck. We also shot in the Gold Deck and built the elevator shaft that gets a car rammed into it."
Production crew on the set of "Baby Driver" on the GWCCA campus. Photo courtesy of Kyle Hinshaw.
Hinshaw estimated that the GWCCA campus is featured in 15-18 minutes of screen time throughout "Baby Driver." "Any time they're in parking structures, we're at the GWCCA campus," he said.
Somewhat of a sleeper hit of last summer, "Baby Driver" exceeded box office predictions and raked in more than $107 million at domestic theaters, making it the 28th highest-grossing film of 2017, according to Box Office Mojo.
According to the Georgia Department of Economic Development, the Peach State-based production of "Baby Driver" contributed more than $30.1 million to the local economy, and employed 2,200 local workers, earning more than $15 million in wages.
The department of economic development also compiled the following statics about  "Baby Driver" driving business to in-state vendors and small businesses:
– More than $4 million spent on local purchases and rentals for production, set decoration, and other supplies.
– More than $730,000 on food and catering.
– More than $400,000 on lumber supplies, hardware and equipment.
– More than $2 million on transportation, including car and truck rentals.
Besides the cool factor and good publicity that comes with hosting film and TV production, this sector of business also boosts the Authority's bottom line. In fiscal year 2017 (in which "Baby Driver" scenes were shot on campus), film and TV production generated close to $1 million to GWCCA coffers. This financial boon includes such revenue generators as rent, utilities, parking and catering buyouts.
In addition to "Baby Driver," other major films shot on the GWCCA campus during the most recently-completed fiscal year include "Spider-Man: Homecoming" and "Logan Lucky."
But "Baby Driver" is the only one of this trio up for Oscar nods.
"I'm hopeful it will take home an Oscar in one of the three categories, if not all," said Hinshaw.