Football season is here and The Home Depot Backyard is your one-stop destination for pregame festivities before Atlanta Falcons games all season long.
In honor of National Tailgating Day (Saturday, Sept. 7), unConventional checked in with The Home Depot Backyard, a beautiful, 11-acre green space that is situated on the site of the former Georgia Dome that has quickly become the place to huddle before games since opening in September 2018.
"We are the premier tailgating location and are just steps away from Mercedes-Benz Stadium," said Sarah Meyers, Director of Sales and Corporate Partnerships at The Home Depot Backyard.
The multi-use space opens four-and-a-half hours before each game and can be accessed by car from Magnolia Drive and along Northside Drive and via Gate 1 by pedestrians. The more than 400 parking spots are sold out for the year, but The Home Depot Backyard is the perfect location to tailgate without having to bring your own tailgate gear and supplies.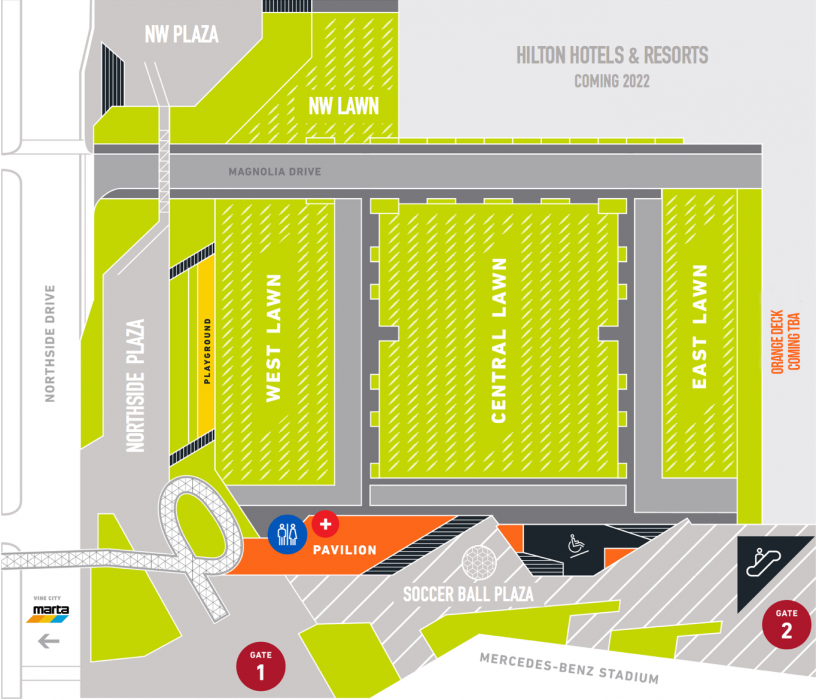 On game days, the main stage near The Home Depot Pavilion will feature popular Atlanta deejay, V-103's Big Tigger, and will have a complete schedule of programming including visits from Freddie the Falcon and the Atlanta Falcon Cheerleaders as well as performances by the Brotherhood of the Beat drumline.
Inside The Home Depot Pavilion will be an opportunity to test your skills with several lawn games as well as the opportunity to purchase food and beverages by select vendors including Jim 'N Nicks Barbecue and Uncle Boo's Catfish Corner.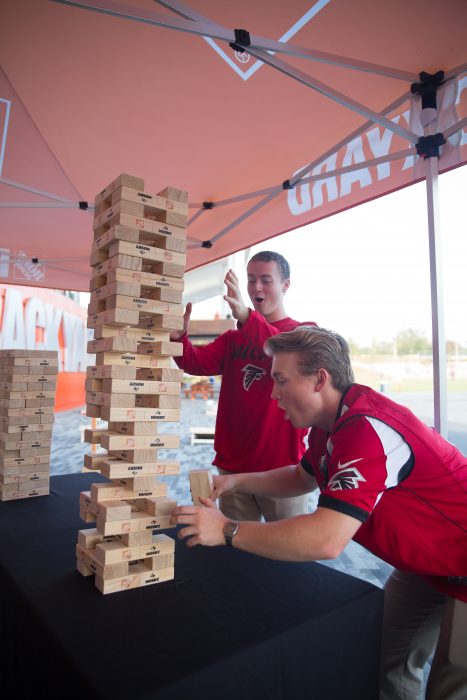 New to the tailgating experience this year is the 92.9 The Game pregame show that will broadcast live on the Northwest Plaza. Also for family-friendly fun, the Backyard's playgrounds remain open during the entirety of tailgating festivities.
Fans who want the look and feel of traditional tailgating without the hassel have the opportunity to purchase turnkey tailgating experiences. Tailgate Guys offer several packages that include tents, chairs, tables and catering options and much more. For more information on these packages visit: https://tailgateguys.com/atlanta-falcons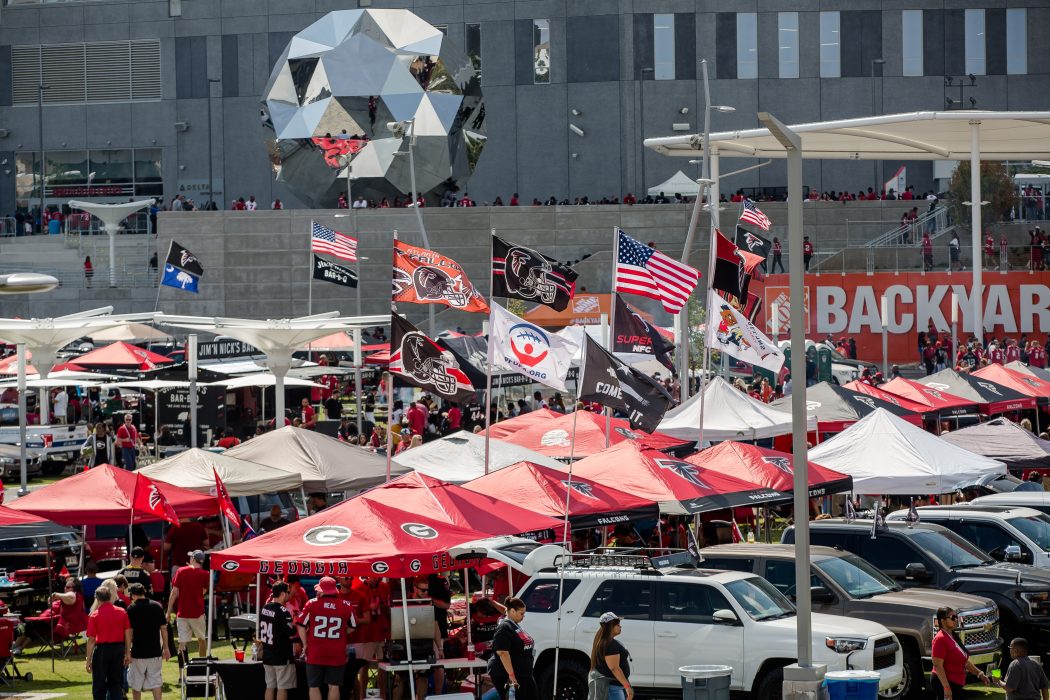 If you don't have a large group but still want a turnkey experience, the Terrapin Tailgate is perfect for you. The Terrapin Tailgate is available on a single game basis and includes a game-day ticket plus access to the pre-party along with:
Access to Terrapin Tailgate tent at The Home Depot Backyard with music, TVs, and outdoor games.
Food and Beverage (Coca-Cola products, Terrapin beer options and Jim 'N Nick's BBQ).
Wine and select cocktails available for purchase.
Terrapin Tailgate starts three hours before kickoff with last call 45 minutes prior to kickoff.
For more information visit: https://www.atlantafalcons.com/tickets/preparty
The Home Depot Backyard is programmed with events throughout the year on non-game days as well. For more information on the schedule please visit: https://thehomedepotbackyard.com/