The biannual Bronner Bros. International Beauty Show is a major staple on the Georgia World Congress Center Authority (GWCCA) campus and the event's fantasy hair competitions feature the best of the best putting their creativity to the test as they battle for the top spot.
As always, the show – which wrapped up its summer edition earlier this week at the GWCC's Building C – delivered an awe-inspiring experience but this time there was a special twist summed up with two words…Jasmine Harris.
Harris, a female barber at Main Attraction Unisex Salon in Philadelphia stunned the crowd Sunday afternoon when she took first place in the Andis Total Look Barbering Competition. This was the first time in Bronner show history that a woman won the professional barbering competition, which has been largely male-dominated over the past two decades.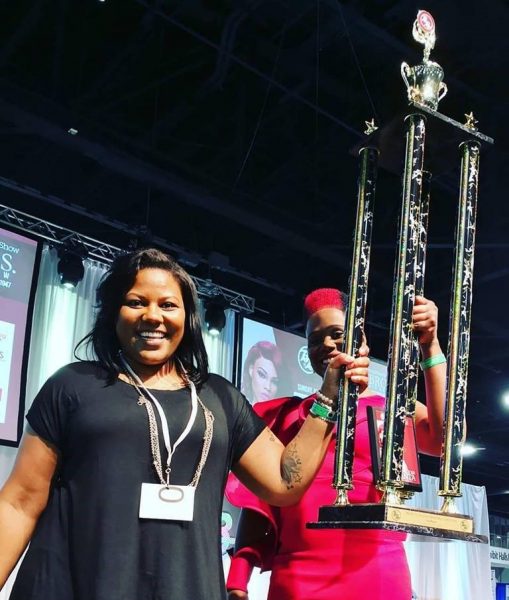 Harris took home $1,500 in cash and prizes, and is still reeling from her amazing win. Competing in her third barbering contest, she was extremely surprised to hear her name called as the first place winner.
"I was in awe and still am! I felt overjoyed and I felt like I made a statement for all of the female barbers across the world," she said when unConventional caught up with her via e-mail.
Though she has been cutting hair for more than a decade, the 27-year-old never planned on building a career in barbering. But after teaching herself a few techniques and watching YouTube videos of her mentor, Andis educator Kenny Duncan, Harris began to build her clientele and decided to get her license.
"People would ask me who cut your hair? And I'd tell them 'I did.' Next thing I know people were asking me for haircuts," she said.
But her journey hasn't been without its fair share of ups and downs. According to the U.S. Bureau of Labor Statistics, women made up roughly 16 percent of barbers – who specialize in short haircuts traditionally worn by men – nationwide in 2017. And for the Philly native, being a woman in a male-dominated field comes with a few challenges.
"A lot of men/clients don't respect me in my position. They try to take advantage because of my sex," she said.
Still, Harris doesn't let that stop her. With support from people like her best friend Shimek Antrom, who often models for her when she competes, Harris continues to work at being the best. In fact, she has rules and policies in place to protect her brand and perfects her skills as often as she can.
"I always study my craft no matter how good I think I am. There's always room to learn to become greater. People always doubt because I am a woman, but we can do it, too," she said.
As Harris continues her career, she hopes to rise above the stereotypes and inspire women barbers everywhere. Her advice to those following in her footsteps is simple – work hard and dream big.
"Find a mentor and be open and willing to learn," she said.  "Never let anyone tell you that you can't live your dreams! You are capable to do anything you put your mind to!"