Remember that epic fast food commercial with basketball legends Larry Bird and Michael Jordan sinking outlandish shots while playing a game of H.O.R.S.E. that spilled out of the gym and into urban environments? "Off the expressway, over the river, off the billboard, through the window, off the wall – nothing but net," says Jordan as the pair set to launch their shots from atop of a skyscraper.
Kids who harbor their own cityscape hoop dreams may not be able to horse around with Bird and M.J., but there is an opportunity to bounce basketballs with unbridled abandon through the streets of downtown Atlanta.
Online registration is now open for the Final Four Dribble presented by Buick, a free procession of basketball-dribbling youth anchored at the Georgia World Congress Authority's (GWCCA) International Plaza on Sunday, April 5.
The Final Four Dribble, part of the festivities surrounding the 2020 NCAA Men's Final Four games April 4 and April 6 at Mercedes-Benz Stadium (MBS), is open to ages 18 and younger.
"It's going to be high energy, just like a parade. It's just a great opportunity for folks who don't necessarily have tickets to the games to experience the Final Four," said Chincie Mouton, Vice President, Community Engagement and Projects for Atlanta Basketball Host Committee. "We want fans to be excited about the game of basketball. You're literally bouncing in front of Mercedes-Benz Stadium – how cool is that?"
FREE THROWS
There's plenty of incentive to get your youthful dribbler signed up to participate because the number of official participants caps off at 3,000. Registered entrants will receive a free Dribble t-shirt, free Wilson basketball, and free entry to the Final Four Fan Fest presented by Capital One at the Georgia World Congress Center (GWCC) – but more on that in a moment.
The Final Four Dribble route begins at the intersection of Centennial Olympic Park Drive and Andrew Young International Blvd., then turns west on Martin Luther King Jr. looping around the stadium to Northside Drive and finishes at the Northside Drive entrance to GWCC's Building C.
From there, the dribblers proceed through Building C to Fan Fast in Building B. Fan Fest is a ticketed event running April 3-6 described as a "sports wonderland of interactive games, special celebrity and athlete appearances, autograph signings" and more. Regular admission for Fan Fest is $8 in advance for adults, but registered chaperones get into Fan Fest free with their Dribbler.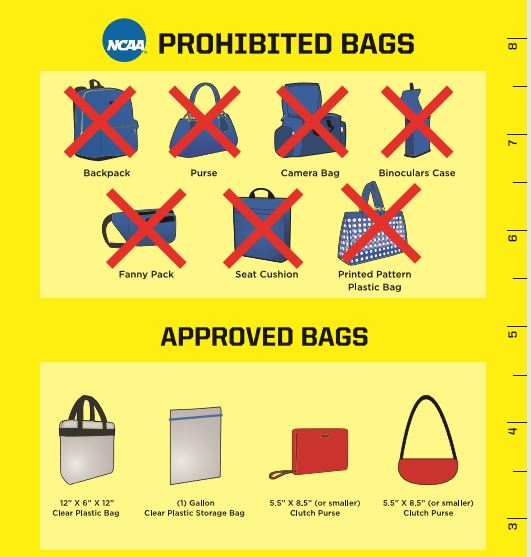 It's important to note that all Final Four events on the championship campus will enforce a clear bag policy including the Final Four Dribble. But you won't have to bring your own. "For the Dribble, if you have registered and signed up, we will have a clear bag for you on-site," said Mouton. "Any fan event that you attend that weekend will have a clear bag policy."
THE GAME PLAN
The Final Four Dribble begins at 3 p.m. April 5, with required check-in at International Plaza starting at 1 p.m.
"We hope that fans begin checking in at 1 p.m., as we are starting the event at 3 p.m.," said Mouton.
The plaza, which is situated between MBS, the Congress Center and State Farm Arena, will also be activated with stage performances, appearances by Georgia Tech's (official Final Four host institution) Goldrush Dance Team, representation from the Atlanta Hawks organization as well event sponsor Buick. The parade route also offers plenty of selfie and photo opportunities.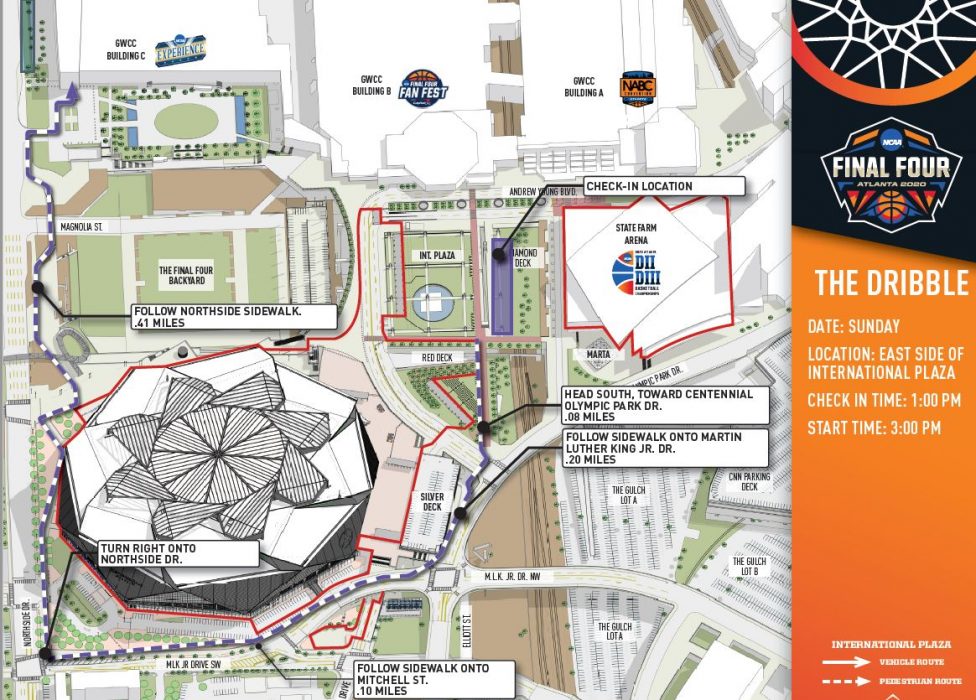 In addition to the Dribble and Fan Fest, Mouton suggested that fans should also take advantage of watching the Division III national championship game at 12:30 p.m. (also April 5) at State Farm Arena. Entry is free and no tickets are required.
Registering for the Final Four Dribble is also free, and requires adult/guardian consent. Participants 12 and younger must be accompanied by an adult. Click here to register.
"What if it rains?" you may ask. Which is a legitimate question as precipitation has dominated the metro Atlanta forecast of late.
"We're not shutting this event down," said Mouton.
If bad weather occurs, the Final Four Dribble will move to GWCC's Building C.
"We've been putting together contingency plans so that we can continue the Dribble even in less-than-ideal weather," said Mouton. "If needed, we'll activate in the lobby area, we'll still have stage performances, and we'll still have the interactive activations. The route itself will be in the exhibit halls."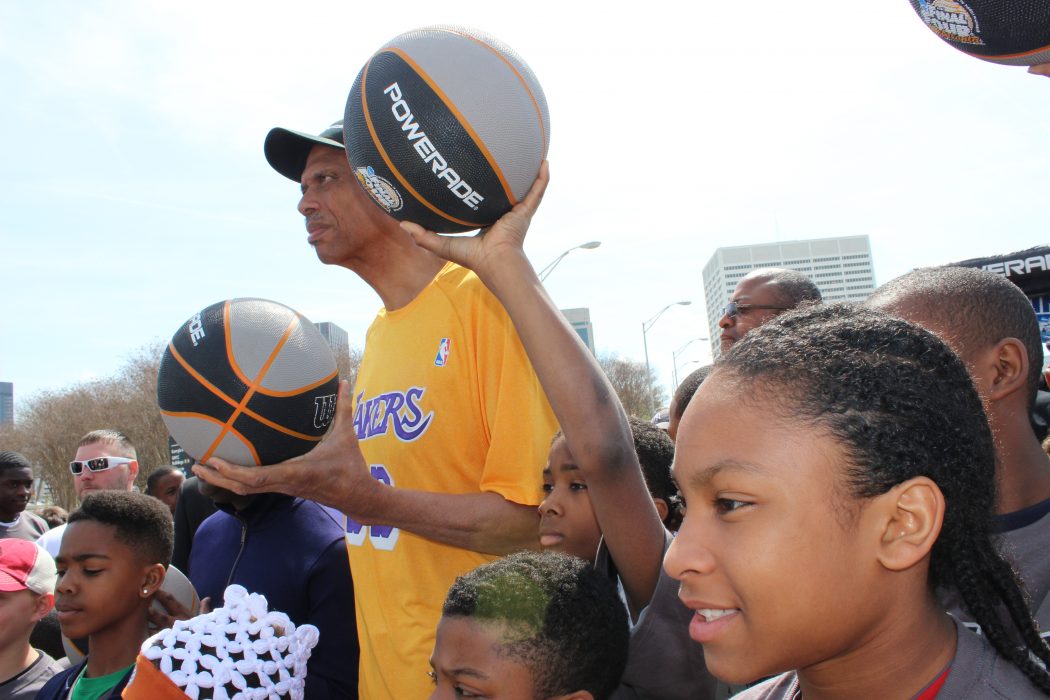 The Final Four Dribble took place on the GWCCA campus before, in 2013 when the now-defunct Georgia Dome hosted the Final Four. That iteration featured then-Atlanta Mayor Kasim Reed and basketball icon Kareem Abdul-Jabbar as celebrity grand marshals.
A mystery celebrity guest is slated to serve as grand marshal of the parade this year. Who will it be?
Sign your crew up for the Final Four Dribble and find out.
The Tip-off is a bi-monthly series tracking the Georgia World Congress Center Authority campus' march to the 2020 NCAA Final Four.