Tuesday Talk rounds up the latest Georgia World Congress Center Authority (GWCCA) news you might have missed and also points forward to upcoming events on our campus.
Last week the GWCCA's good neighbor, State Farm Arena, took its sustainability game to a new level, making the country's greenest concentration of public assembly venues and attractions even greener.
The venue, formerly known as Philips Arena, ceremoniously received its LEED (Leadership in Environmental Engineering and Design) Gold certification plaque during a networking event on June 13 for Greenbuild International Conference and Expo, which is coming to the Georgia World Congress Center (GWCC) on Nov. 19-22.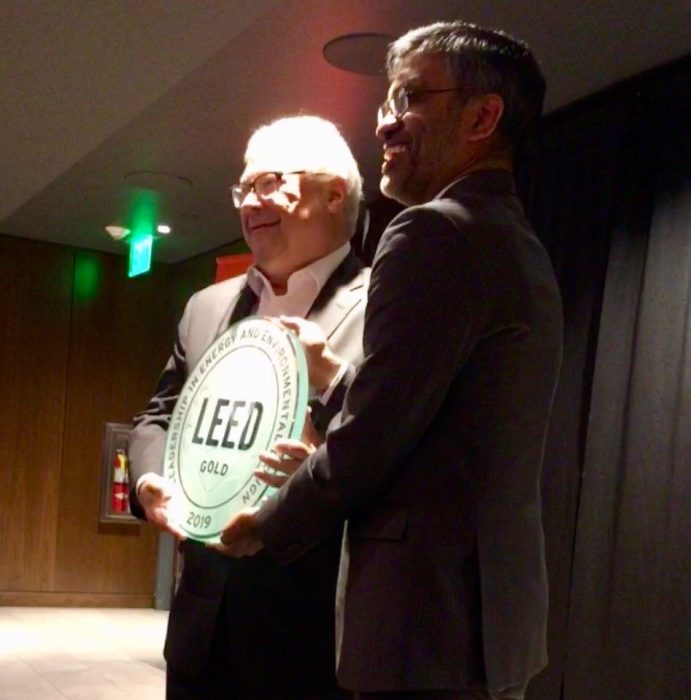 LEED certification is administered by the U.S. Green Building Council, and it's an internationally-recognized designation awarded to facilities that employ sustainability strategies, including indoor air quality, energy, and atmosphere, sustainable sites, water efficiency, material, and resources. It is a tiered system, from LEED Silver to the highest level, LEED Platinum.
The GWCC is the world's largest LEED Gold certified convention center, Mercedes-Benz Stadium is the first professional sports stadium to achieve LEED Platinum status in the U.S., and the Chick-fil-A College Football Hall of Fame was awarded LEED Silver in 2015, all located on the GWCCA's downtown Atlanta campus.
While not owned or operated by the GWCCA, State Farm Arena is considered part of our championship campus for mega-events such as the Super Bowl, College Football Playoff National Championship and the NCAA Final Four. Owned by the Atlanta-Fulton County Recreation Authority and operated by the Atlanta Hawks, State Farm Arena became the first NBA arena to earn LEED certification for an existing building back in 2009 when it was Philips Arena. State Farm Arena's new level of LEED certification is tied to the arena's recent multi-million dollar overhaul that also saw it rebranded, and the award category is specifically cited for commercial interiors.
When you also consider the GWCCA's 22-acre urban oasis that is Centennial Olympic Park, you'd be hard pressed to find a more compact concentration of environmentally-friendly venues in the country.
We'd also offer there isn't a more appropriate host site than the GWCCA's sustainable campus for Greenbuild 2019, the self-described "largest annual event for green building professionals worldwide to learn and source cutting edge solutions to improve resilience, sustainability, and quality of life in our buildings, cities, and communities."

HEAR YE, HEAR YE!
And speaking of Centennial Olympic Park, join the GWCCA for the next Park Town Hall meeting on June 25 at Southern Roots Cafe inside the GWCC's Building A to learn more details about the upcoming Fourth of July Celebration and other events taking place at the Park this summer. The meeting starts at 3:30 p.m. To RSVP, send an email to: [email protected].
THIS WEEK ON CAMPUS

The Primerica International Convention returns to the GWCCA campus this week for the first time since 2015, with a twist. Kicking off Wednesday (June 19), this will mark the convention's first time at Mercedes-Benz Stadium, where general sessions will be held, with exhibits, breakout sessions, workshops, regional meetings, and other events staged at the Georgia World Congress Center. It's a similar footprint to when the Primerica event previously utilized space at the now-defunct Georgia Dome in conjunction the convention center. Attendance at the convention, which is considered the city's largest corporate meeting, is expected to top 50,000 and runs through Saturday (June 22). "Since Atlanta last hosted Primerica in 2015, Downtown's walkable convention and entertainment district has transformed with the opening of Mercedes-Benz Stadium and upgrades to Centennial Olympic Park and Georgia World Congress Center," said Mark Vaughan, executive vice president and chief sales officer, Atlanta Convention & Visitors Bureau. "We are thrilled to welcome the convention back as one of the city's largest conventions and economic drivers."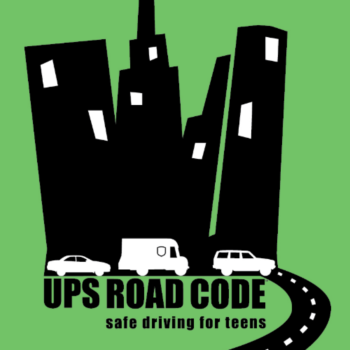 Safe Fest, an educational (and fun) teen safety driving event, takes over Centennial Olympic Park's Fountain of Rings area from 11 a.m. to 3 p.m. Thursday (June 20), featuring an obstacle course depicting some of the distractions and challenges that drivers face on the road.
The event – which is free and open to the public – is primarily targeting kids from local Boys & Girls Clubs chapters and is a partnership between UPS's Road Code program for teen driver safety and the Boys & Girls Clubs of America.