Tuesday Talk rounds up the latest Georgia World Congress Center Authority (GWCCA) news you might have missed and also points forward to upcoming events on our campus.
Celebrating a milestone in the construction of the Georgia World Congress Center's (GWCC) $55 million expansion exhibit hall, various stakeholders in the project gathered last Thursday (April 18) for a topping off ceremony.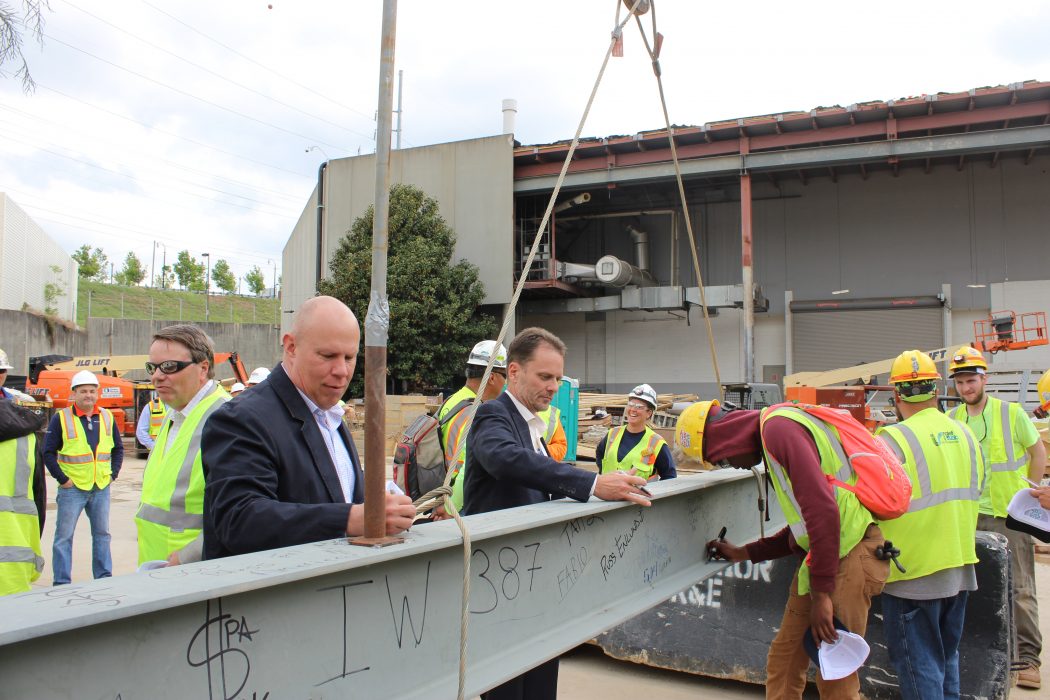 Construction crews, steelworkers, contractors, builders, project managers, and some state officials were treated to a catered barbecue lunch inside the convention center, then headed outside to the construction site to sign a steel beam with Sharpies. The beam – representing the final piece of support for the new building's backbone – was then hoisted into place and bolted in by two workers high atop the structure.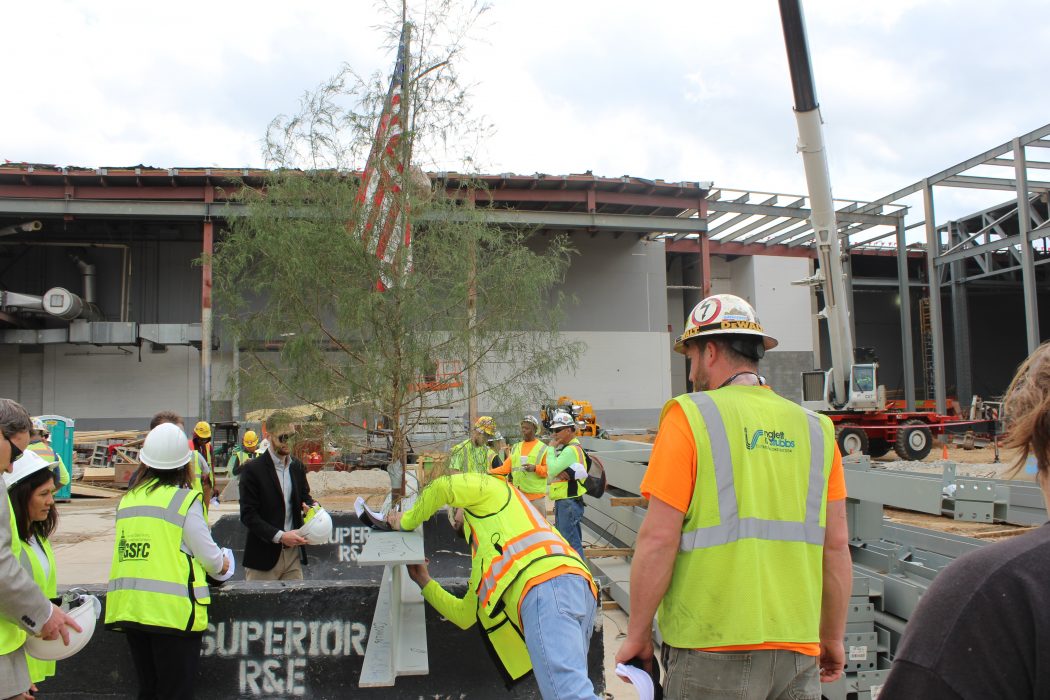 Topping off, or topping out, is a construction tradition that signifies that progress on a particular project is being made. A part of that tradition usually includes a live or cut tree, and Thursday's ritual at the GWCC featured a small evergreen tree and American flag affixed to the steel beam (pictured above).
The GWCC expansion project – which will connect exhibit halls in Buildings B and C – is a little bit past its half-way point.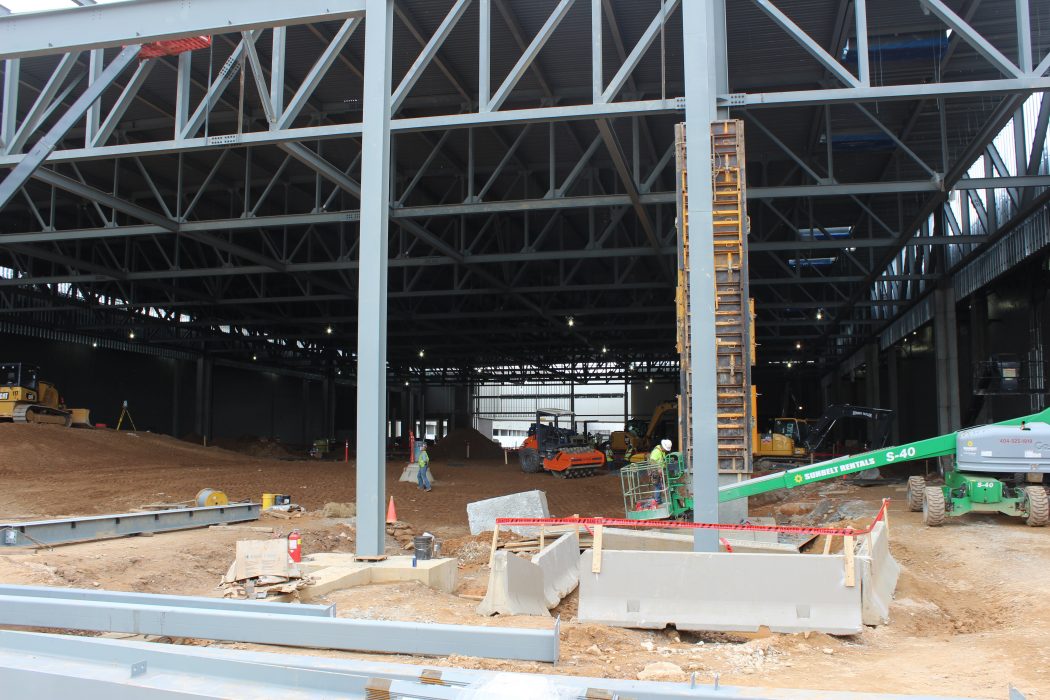 When completed, the approximately 100,000-square-foot expansion will connect with exhibit halls in Buildings B and C, giving GWCC customers the ability to create one massive exhibit hall with roughly 1 million square feet of adjoining exhibit space, by rolling back the individual halls' airwall divisions.
Here are some fun facts about the project so far shared by the construction team:
Overall, the project is 56 percent complete.
With 60,000 square feet of roofing installed so far, 65 percent of the roofing is complete.
Total approximate manhours invested to date: 150,000.
Number of days without a lost time incident: 223.
1,400 total tons of structural steel utilized for the project.
To date, 1705 cubic yards of the project's 6,850 cubic yards of concrete has been placed.
The total number of piles driven is 125, representing 7,521 linear feet.
For more information, check out the GWCCA's campus development page here.
THIS WEEK ON CAMPUS
Here's a sampling of some of the events happening this week and weekend at the No. 1 convention, sports and entertainment destination in the world:
The inaugural Machaon Georgia TechnologySummit, targeting the technology and security community, is set for Wednesday at the GWCC. "Attendees consist of IT/IS executives and direct reports across all verticals within the state of Georgia interested in networking, researching/learning, career advancement, and purchasing," according to the event's website.
More serves, bumps, aces, and spikes are on tap at the GWCC this weekend as the Southern Region Volleyball Association Junior Regionals, featuring boys and girls teams competing for a shot at nationals, is slated for Friday (April 26) through Sunday (April 28) inside Exhibit Halls B1-B5.
Coming off a tough 2-1 loss to Dallas FC last Saturday at Mercedes-Benz Stadium (MBS), the Atlanta United look to get back on track this Saturday (April 27) on their home turf. The Five Stripes take on the Colorado Rapids at 6 p.m. Saturday at MBS.
Last held at the GWCC in 2008, CastExpo and Metalcasting Congress returns to the convention center's Building A, kicking off Saturday (April 27) and running through Tuesday (April 30). With approximately 10,000 attendees expected, the expo is billed as the largest North American gathering of the metal casting industry supply chain.
Also taking place Friday through Sunday, the NexStar Talent Competition, a youth dance event, returns to the GWCC's Georgia Ballroom in Building C. Doors open at 4 p.m. Friday, and 7 a.m. Saturday and Sunday.
Posted by
Kent Kimes Sr. Staff Writer
on Apr. 23, 2019
A metro Atlanta native, Kent joined the Authority in 2015. He is your digital tour guide to the No. 1 convention, sports and entertainment destination in the world. His customer service approach is summed up by the Little River Band track "Help Is On Its Way."