Tuesday Talk rounds up the latest Georgia World Congress Center Authority (GWCCA) news you might have missed and also points forward to upcoming events on our campus.
CORPORATE SOCIAL RESPONSIBILITY TAKES CENTER STAGE
The latest edition of the Authority's video series Center of Attention is out now and the topic is fitting for Earth Month: Corporate Social Responsibility (CSR).
The GWCCA's CSR Manager Tim Trefzer and CSR Coordinator Jennifer Tinker take viewers on a video tour of the organization's various CSR initiatives, including everything from our on-campus beehives to waste diversion efforts, energy and water efficiency projects, on-site electric vehicle charging stations, solar panels, and corporate volunteer programs with the Atlanta Community Food Bank, Everybody Wins! Atlanta reading program, the American Red Cross, and the Atlanta Mission.
Check out the video below.
AND MORE CSR
Speaking of CSR and sustainability, the Atlanta Journal-Constitution recently profiled food waste management company Goodr, which takes leftover food that is still edible from businesses, including the GWCCA, and delivers it to those in need.
GWCCA's CSR manager Trefzer is quoted in the story:
"That food goes to a handful of ministries we work with," Trefzer said. "But, Goodr allows us to expand the food we are saving. We're able to capture, package and transport prepared hot food, something we did not do before. For example, during the Super Bowl, we hosted an event for the National Football League team owners. The 'do-goodrs' took the (extra) food from our trays, packaged it into their containers, and took it to those who could use it."
Click here for the full story (subscription required).
GOT A MINUTE TO GIVE?
Sticking with the CSR theme, after a successful inaugural year that raised $30,000 for 20 different charities, the SweetWater 420 Fest Band Charity Auction is back for another installment as the three-day festival is set to take over Centennial Olympic Park this weekend (April 19-21).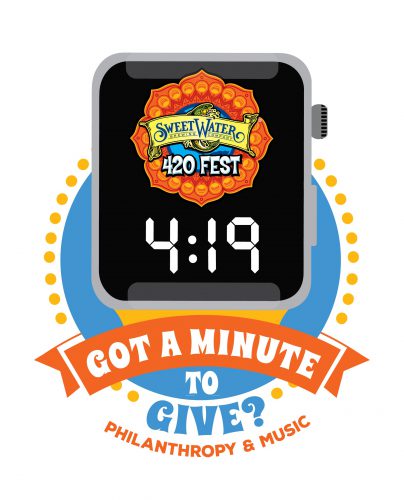 Here's how it works:
Artists performing at the festival have selected the charities they want to benefit and offered up signed memorabilia, concert tickets, meet-and-greet sessions, and other items to be bid on.
For instance, festival performers Joe Russo's Almost Dead (JRAD) and the Claypool Lennon Delirium both chose the Atlanta Community Food Bank to benefit, and fans can help them raise money by bidding on such items as an autographed JRAD drum head, various JRAD concert posters, and an autographed vinyl copy of the Claypool Lennon Delirium's "South of Reality" album.
Other auction items include a D'Angelico electric guitar signed by various 420 Fest artists, a photo shoot and meet-and-greet session with festival act Moon Taxi, a four-ticket package to any show by headliners the Avett Brothers on their upcoming tour, and you can even have 420 performers Pigeons Playing Ping Pong record an outgoing message on your voicemail.
Check out all of the auction items here.
Mobile bidding began Monday and lasts through the festival weekend.
To register for online bidding, go to: https://one.bidpal.net/420fest/welcome.
For mobile bidding registration, text 420Fest to 243725.
THIS WEEK ON CAMPUS
It's another busy week on the GWCCA's 220-plus downtown Atlanta campus, with a smorgasbord of events on the docket, from pro soccer to one of Atlanta's signature music festivals to an Easter Sunday service.
The UTLA Beauty 2019 General Managers Conference opened Sunday and runs through Friday (April 19) at the Georgia World Congress Center (GWCC).
The final auditions for the 2019 Atlanta Falcons Cheerleaders squad are set for Wednesday evening at Mercedes-Benz Stadium (MBS). As with the preliminary round, Wednesday's tryouts are closed to the public.
The Second Annual Black American Muslim Conference is taking place Friday (April 19) through Sunday (April 21) on the 400 level of the Georgia World Congress Center's (GWCC) Building A. The conference is described as "a multi-ethnic gathering concerned with discussion and education about the history, plight, perspectives, diversity, and contributions of the black American Muslim population in North America," according to the event website.
As previously mentioned, it's time again for the 15th annual SweetWater 420 Fest at Centennial Olympic Park, kicking off Friday (April 19) and running through Sunday (April 21). The event features Atlanta-based brewery SweetWater's various beers, an artisan market, live comedy and live music, including headliners The Avett Brothers (Friday), Widespread Panic (Saturday and Sunday), and Jason Isbell and the 400 Unit (Sunday).
The defending MLS Cup champs return to the home pitch on Saturday (April 20) as the Atlanta United host FC Dallas at MBS. Game time is 4 p.m.
The state's fourth-largest school district, Fulton County Schools, hosts a recruitment fair for prospective teachers on Saturday (April 20) at the GWCC.  Fulton County Schools' 2019 Spring GO Fulton Teacher Hiring Event is slated for 10 a.m. to 2 p.m. Saturday at the Georgia Ballroom, in Building C. Click here for online registration. Onsite registration begins at 8 a.m. Saturday in the Georgia Ballroom Galleria.
The Believers House Easter Service is scheduled for Sunday (April 21) at the GWCC's C101 Auditorium, followed by an Easter egg hunt.