Tuesday Talk rounds up the latest Georgia World Congress Center Authority (GWCCA) news you might have missed and also points forward to upcoming events on our campus.
GET SMART!
Here in Atlanta, we like to think we're smart, cutting edge problem solvers, and a new event coming to the Georgia World Congress Center (GWCC) in September aims to prove it.
The first-ever U.S. edition of Smart City Expo World Congress is set for Sept. 11-13 at the GWCC, bringing "together catalytic leaders from government, corporations, nonprofits and entrepreneurial sectors to redefine what it means to be a 'smart city,'" according to a press release. These leaders will discuss "issues such as social and economic mobility, equitable infrastructure and human capital against the backdrop of the digital transformation that is underway in cities, enabled by artificial intelligence, data analytics and more," according to smartcitiesworld.net.
The three-day event is expected to attract more than 2,500 attendees, and feature 200 speakers as well as 50 exhibitors. The conference is jointly organized by the office of Atlanta Mayor Keisha Lance Bottoms, the Metro Atlanta Chamber of Commerce, and Fira de Barcelona, which hosts Smart City Expos in Africa, Asia and Latin America, and its signature edition in Spain.

For more information, go to www.smartcityexpoatlanta.com.
THIS WEEK ON CAMPUS
The American Association for Cancer Research Annual Meeting continues through Wednesday (April 3) at the Georgia World Congress Center, marking the event's first return to Atlanta since 1987. The conference, which kicked off over the weekend, covers the latest scientific discoveries and highlights the work of the most-talented minds in research and medicine from institutions across the globe.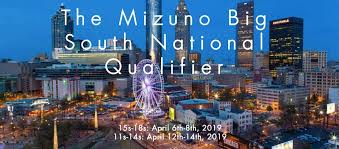 Featuring more than 120 courts, the Mizuno Big South National Qualifier volleyball competition comprised of 1,200 middle school and high school girls teams vying for Junior Olympics bids – returns to the GWCC this weekend with a twist. Historically, the event has been held over one weekend, but this year, it is split up over two weekends. The first weekend of spikes and bumps starts Saturday (April 6) with action in Building A and Building C exhibit halls with matches continuing Sunday and wrapping up Monday. Big South resumes next weekend, April 12-14, in Exhibit Halls C1-4. Spectator tickets are available online here.
Brawl for a Cause, a charity boxing event, is set for Saturday (April 6) evening at the GWCC's Thomas Murphy Ballroom. In addition to boxing matches, the event features casino-style gaming and live entertainment. Doors open at 6 p.m., bouts start at 7. For more about Brawl for a Cause, check out this video: https://youtu.be/-OT2aYnrzyY