Audio Tour
The Audio Walking Tour, which is downloadable via a smartphone, provides an opportunity for visitors to experience the Park at their convenience. At their own pace, visitors can enjoy and learn about Atlanta, Centennial Olympic Park and the continued legacy of the 1996 Olympic Games. This self-guided audio tour through the Park is packed with history, architecture, quirky trivia, original music and interviews. The walking tour begins and ends at the Parks Visitor Center and is an hour long loop.

Campus and Area Maps
Walking Map
* Click the number icon to listen.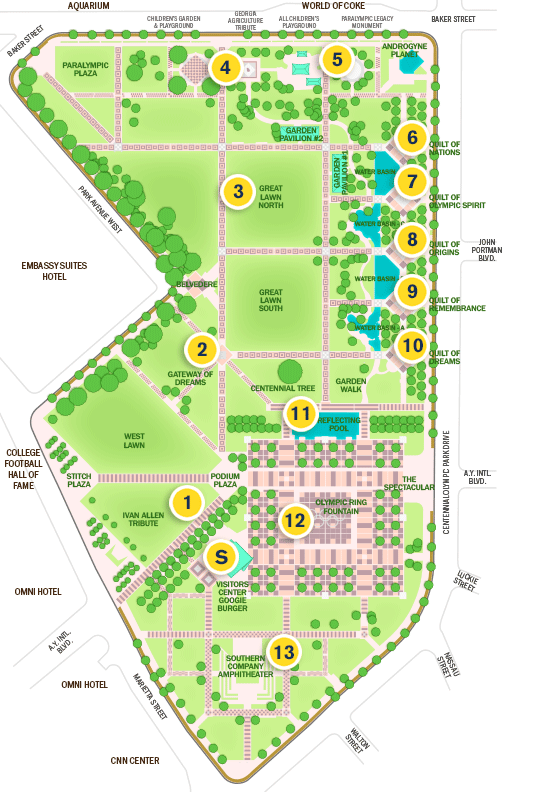 Brick Locator
Centennial Plaza is paved with more than 430,000 commemorative engraved bricks, which were installed prior to the Olympic Games. Granite paving bands inlaid with sandblasted "Look of the Games" graphics divide the commemorative bricks into 100 quilt squares. Another 56,000 engraved bricks were installed post-Olympics and serve as walkways throughout the Park. New engraved Adopt-A-Bricks, sold during a second brick campaign in 2016, were installed along Andrew Young International Boulevard. It lifted the former pedestrian-only walkway from street to curb level, making it one seamless plaza between Centennial Olympic Park Drive and Marietta Street.