Around the Authority


Father's Day Salute: dad-son duos make their mark at GWCCA
posted: Jun. 17, 2018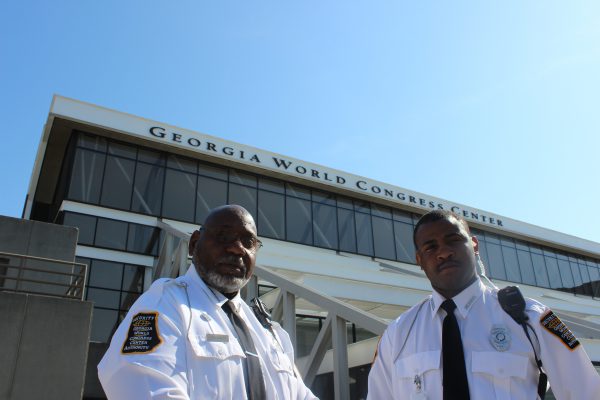 ---
In 1990, Ken Griffey, Sr. and Ken Griffey, Jr. became the first father-son duo to play for the same Major League Baseball team at the same time, both suiting up for the Seattle Mariners.
While not surrounded by the same amount of hoopla as the Griffeys' short-lived but record-setting run together, David Lemons, Sr. and David Lemons, Jr. know what it's like to be on the same professional team, contributing to its success side-by-side.
Both Lemons are security officers with the Georgia World Congress Center Authority's (GWCCA) public safety department.
Working with Dad takes on heightened gravity as we observe Father's Day today (June 17) – a significance not lost on 26-year-old Lemons, Jr., who served six years in the Army prior to joining the Authority.
"I value Father's Day, because pretty much everything I've learned outside of the military basically came from my dad – discipline, staying focused on my job. As far as life lessons go, he taught me it all," he said. "Basically my dad has given me the blueprint – now I just have to perfect it."
And they are not alone – there are a handful of other father-son combos within the ranks of various departments at the Authority. For many, the Authority is family, and for these father-son employees, it's a literal familial connection.
Jimmy Davies, an equipment repair mechanic with the Authority's engineering department started his job here in 1985, and in 2001, his son, Chris Davies, was hired as a part-time plumber. The younger Davies, 35, is now lead plumber, making his father proud.
At the beginning of Chris Davies' tenure at the Authority, his father gave him this advice: "I let him know all he had to do was be dependable, do his work, and if he didn't know how to do something, ask for help."
In turn, Chris Davies said that he's learned from his dad the value of being dependable, and having the confidence to try new things.
Likewise, Lemons, Jr. has benefited from his father's tutelage.
"I had never worked with my dad before. It's really interesting to work with him for the first time," said Lemons, Jr. "Pretty much it's a good feeling. He's helping me along the way. It's actually a great feeling."
Lemons, Jr., is a newcomer, having joined the Authority's security force in January. He often seeks on-the-job advice from his father – and well, he should. While also a relative newcomer to the Authority, joining in October, Lemons, Sr., 50, has an extensive background in local government and law enforcement.
He retired last year from DeKalb County, where he held various positions and certifications, including serving as senior police chaplain, a position that combines law enforcement with spiritual and emotional guidance.
The Davies live near each other and carpool to work. The Lemons, who live together temporarily, work the same shifts – but don't ride in to the GWCCA's downtown Atlanta campus together.
They drive separately and often go their separate ways after work. It foreshadows where they are in their lives and careers. Both are part-time officers, but Lemons Jr. is seeking to forge a fulltime career with the Authority, while his dad's goal is to remain in the workforce with a flexible schedule that allows him to engage in other pursuits.
But they both enjoy the atmosphere, opportunities, and training the Authority affords.
"There's lots of opportunity to move up and there's an emphasis on teaching, getting the chance to work closely with supervisors," said Lemons, Jr.
Lemons, Sr. also delights in answering questions from inexperienced teammates when prompted, drawing upon his experience in the field.
"I enjoy myself, I like working here," added Lemons, Sr.