March Madness is sweeping the nation due to the start of the 2019 NCAA men's and women's basketball tournaments and Atlanta roundball fans will get a chance to be entertained by the future of college basketball with the 2019 McDonald's All American Games and Fan Fest.
The McDonald's All American Games Fan Fest will take place at Centennial Olympic Park on the Georgia World Congress Center Authority (GWCCA) campus from 2-6 p.m. Sunday (March 24). This is a free family-oriented event that celebrates the intersection of sports and entertainment with interactive basketball-themed activities, live performances and McDonald's food trucks. This event will be emceed by Atlanta radio personality, Big Tigger, featuring sets by Zaytoven and performances by hip-hop recording artist, Lil Baby and Atlanta native, Keri Hilson.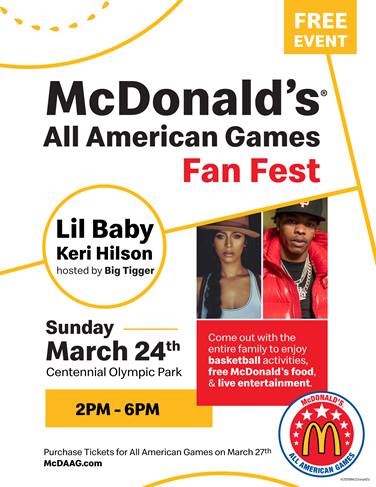 2019 McDonald's All American Games Fan Fest Information:
Admission is free.
Hours are 2-6 p.m. Sunday.
Keri Hilson performs at 3:15 p.m. Sunday.
Lil Baby hits the stage at 5:15 p.m. Sunday.
Activities will take place in the southern portion of Centennial Olympic Park and the Fountain of Rings Plaza.
The Fan Fest is designed to get folks pumped up about the 2019 McDonald's All American Games hosted at State Farm Arena on Wednesday (March 27) starting at 5 p.m., with the 18th  annual Girls Game immediately followed by the 42nd annual Boys Game at 7 p.m. In addition, multi-platinum hip-hop trio, Migos, headlines the halftime of the Boys Game. Tickets are on sale via McDAAG.Com with prices starting at $19.
The competing teams, featuring the nation's top high school players, are also slated to appear at the Fan Fest on Sunday, where basketball halfcourts will be set up.
"The McDonald's All American Games shines a spotlight on the nation's top high school basketball stars as they take their first leap towards collegiate and professional greatness," reads a press release excerpt. "The McDonald's All American Games has taken place for 42 years, and has proven to be a barometer for future stardom with more than 96 percent of All American alumni going on to play Division I basketball."