Facilities & Events


Meet the WISE women of Atlanta's Super Bowl LIII
posted: Dec. 06, 2018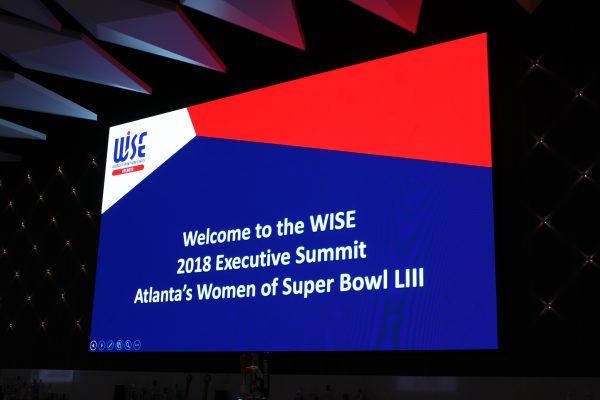 A new mural at the exterior base of Mercedes-Benz Stadium (MBS), part of the Atlanta Super Bowl Host Committee's "Off the Wall" initiative dedicated to Atlanta's civil rights legacy and current social justice movements, depicts a young African-American girl flexing her muscles – a display of strength.
Inside the state-of-the-art stadium on Wednesday evening a gathering of Atlanta-area women flexed their collective leadership muscles.
WISE's (Women in Sports and Events) 2018 Executive Summit: Atlanta's Women of Super Bowl LIII, a symposium held inside the glitzy, field-level Mercedes-Benz Club, featured a quartet of female executives leading an unprecedented charge toward Super Bowl LIII – and all four of them ply their trades on the Georgia World Congress Center Authority's (GWCCA) campus.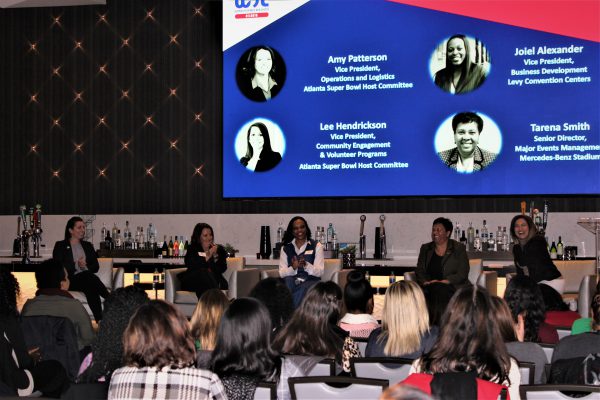 This fearsome foursome – Joiel Alexander, Vice President of Business Development for Levy Convention Centers; Lee Hendrickson, Vice President of Community Engagement and Volunteer Programs for Atlanta Super Bowl Host Committee; Amy Patterson, Vice President of Operations and Logistics for the Host Committee; and Tarena Smith, Senior Director of Major Event Management for MBS – participated in the event's panel discussion moderated by Traci Messier, of Jackson|Spalding.
Each has a major behind-the-scenes role in the planning, staging and development of Super Bowl LIII, set for Feb. 3 at MBS, and the 10 days of NFL-sanctioned events surrounding the big game, most of which take place on the GWCCA's 220-acre footprint and next door neighbor, State Farm Arena.
The world of sports – and especially football – has been typically male-dominated, from the playing field to the front office.
But the tide is changing, and WISE is the leading resource and voice for professional women in the business-side of sports.
"As most of you know, sports is a business traditionally dominated by men," said Kristi Atkins, President of WISE's Atlanta chapter. "Although some progress has been made over the last few decades, the number of executive women in sports is lower than any other industry. In fact, of the more than 450 combined NCAA Division I athletic departments and the big four major national sports leagues, less than 10 percent have a woman as a head of their organization."
So Wednesday's summit was designed to empower women – especially those just breaking into the sports and events industries – and forge connections with female execs who are breaking down these barriers.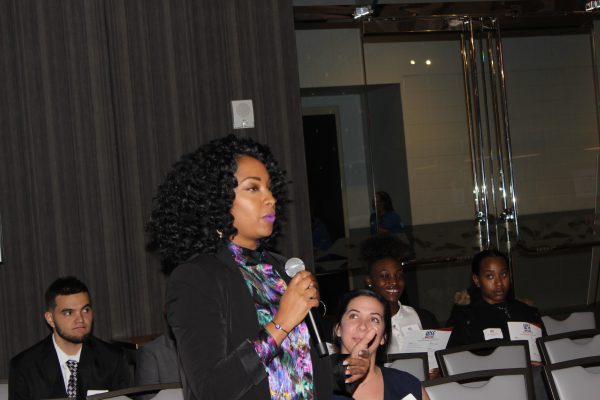 Mentorship is a key aspect of climbing the sports and events career ladder, and Messier, a former sports reporter, kicked off the discussion by asking the panelists their thoughts on the subject.
Echoing each other's sentiments, the panelists confirmed that mentors had played – and continue to play – a role in their respective successes.
"Mentorship has been huge in my life," said Alexander. "I take it very seriously."
She said it's also important to be a mentor to members of her food services team, and provide the type of leadership, knowledge and trust that her advisors have offered her.
Jennifer LeMaster, the GWCCA's Chief Administrative Officer and Treasurer of WISE Atlanta, helped put the summit's program together and hopes it opened attendees' eyes to the diversity of jobs and disciplines that are linked to the world of sports, events and entertainment.
"If you're a young woman who has just started her career with an organization, or you're a student who is still trying to figure out exactly how to focus your energy, we want to spark some curiosity around what are all the ways you could be connected – from public relations to operations to public safety to food and beverage to human resources to event coordination," said LeMaster, the GWCCA's former Communications Director, who prior to that role served as the Georgia Dome's Premium Seat Manager. "All of these things are departments and functions that the audience heard about from the panelists, who have leveraged their giftedness in those areas that put them in the seat they're in for the Super Bowl, which is arguably a once-in-a-lifetime opportunity."