Around the Authority

Facilities & Events


Savannah's convention center rebrands with bold new look
posted: Oct. 15, 2018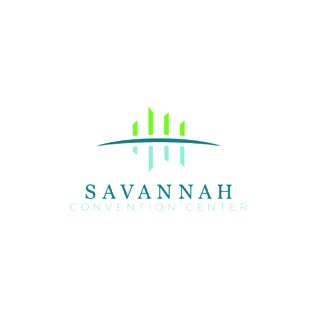 The Savannah International Trade & Convention Center's (SITCC) ship has sailed.
Still officially and formally known as the SITCC, new branding standards feature the simpler moniker Savannah Convention Center and a redesigned logo minus the tall ship motif the center has utilized since its opening in 2000.
The Savannah Convention Center, which is managed by the Georgia World Congress Center Authority (GWCCA), worked with Savannah design and communications agency Clark Creative to create the new, streamlined logo.
The arcing line running horizontally through the middle of the logo design represents the curvature of the 330,000-square-foot riverfront facility's roof, and the vertical lines on top (in green) typify its columns and bays with their reflections below (in blue).
The blue hues are also meant to embody the waters of the Savannah River and its reflections. The green tone atop the logo symbolizes the live oaks and other foliage that the historic port city is known for year-round.
"We drew visual inspiration from the striking architecture of the building, using notable lines and shapes together in a way that creates a memorable logo mark. We also drew typography inspiration from the classic, authentic beauty of Savannah," reads an excerpt from the design proposal Clark Creative prepared.
The typography was carefully chosen for the new logo, said Cari Clark Phelps, owner/principal of Clark Creative. The word Savannah, appropriately, utilizes the Georgia font, and Convention Center is depicted in Gotham, a font that typography.com describes as "a hard-working typeface for the ages" and one that's practically synonymous with city landscapes.
The new logo's colors also reflect the building's new public space carpet scheme, which was installed in 2016.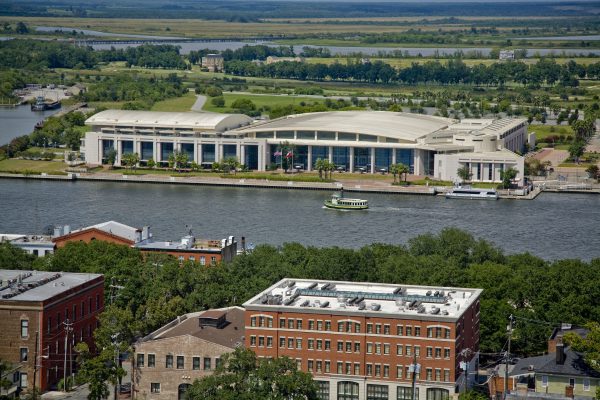 More than simply a logo refresh, the center's branding overhaul points to the future of the facility.
As unConventional detailed in a mid-August post, the convention center hopes to expand, potentially doubling its size, and its leaders are also exploring the development of an adjacent convention hotel on Hutchinson Island.
Cate Cox, the convention center's public relations and marketing manager, said it was time to undock the logo's old nautical theme, which was tied to the city's aspirations of becoming a tall ship destination.
"We were trying to be the mecca of tall ships in the Southeast, and that never came to fruition," she said.
The convention center's governing body, the Georgia International and Maritime Trade Center Authority, unanimously approved the new logo at its Sept. 12 meeting and it was officially revealed today on the center's social media channels and website.
Clark Creative also updated the convention center's mission and vision statements, both of which will appear in the organization's upcoming annual report.
Sherrie Spinks, the convention center's general manager, is pumped up about the new logo and what it symbolizes. "Love, love, love it!" she said via e-mail.  "Very excited…it represents our new vision and updated mission."