With the countdown to Super Bowl LIII (53) officially at 53 days, preparations continue on the Georgia World Congress Center Authority (GWCCA) campus, where the big game will be played Feb. 3 at Mercedes-Benz Stadium.
Out of the 15 officially-sanctioned events that make up the 10 days of Super Bowl festivities, a record number (13) will take place on our championship campus that includes the Georgia World Congress Center, Centennial Olympic Park, and our neighbor State Farm Arena that sits adjacent to the GWCC. No other Super Bowl city within the last five years has hosted more than seven events on the game's stadium campus.
Two of the major events hosted at GWCCA facilities will be the Super Bowl Experience Driven by Hyundai and Super Bowl Live presented by Verizon.
SUPER BOWL EXPERIENCE
Described as the NFL's interactive theme park, the Super Bowl Experience will be located in Building B of the GWCC and will celebrate the sport's history and atmosphere of the Super Bowl. This event offers fans a chance to get involved with interactive games, youth football clinics, NFL merchandise, player autograph sessions and more.
Event dates and hours are:
• 10 a.m.-10 p.m.,Saturday, Jan. 26
• 10 a.m.-8 p.m., Sunday, Jan. 27
• 3-8 p.m., Monday, Jan. 28
• 3-8 p.m., Tuesday, Jan. 29
• 3-10 p.m., Wednesday, Jan. 30
• 3-10 p.m., Thursday, Jan. 31
• 10 a.m.-10 p.m., Friday, Feb. 1
• 10 a.m.-8 p.m., Saturday, Feb. 2
Ways to Purchase tickets:
• Box Office in Building B
• Super Bowl LIII app launching in January
• Mobile Tickets via Ticketmaster online
• Print-at-home tickets via Ticketmaster.com (going on sale at 10 a.m. tomorrow)
SUPER BOWL LIVE
Super Bowl LIVE is the Atlanta Super Bowl Host Committee's free-to-the-public fan village, which will highlight Atlanta's vibrant culture and music scene, featuring concerts produced by Grammy Award-winning producer Jermaine Dupri at Centennial Olympic Park.
Super Bowl LIVE will run Jan. 26-Feb. 2 and in addition to live music, will offer a fun – and free – way for locals and visitors alike to enjoy the extravaganza that is the sporting world's biggest annual event.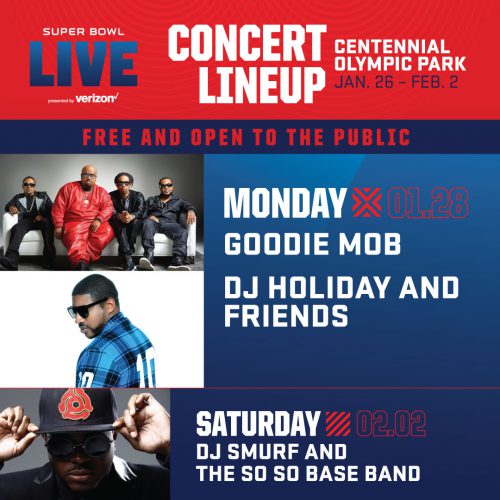 Here's the initial Super Bowl LIVE lineup and event hours:
11 a.m. to 10 p.m. Saturday, Jan. 26
Noon-7 p.m., Sunday, Jan. 27
4 p.m.-9 p.m., Monday, Jan. 28, featuring Goodie Mob and DJ Holiday and Friends, YFN Lucci, Waka Flocka, K Camp, Trinidad, Swag Surf Boys, Coca Vango, Light Skin Keisha, and Derez Deshon.
Tuesday, Jan. 29: CLOSED
Wednesday, Jan. 30: CLOSED
4 p.m.-10 p.m., Thursday, Jan. 31
2 p.m.-10 p.m., Friday, Feb. 1
11 a.m.-10 p.m., Saturday, Feb. 2, featuring DJ Smurf & Friends, Tag Team, MC Shy D, Ying Yang Twins, Kilo Ali, and KP & Envyi.
The Verizon Up Stage will feature KD Bowe, on-air personality for Atlanta's Radio One and in-game host for the Atlanta Falcons, as the host for all nights of the concert series.
More entertainment acts – featuring hip-hop, country, pop, EDM and rock – will be announced at a later date. Stay tuned to unConventional for updates.
Click here for the Super Bowl Live layout.